From Wireframe issue 4: Recovering Destiny's long-lost soundtrack
Missing for five years, Destiny's soundtrack album, Music of the Spheres, resurfaced in 2017. Composer Marty O'Donnell reflects on what happened, in this excerpt from Wireframe issue 4, available tomorrow, 20 December.
When Bungie unveiled its space-opera shooter Destiny in February 2013, it marked the end of two years of near silence from the creators of the Halo franchise. Fans celebrated at the prospect of an entirely new game from such well known talent. Behind closed doors, however, Destiny was in trouble.
Though the game was almost complete by mid-2013, plans to launch that September were put on hold when concerns over Destiny's story forced its narrative structure to be rebuilt from scratch. It would be more than 18 months before Destiny was released: a fun but strange shooter that bore difficult-to-pin-down traces of its troubled gestation. But one element of Destiny – that had been a huge part of its development – was nowhere to be seen. It was an ambitious original soundtrack written and recorded with an impressive but unexpected collaborator: Paul McCartney.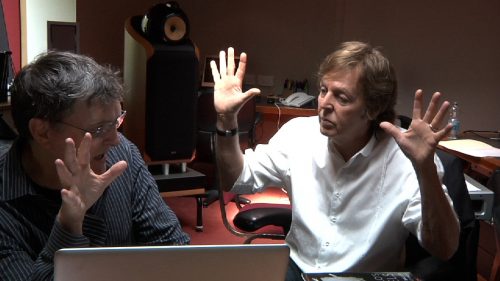 Spherical music
Audio director and composer Marty O'Donnell had been with Bungie since the late 1990s, and for him, Destiny represented an opportunity to develop something new: a musical prequel to the video game. This would become Music of the Spheres – an eight-part musical suite that took nearly two years to complete. This was no mere soundtrack, however. Born out of discussions between O'Donnell and Bungie COO Pete Parsons early in the game's production, it was to play an integral role in Destiny's marketing campaign.
"I wasn't writing this just to be marketing fodder," O'Donnell laughs. "I was writing it as a standalone listening experience that would then eventually become marketing fodder – but I didn't want the other to happen first."
Between 2011 and 2012, Bungie and O'Donnell devised plans for the album.
"Every few weeks or so, I would be called to a meeting in one of their big conference rooms and there would be a whole bunch of new faces there, pitching some cool idea or other," says O'Donnell. "[At one point] it was going to be a visualisation with your mobile device."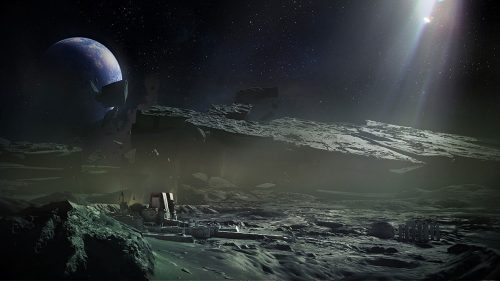 Difference of opinion
But there were fundamental differences between what Bungie had planned and what Activision – Destiny's publisher, and keeper of the purse strings – wanted.
"I think Activision was confused [about] why you would ever use music as marketing… And the other thing is, I honestly don't think they understood why we were working with Paul McCartney. I think they didn't think that that was the right person for the demographic."
News of a collaboration with McCartney had raised eyebrows when he revealed his involvement on Twitter in July 2012. His interest had been piqued during his attendance at E3 2009 following the announcement of The Beatles: Rock Band, which was preceded by Bungie's unveiling of Halo ODST.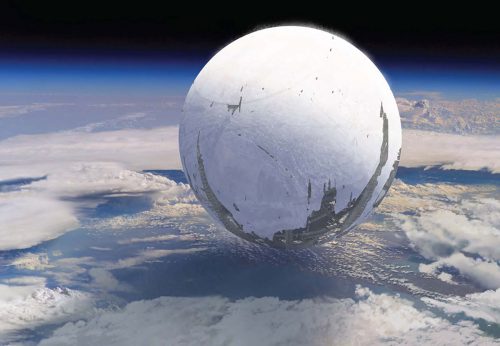 Loop symphony
"I had a contact in Los Angeles who worked out deals with actors we used on Halo," O'Donnell recalls. "He was able to make contact with Paul's people and set up a meeting between the two of us in spring of 2011. My impression was that Paul saw a new crop of fans come from Beatles Rock Band and was interested in seeing what was involved with creating music for video games. He seemed convinced that Bungie was working on a project that he could get behind."
Within a few weeks, O'Donnell and McCartney were exchanging ideas for Destiny.
"The first thing he sent me was what he called his 'loop symphony'," says O'Donnell. "He used the same looping tape recorder that he used on Sgt. Pepper's and Revolver… He hauled this tape recorder out of his attic."
Working with regular collaborator Michael Salvatori, O'Donnell and McCartney set about developing Music of the Spheres into a fully fledged album, comprising eight movements.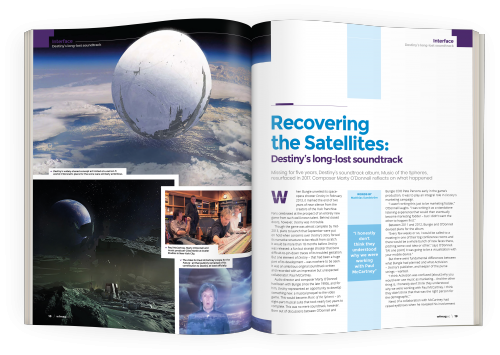 Priorities
"I have all of these wonderful things, which included interesting things he did on his guitar that sort of loop and sound otherworldly… I think there are a couple of times in The Path, which is the first piece, and then I think The Prison, which is the seventh piece, where we use a recording of Paul doing this loop with his voice. This little funny thing. That's Paul's voice, which is cool."
The album was completed in December 2012 following recording sessions at Capitol Studios in California, Avatar Studios in New York, and Abbey Road in London. Musical elements from Music of the Spheres accompanied Bungie's big reveal of Destiny at a PlayStation 4 event in New York in February 2013. But after that, things started to go south.
"After that PlayStation 4 announcement, I said, 'Let's figure out how to release this. I don't care if we have Harmonix do an iPad version with a visualiser for it. I mean, if we can't pull the trigger on something big and interesting like that, that's fine with me. Let's just release it online.' It had nothing to do with making money… It was always fan service, in my mind at least."
Activision, on the other hand, had other priorities. "Activision had a lot of say on the marketing. I think that's where things started to go wrong, for me… things started being handled badly, or postponed, and then all of a sudden I was seeing bits of Music of the Spheres being cut up and presented in ways that I wasn't happy with."
You can read the rest of this fantastic feature in Wireframe issue four, out 20 December in Tesco, WHSmith, and all good independent UK newsagents.
Or you can buy Wireframe directly from us — worldwide delivery is available. And if you'd like to own a handy digital version of the magazine, you can also download a free PDF.