We tried out Valve's Steam Link on Raspberry Pi and…
… it worked well!
tl;dr: really, really well.
But if "it worked really well" isn't enough of a reason for you to give Steam Link on Raspberry Pi a go, here's the rest of today's blog post…
Steam Link on Raspberry Pi
The internet (mainly Reddit) was all aflutter last week due to the release of the Steam Link app beta version for the Raspberry Pi.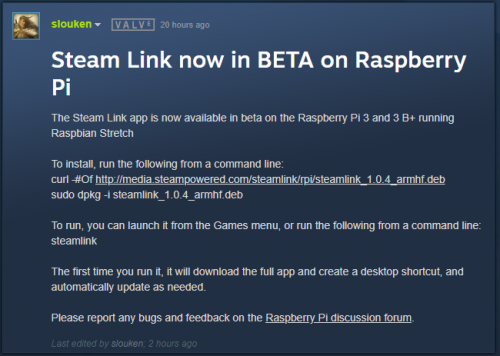 Steam Link, for the uninitiated, is a service that allowed users of the digital distribution platform Steam to stream video games from their PC to a display of choice — without the need to weave a mile-long HDMI cable between rooms and furniture to connect computer and television.
Up until now, if Steam users wanted to stream games to other displays, they had to do so with Valve's own Steam Link device — a small black box available for purchase on the Valve website — and the device did pretty well. But with the new Steam Link app for Raspberry Pi, any Pi owner can get up and running with Steam Link using one single line of code.
And that's all sorts of convenient!
Trying out Steam Link for ourselves
We didn't just want to put out a blog post to let you folks know that the app's beta version is now live. Instead, we wanted to collar one of our own to try the new app out at home and let us know exactly what they think. And since we knew that Simon, our Asset Management Assistant Keeper of the Swag, Organiser of the Stuff, Lord Commander of the Things, had a Steam Link at home, it made sense to ask him nicely to give the app a try over the weekend.
And he did, because Simon = ❤
It took Simon all of five minutes to get Steam Link up and running on his TV. He even went so far as to copy and paste the short line of code via a Chromium search for the announcement, instead of typing it in for himself.
And then Simon just had to sign into his Steam account and boom, Bob's your uncle, Sally's your aunt, the process was complete.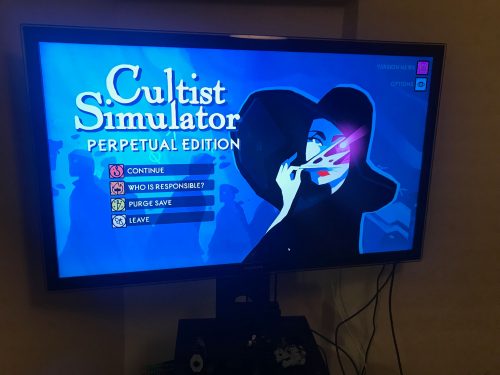 "Took less than five minutes before I was investigating strange cults from the comfort of my sofa," explained Simon, as we all nodded, inwardly judging him a little for his game of choice. But in case you're interested, Cultist Simulator is made by Factory Weather, and there are currently some photos of a tiny kitten on their homepage, so go check it out.
User experience
Let us know if you've tried the Steam Link app on Raspberry Pi, and what you think of it. Oh, and what games you're playing on it, especially if they include Cultist Simulator.
And to make your Steam Link setup process easier, type rpf.io/steamlinkblog into your Chromium browser on your Raspberry Pi to open this blog post, and then copy and paste the following into a terminal window to run install the app:
curl -#Of http://media.steampowered.com/steamlink/rpi/steamlink_1.0.7_armhf.deb
sudo dpkg -i steamlink_1.0.7_armhf.deb
[Edit – Lottie Bevan, co-founder of Factory Weather, has written several articles for Wireframe magazine. Be sure to head over to wfmag.cc to download issues 1-3 to find out more]