Stream to Twitch with the push of a button
Stream your video gaming exploits to the internet at the touch of a button with the Twitch-O-Matic. Everyone else is doing it, so you should too.
eSports and online game streaming
Interest in eSports has skyrocketed over the last few years, with viewership numbers in the hundreds of millions, sponsorship deals increasing in value and prestige, and tournament prize funds reaching millions of dollars. So it's no wonder that more and more gamers are starting to stream live to online platforms in order to boost their fanbase and try to cash in on this growing industry.
Streaming to Twitch
Launched in 2011, Twitch.tv is an online live-streaming platform with a primary focus on video gaming. Users can create accounts to contribute their comments and content to the site, as well as watching live-streamed gaming competitions and broadcasts. With a staggering fifteen million daily users, Twitch is accessible via smartphone and gaming console apps, smart TVs, computers, and tablets. But if you want to stream to Twitch, you may find yourself using third-party software in order to do so. And with more buttons to click and more wires to plug in for older, app-less consoles, streaming can get confusing.
Enter Tinkernut.
Side note: we ❤ Tinkernut
We've featured Tinkernut a few times on the Raspberry Pi blog – his tutorials are clear, his projects are interesting and useful, and his live-streamed comment videos for every build are a nice touch to sharing homebrew builds on the internet.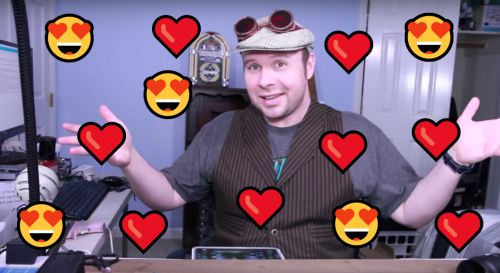 So, yes, we love him. [This is true. Alex never shuts up about him. – Ed.] And since he has over 500K subscribers on YouTube, we're obviously not the only ones. We wave our Tinkernut flags with pride.
Twitch-O-Matic
With a Raspberry Pi Zero W, an HDMI to CSI adapter, and a case to fit it all in, Tinkernut's Twitch-O-Matic allows easy connection to the Twitch streaming service. You'll also need a button – the bigger, the better in our opinion, though Tinkernut has opted for the Adafruit 16mm Illuminated Pushbutton for his build, and not the 100mm Massive Arcade Button that, sadly, we still haven't found a reason to use yet.
For added frills and pizzazz, Tinketnut has also incorporated Adafruit's White LED Backlight Module into the case, though you don't have to do so unless you're feeling super fancy.
The setup
The Raspberry Pi Zero W is connected to the HDMI to CSI adapter via the camera connector, in the same way you'd attach the camera ribbon. Tinkernut uses a standard Raspbian image on an 8GB SD card, with SSH enabled for remote access from his laptop. He uses the simple command Raspivid to test the HDMI connection by recording ten seconds of video footage from his console.
Once you have the Pi receiving video from your console, you can connect to Twitch using your Twitch stream key, which you can find by logging in to your account at Twitch.tv. Tinkernut's tutorial gives you all the commands you need to stream from your Pi.
The frills
To up the aesthetic impact of your project, adding buttons and backlights is fairly straightforward.
To run the stream command, Tinketnut uses a button: press once to start the stream, press again to stop. Pressing the button also turns on the LED backlight, so it's obvious when streaming is in progress.
The tutorial
For the full code and 3D-printable case STL file, head to Tinketnut's hackster.io project page. And if you're already using a Raspberry Pi for Twitch streaming, share your build setup with us. Cheers!