Get making in March with #MonthOfMaking | MagPi issue 79
Hi folks! Rob from The MagPi here. This month in issue 79 of The MagPi, we're doing something a little different: we invite all of you (yes, you!) to join us in the #MonthOfMaking.
#MonthOfMaking
What does this mean? Well, throughout March, we want you to post pictures of your works-in-progress and completed projects on Twitter with the hashtag #MonthOfMaking.
As well as showing off the cool stuff you're creating, we also want you to feel comfortable to ask for help with projects, and to share top tips for those that might be struggling.
If you're not sure where to start, we've put together a massive feature in issue 79 of The MagPi, out now, to help you decide. On top of various project ideas for different skill levels, our feature includes some essential resources to look at, as well as inspirational YouTubers to follow, and some competitions you might want to take part in!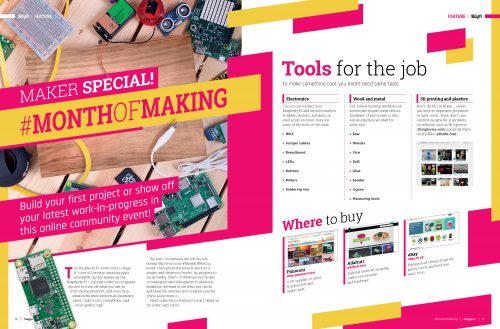 So, go forth and make! I'm really looking forward to seeing what you all get up to during this inaugural #MonthOfMaking!
Get The MagPi 79
You can get The MagPi 79 from WHSmith, Tesco, Sainsbury's, and Asda. If you live in the US, head over to your local Barnes & Noble or Micro Center in the next few days for a print copy. You can also get the issue online: check it out on our store, or digitally via our Android or iOS apps. And don't forget, there's always the free PDF.
Free Raspberry Pi 3A+ offer!
We're still running our super special Raspberry Pi 3A+ subscription offer! If you subscribe to twelve months of The MagPi, you'll get a Raspberry Pi 3A+ completely free while stocks last. Make sure to check out our other subs offers while you're there, like three issues for £5, and our rolling monthly subscription.