MagPi 76: our updated Raspberry Pi Superguide!
Hi folks, Rob from The MagPi here! The holiday season will soon be upon us, and that means a lot of Raspberry Pis will be given as gifts. For all these new Pi users, we thought it was time to update our beginners' guide for 2019 in issue 76 of The MagPi, out now!
And yes, this includes the brand-new 3A+.
Is it a bird? A plane? No, it's Superguide!
In this Superguide, we'll take you through the initial setup of the Pi, we'll help you familiarise yourself with it, and we'll even show you a couple of fun Pi projects to get started with! Whether you're a complete newbie to Raspberry Pi or you want need a little refresher, our guide has got you covered.
3A+ subscription offer!
Speaking of the Raspberry Pi 3A+, we have a full feature on the fresh addition to the Raspberry Pi family, including all the juicy benchmarks, stats, and info you'd ever want to know. There's even an interview with Eben Upton and Roger Thornton about its development!
In fact, we love the 3A+ so much that we're offering a brand-new, limited-time subscription offer: sign up for a twelve-month print subscription of The MagPi now, and you'll get a Raspberry Pi 3A+ completely free!
Hurry though, this offer only runs as long as stocks last.
Heads, Pac-Man, and Christmas lights
Of course, there also are amazing projects, guides, and reviews in this issue. This includes As We Are, a mesmerising art project that displays people's faces on a 14-foot tall screen shaped like a head. We also show you how to start making Pac-Man in our monthly Pygame tutorial, and our smart lights guide has a bit of a festive flair to it.
Get The MagPi 76
You can get The MagPi 76 from WHSmith, Tesco, Sainsbury's, and Asda. If you live in the US, head over to your local Barnes & Noble or Micro Center in the next few days for a print copy. You can also get the issue online: check it out on our store, or digitally via our Android or iOS apps. And don't forget, there's always the free PDF.
Rolling subscription offer!
Want to support the Raspberry Pi Foundation and the magazine? As well as the subscription mentioned above, you can now take out a monthly £5 subscription to the magazine, effectively creating a rolling pre‑order system that saves you money on each issue.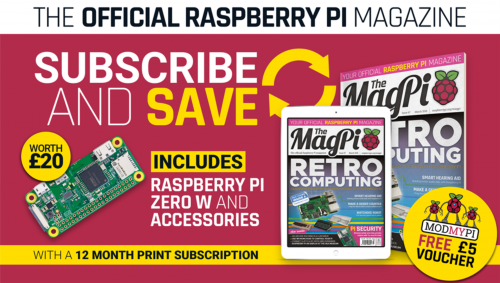 That's it for now! I'll see you next time around Christmas.