MagPi 75: 75 greatest projects, chosen by you
Hi folks, Rob from The MagPi here! A few weeks ago, we asked you to vote on your top 50 favourite Raspberry Pi projects from the last two-or-so years. We had thousands of responses, but there was one clear winner…and you can find out who that was in issue 75 of The MagPi, out tomorrow in stores, and available today online!
You heard right, the magazine is available a day early to download and buy online! Don't say we never spoil you.
The community has voted
As well as counting down your 50 favourites, we've also got 25 other amazing projects selected by Eben Upton, Philip Colligan, Carrie Anne Philbin, and others!* Is your favourite project on the list?
And there's so much more!
On top of community favourites, we bring you a lot more in issue 75. This month we have a big feature on using the Raspberry Pi Camera Module, we show you ten of our favourite starter kits, and we also have a guide on building a secret radio chat device.
All this along with news, reviews, community features, and competitions!
Get The MagPi 75
You can get The MagPi 75 tomorrow from WHSmith, Tesco, Sainsbury's, and Asda. If you live in the US, head over to your local Barnes & Noble or Micro Center in the next few days for a print copy. However, you can get the new issue online today! Check it out on our store, or digitally via our Android or iOS apps. And don't forget, there's always the free PDF.
Rolling subscription offer!
Want to support the Raspberry Pi Foundation and the magazine? You can now take out a monthly £5 subscription to the magazine, effectively creating a rolling pre‑order system that saves you money on each issue.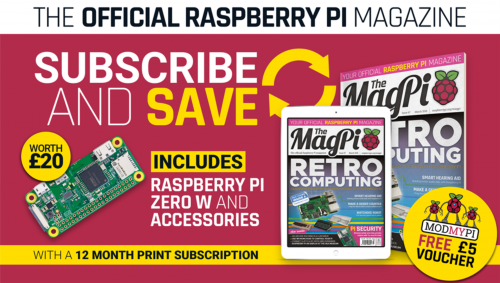 You can also take out a twelve-month print subscription and get a Pi Zero W plus case and adapter cables absolutely free! This offer does not currently have an end date.
Thanks for sticking with The MagPi for 75 issues! Here's to hundreds more.
*Oi, Zwetsloot, why wasn't I asked?! – Alex