MagPi 74: Build a Raspberry Pi laptop!
Hey folks! Rob from The MagPi here with the good news that a brand new issue is out today, with a slightly new look. The MagPi 74 shows you how to build a Pi‑powered laptop, and gives tips on how to recycle an old laptop to use with Pi.
We've got a pretty simple, tiny laptop build that you can follow along with, which will easily slip into your pocket once it's completed. We also cover the basic Raspberry Pi Desktop experience, in case you fancy installing the x86 version to bring new life to an old laptop.
Welcome, foolish mortals…
I'm also very happy to announce that The MagPi Halloween projects feature is back this year! Put together by yours truly, Haunted Halloween Hacks should get you in the mood for the spookiest time of the year. October is the only month of the year that I'm allowed to make puns, so prepare yourself for some ghastly groaners.
Still want more?
On top of all that, you can find more fantastic guides on making games in Python and in C/C++, along with our brand new Quickstart guide, a review of the latest Picade, and more inspiring projects than you can shake a Pi Zero at.
Get The MagPi 74
You can get The MagPi 74 today from WHSmith, Tesco, Sainsbury's, and Asda. If you live in the US, head over to your local Barnes & Noble or Micro Center in the next few days for a print copy. You can also get the new issue online from our store, or digitally via our Android or iOS apps. And don't forget, there's always the free PDF as well.
Rolling subscription offer!
Want to support the Raspberry Pi Foundation and the magazine? You can now take out a monthly £5 subscription to the magazine, effectively creating a rolling pre‑order system that saves you money on each issue.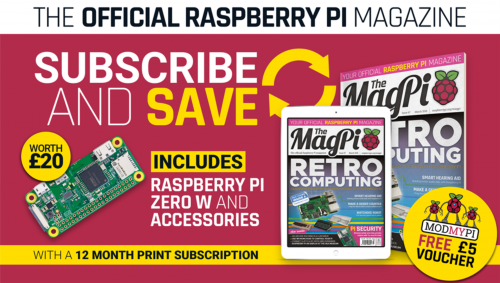 You can also take out a twelve-month print subscription and get a Pi Zero W plus case and adapter cables absolutely free! This offer does not currently have an end date.
We need you!
Issue 75 is next month, and we're planning to showcase 75 amazing Raspberry Pi projects! We need your help to vote for the top 50, so please head to the voting page and choose your favourite project. Click on a project name to cast your vote for that project.
That's it for now! Oh, and if you make any Raspberry Pi Halloween projects this year, send them to us on Twitter or via email.