MagPi 73: make a video game!
Hi folks, Rob from The MagPi here! As far back as I can remember, I always wanted to learn to code to make a video game. I'm technically working on one right now! It's wildly behind my self-imposed schedule, though. If you too wish to learn how to make games, then check out issue 73 of The MagPi, out today!
Let's play a game
There are many classifications of video games these days, and many tools to help make it easy. We take you through making a purely narrative experience on Twine, up to programming a simple 8-bit game for Pico-8 in this month's main feature. Don't forget our ongoing series on how to make games in C/C++ and Pygame as well!
Boost your home security
If making games aren't quite your thing, then we also have a feature for our more serious-sided readers on how to secure your home using a Raspberry Pi. We show you how to set up a CCTV camera, an IoT doorbell, and a door security monitor too.
Maker Faire Tokyo
We also have a bumper five pages on Maker Faire Tokyo and the Japanese Raspberry Pi community! I went out there earlier this month and managed to drag myself away from the Gundam Base and the Mandarake in Akihabara long enough to see some of the incredible and inventive things Japanese makers had created.
All of this along with our usual selection of tutorials, projects, and reviews? We spoil you.
Get The MagPi 73
You can get The MagPi 72 today from WHSmith, Tesco, Sainsbury's, and Asda. If you live in the US, head over to your local Barnes & Noble or Micro Center in the next few days for a print copy. You can also get the new issue online from our store, or digitally via our Android or iOS apps. And don't forget, there's always the free PDF as well.
Rolling subscription offer!
Want to support the Raspberry Pi Foundation and the magazine? You can now take out a monthly £5 subscription to the magazine, effectively creating a rolling pre-order system that saves you money on each issue.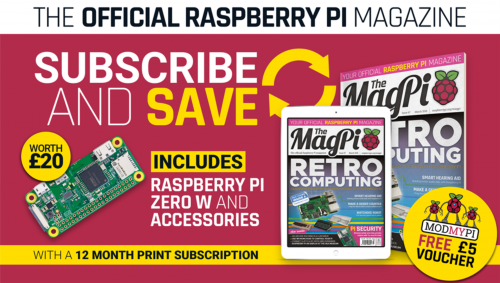 You can also take out a twelve-month print subscription and get a Pi Zero W plus case and adapter cables absolutely free! This offer does not currently have an end date.
That's it for now, see ya real soon!
Edit: I'm sure he'll run out of Star Trek GIFs eventually – Alex