MagPi 72: AI made easy for your Raspberry Pi
Hi folks, Rob from The MagPi here! With AI currently a hot topic in hobby tech, we thought we'd demystify it for you and your Raspberry Pi in The MagPi 72, out now!
The MagPi 72
AI made easy covers several types of current AI and machine learning tech that you, as a hobbyist and consumer, can get your hands on and use with your Pi. Many companies offer voice and image recognition services that work with the help of machine learning, and it's actually pretty easy to get started with these.
We asked several AI experts to help us out with this, and we cover robot automation, getting the details of an image, and offline voice recognition. We promise it's Skynet-safe.
Make sweet music
Want to make music? Then follow our guide to create your own Raspberry Pi–powered recording studio — all you need to bring to the table is your own musical talent.
We've also got some great tutorials on how to make a mini magic mirror and hack Minecraft Pi with Mathematica, along with some fantastic project showcases such as the squirrel cafe and a ghost detector.
Still not satisfied? Then check out our reviews and community segments — there's a lot of excellent stuff to read about this issue.
Get The MagPi 72
You can get The MagPi 72 today from WHSmith, Tesco, Sainsbury's, and Asda. If you live in the US, head over to your local Barnes & Noble or Micro Center in the next few days for a print copy. You can also get the new issue online from our store, or digitally via our Android or iOS apps. And don't forget, there's always the free PDF as well.
Rolling subscription offer!
Want to support the Raspberry Pi Foundation and the magazine? You can now take out a monthly £5 subscription to the magazine, effectively creating a rolling pre-order system that saves you money on each issue.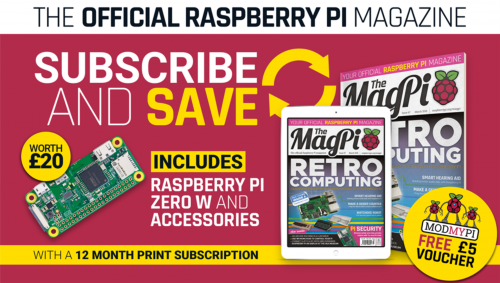 You can also take out a twelve-month print subscription and get a Pi Zero W plus case and adapter cables absolutely free! This offer does not currently have an end date.
See you next month!