MagPi 70: Home automation with Raspberry Pi
Hey folks, Rob here! It's the last Thursday of the month, and that means it's time for a brand-new The MagPi. Issue 70 is all about home automation using your favourite microcomputer, the Raspberry Pi.
Raspberry Pi home automation
We think home automation is an excellent use of the Raspberry Pi, hiding it around your house and letting it power your lights and doorbells and…fish tanks? We show you how to do all of that, and give you some excellent tips on how to add even more automation to your home in our ten-page cover feature.
Upcycle your life
Our other big feature this issue covers upcycling, the hot trend of taking old electronics and making them better than new with some custom code and a tactically placed Raspberry Pi. For this feature, we had a chat with Martin Mander, upcycler extraordinaire, to find out his top tips for hacking your old hardware.
But wait, there's more!
If for some reason you want even more content, you're in luck! We have some fun tutorials for you to try, like creating a theremin and turning a Babbage into an IoT nanny cam. We also continue our quest to make a video game in C++. Our project showcase is headlined by the Teslonda on page 28, a Honda/Tesla car hybrid that is just wonderful.
All this comes with our definitive reviews and the community section where we celebrate you, our amazing community! You're all good beans
Get The MagPi 70
Issue 70 is available today from WHSmith, Tesco, Sainsbury's, and Asda. If you live in the US, head over to your local Barnes & Noble or Micro Center in the next few days for a print copy. You can also get the new issue online from our store, or digitally via our Android and iOS apps. And don't forget, there's always the free PDF as well.
New subscription offer!
Want to support the Raspberry Pi Foundation and the magazine? We've launched a new way to subscribe to the print version of The MagPi: you can now take out a monthly £4 subscription to the magazine, effectively creating a rolling pre-order system that saves you money on each issue.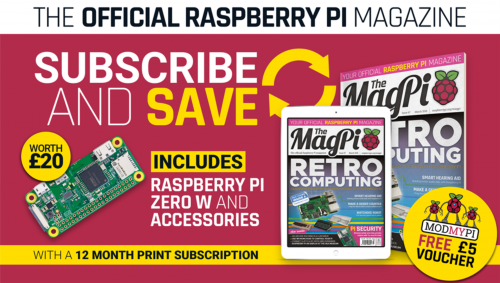 You can also take out a twelve-month print subscription and get a Pi Zero W plus case and adapter cables absolutely free! This offer does not currently have an end date.
That's it for today! See you next month.