MagPi 71: Run Android on Raspberry Pi
Hey folks, Rob here with good news about the latest edition of The MagPi! Issue 71, out right now, is all about running Android on Raspberry Pi with the help of emteria.OS and Android Things.
Android and Raspberry Pi
A big part of our main feature looks at emteria.OS, a version of Android that runs directly on the Raspberry Pi. By running it on a touchscreen setup, you can use your Pi just like an Android tablet — one that's easily customisable and hackable for all your embedded computing needs. Inside the issue, we've got a special emteria.OS discount code for readers.
We also look at Android Things, the official Android release for Raspberry Pi that focuses on IoT applications, and we show you some of the amazing projects that have been built with it.
More in The MagPi
If Android's not your thing, we also have a big feature on building a Raspberry Pi weather station in issue 71!
On top of that, we've included guides on how to get started with TensorFlow AI and on building an oscilloscope.
All this, along with our usual varied selection of project showcases, excellent tutorials, and definitive reviews!
Get The MagPi 71
You can get The MagPi 71 today from WHSmith, Tesco, Sainsbury's, and Asda. If you live in the US, head over to your local Barnes & Noble or Micro Center in the next few days for a print copy. You can also get the new issue online from our store, or digitally via our Android or iOS apps. And don't forget, there's always the free PDF as well.
New subscription offer!
Want to support the Raspberry Pi Foundation and the magazine? We've launched a new way to subscribe to the print version of The MagPi: you can now take out a monthly £5 subscription to the magazine, effectively creating a rolling pre-order system that saves you money on each issue.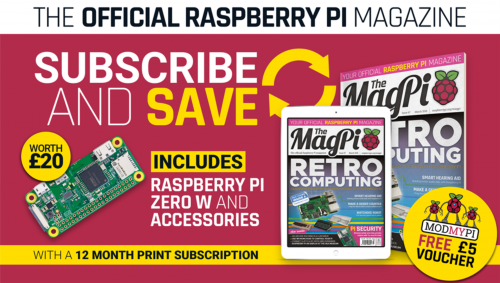 You can also take out a twelve-month print subscription and get a Pi Zero W plus case and adapter cables absolutely free! This offer does not currently have an end date.
That's it, folks! See you at Raspberry Fields.