HackSpace magazine: a new magazine for makers
HackSpace magazine is the new monthly magazine for people who love to make things and those who want to learn. Grab some duct tape, fire up a microcontroller, ready a 3D printer and hack the world around you!
HackSpace magazine
Each month, HackSpace magazine will feature tutorials and projects to help you build and learn. Whether you're into 3D printing, woodworking, or weird and wonderful IoT projects, HackSpace magazine will help you get more out of hardware hacking by giving you the ideas and skills to take your builds to the next level.
HackSpace magazine is a community title written by makers for makers, and we want your input. So if there's something you want to see in the magazine, tell us about it. And if you have a great project that you believe deserves a place within a future issue, then show it to us.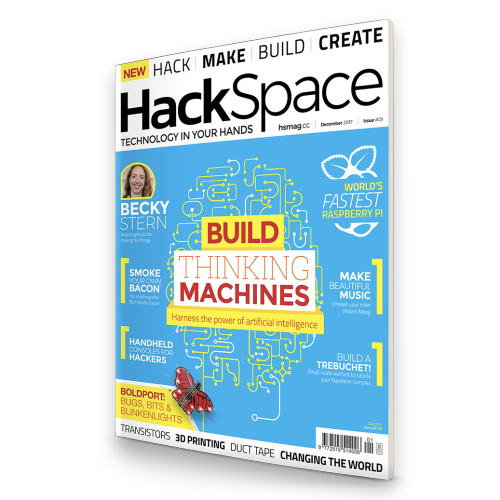 Get your free copy
Eager to get your hands on HackSpace magazine? Sign up for a free copy of issue 1 by visiting the website! You have until 17 November to do so. Moreover, if you're the manager of a hack- and makerspace, you can also sign up for a whole box of free copies for your members to enjoy by filling in the details of your venue here.
We want HackSpace magazine to be available to as many people as possible, so we'll be releasing a free PDF of every monthly issue alongside the print version. You won't have to wait for us to release articles online — everything will be available free of charge from day one!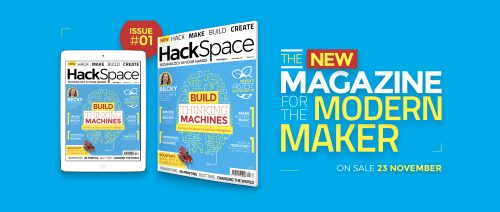 Get your monthly copy
For those who'd rather have the hard copy of HackSpace magazine for their home library, garden shed, or coffee table, subscriptions start at just £4.00 a month for a rolling subscription, and even less than that if you're already a subscriber to The MagPi magazine.
You will also be able to purchase this new magazine from selected newsagents in the UK from 23 November onward, and in the USA and Australia a few weeks later.