Using taxis to monitor air quality in Peru
When James Puderer moved to Lima, Peru, his roadside runs left a rather nasty taste in his mouth. Hit by the pollution from old diesel cars in the area, he decided to monitor the air quality in his new city using Raspberry Pis and the abundant taxies as his tech carriers.
Sensing air quality in Lima
Luckily for James, almost all taxies in Lima are equipped with the standard hollow vinyl roof sign seen in the video above, which makes them ideal for hacking.
Using a Raspberry Pi alongside various Adafuit tech including the BME280 Temperature/Humidity/Pressure Sensor and GPS Antenna, James created a battery-powered retrofit setup that fits snugly into the vinyl sign.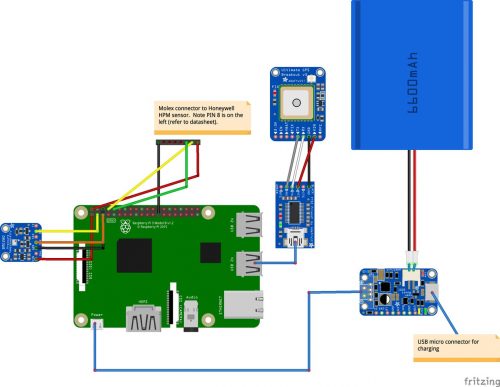 With the onboard tech, the device collects data on longitude, latitude, humidity, temperature, pressure, and airborne particle count, feeding it back to an Android Things datalogger. This data is then pushed to Google IoT Core, where it can be remotely accessed.
Next, the data is processed by Google Dataflow and turned into a BigQuery table. Users can then visualize the collected measurements. And while James uses Google Maps to analyse his data, there are many tools online that will allow you to organise and study your figures depending on what final result you're hoping to achieve.
James has provided the complete build process, including all tech ingredients and code, on his Hackster.io project page, and urges makers to create their own air quality monitor for their local area. He also plans on building upon the existing design by adding a 12V power hookup for connecting to the taxi, functioning lights within the sign, and companion apps for drivers.
Sensing the world around you
We've seen a wide variety of Raspberry Pi projects using sensors to track the world around us, such as Kasia Molga's Human Sensor costume series, which reacts to air pollution by lighting up, and Clodagh O'Mahony's Social Interaction Dress, which she created to judge how conversation and physical human interaction can be scored and studied.
Many people also build their own Pi-powered weather stations, or use the Raspberry Pi Oracle Weather Station, to measure and record conditions in their towns and cities from the roofs of schools, offices, and homes.
Have you incorporated sensors into your Raspberry Pi projects? Share your builds in the comments below or via social media by tagging us.