The Official Projects Book Volume 2 – out now!
The Official Raspberry Pi Projects Book Volume 2 is on sale now.
The Projects Book is packed with 200 pages of the finest coding and creating tutorials.
It comes from the same team that brings you The MagPi every month, which is the official community magazine, so you can be sure these are the highest-quality tutorials and projects around.
Pick up a copy of The Official Raspberry Pi Projects Book from the following places:
WH Smith and all good newsagents
It's an amazing-looking magazine with a superbly shiny jet-black cover. Embossed on the cover is a metal reflective red and green Raspberry Pi logo. You can't miss it!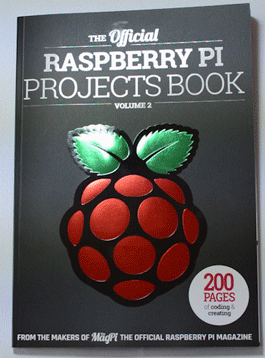 Inside The Official Raspberry Pi Projects Book
"The Raspberry Pi is the best-selling British computer of all time," says  Managing Editor Russell Barnes. "It's known the world over for making incredible things, from robots to mirrors and even art. It's also helping to revolutionise computing."
You can learn all about the world's favourite credit card-sized computer in this one book:
200 pages of Raspberry Pi
Learn how easy it is to use your Raspberry Pi
Find out about amazing community creations
Follow expert guides to make your first project
Read definitive reviews of add-ons and accessories