Darth Beats: Star Wars LEGO gets a musical upgrade
Dan Aldred, Raspberry Pi Certified Educator and creator of the website TeCoEd, has built Darth Beats by managing to fit a Pi Zero W and a Pimoroni Speaker pHAT into a LEGO Darth Vader alarm clock! The Pi force is strong with this one.
Darth Beats inspiration: I have a very good feeling about this!
As we all know, anything you love gets better when you add something else you love: chocolate ice cream + caramel sauce, apple tart + caramel sauce, pizza + caramel sau— okay, maybe not anything, but you get what I'm saying.
The formula, in the form of "LEGO + Star Wars", applies to Dan's LEGO Darth Vader alarm clock. His Darth Vader, however, was sitting around on a shelf, just waiting to be hacked into something even cooler. Then one day, inspiration struck: Dan decided to aim for exponential awesomeness by integrating Raspberry Pi and Pimoroni technology to turn Vader into an MP3 player.
Darth Beats assembly: always tell me the mods!
The space inside the LEGO device measures a puny 6×3×3 cm, so cramming in the Zero W and the pHAT was going to be a struggle. But Dan grabbed his dremel and set to work, telling himself to "do or do not. There is no try."
He removed the battery compartment, and added two additional buttons in its place. Including the head, his Darth Beats has seven buttons, which means it is fully autonomous as a music player.
Darth Beats can draw its power from a wall socket, or from a portable battery pack, as shown in Dan's video. Dan used the GPIO Zero Python library to set up 'on' and 'off' switches, and buttons for skipping tracks and controlling volume.
For more details on the build process, read his blog, and check out his video log:
Accessing Darth Beats: these are the songs you're looking for
When you press the 'on' switch, the Imperial March sounds before Darth Beats asks "What is thy bidding, my master?". Then the device is ready to play music. Dan accomplished this by using Cron to run his scripts as soon as the Zero W boots up. MP3 files are played with the help of the Pygame library.
Of course, over time it would become boring to only be able to listen to songs that are stored on the Zero W. However, Dan got around this issue by accessing the Zero W remotely. He set up an online file upload system to add and remove MP3 files from the player. To do this, he used Droopy, an file sharing server software package written by Pierre Duquesne.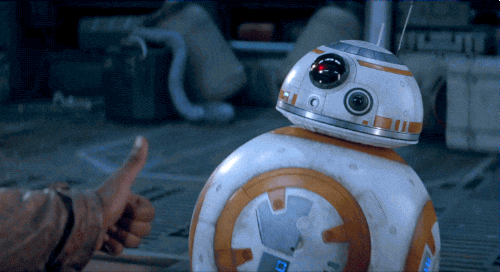 IT'S A TRAP!
There's no reason to use this quote, but since it's the Star Wars line I use most frequently, I'm adding it here anyway. It's my post, and I can do what I want!
As you can imagine, there's little that gets us more excited at Pi Towers than a Pi-powered Star Wars build. Except maybe a Harry Potter-themed project? What are your favourite geeky builds? Are you maybe even working on one yourself? Be sure to send us nerdy joy by sharing your links in the comments!