Colin Furze and his explosive inventions
In January 2007, one plumber and a few friends in a pub set out to build a wall of death out of 850 pallets in a field in Lincolnshire. It's something we've all done as children on a small scale, jumping over a cardboard box perhaps. But to scale it up to something 30ft in diameter and 17ft high, and ride around it on a moped at 25mph… that took a special kind of person. That took maker, inventor, YouTuber, and record-breaker extraordinaire Colin Furze.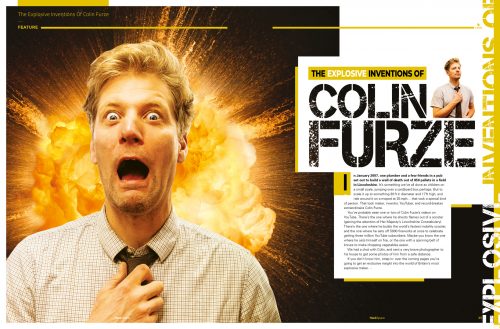 Colin Furze
You've probably seen one or two of Colin Furze's videos on YouTube. There's the one where he shoots flames out of a scooter (gaining the attention of Her Majesty's Lincolnshire Constabulary). There's the one where he builds the world's fastest mobility scooter, and the one where he sets off 5000 fireworks at once to celebrate getting three million YouTube subscribers. Maybe you know the one where he sets himself on fire, or the one with a spinning belt of knives to make chopping vegetables easier.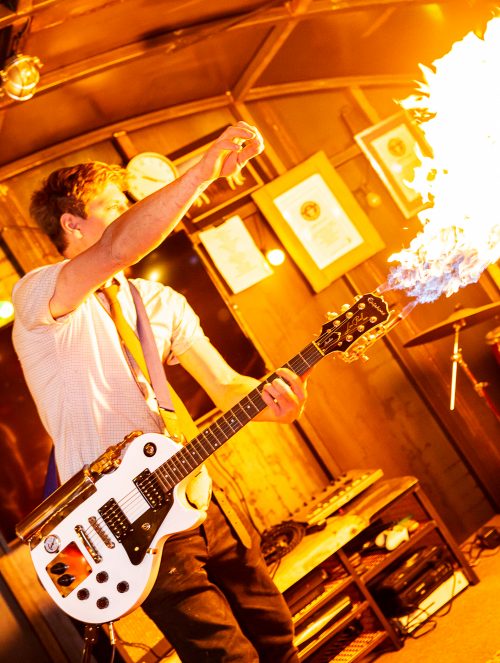 We had a chat with Colin, and sent a very brave photographer to his house to get some photos of him from a safe distance. If you don't know him, strap in: over the coming pages you're going to get an exclusive insight into the world of Britain's most explosive maker.
How to be a better maker, the Furze way
"The thing that I find most exciting about what I do is that sometimes you have the initial test. You have an idea, you nip out to the shed – this could be after tea at night – and you bodge something together quite crudely. And you get that moment of realisation that it might actually work. I think that's what I find the most enjoyable."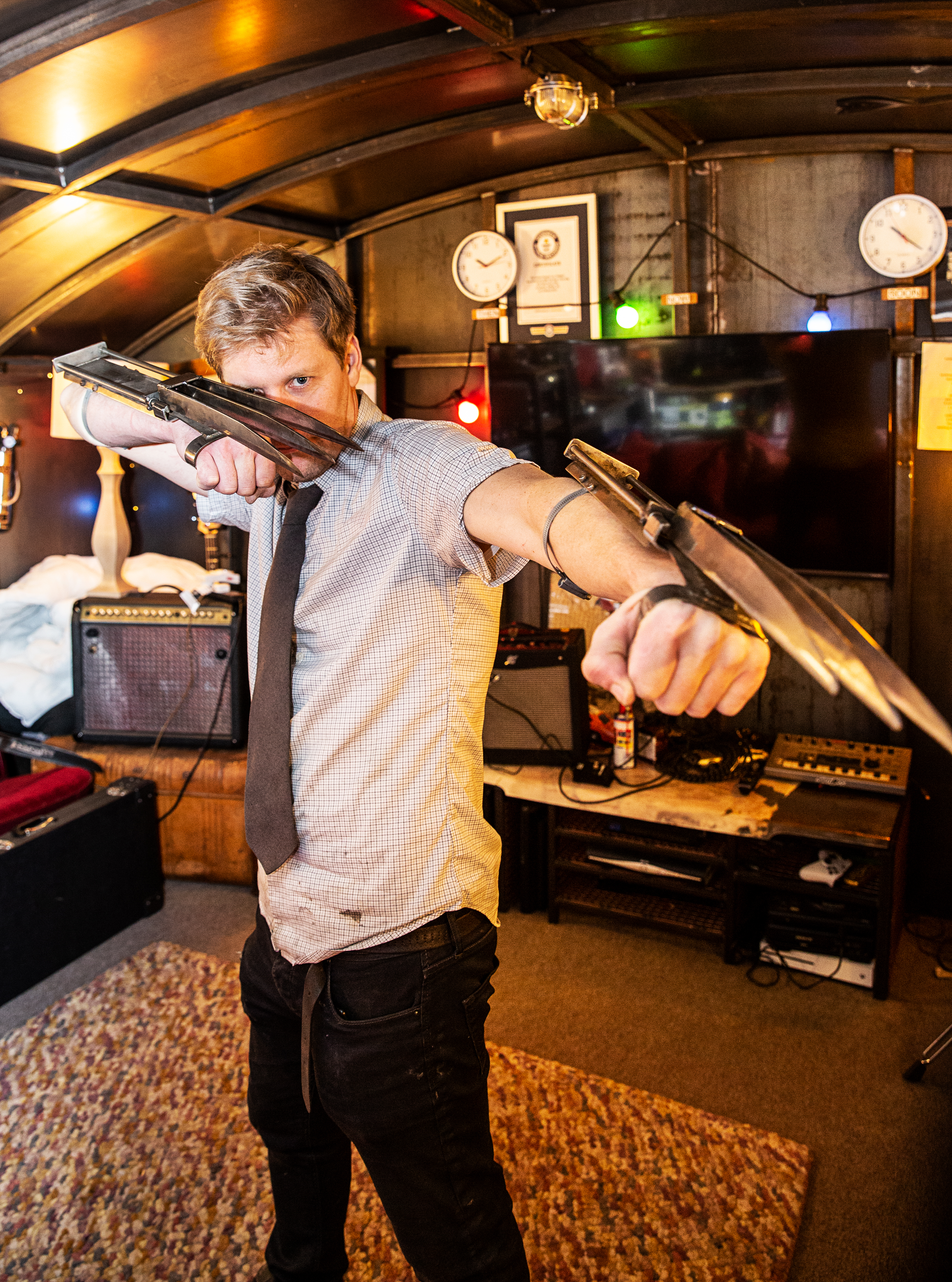 "I've got to the point now where I've set my bar pretty high in terms of what people expect. Some projects, like the belt of knives, I knocked that up pretty quick because it was quite simple, but there were other things like the turbo jet scooter, I made sure things look good and they're pretty well made, so they can take quite a while."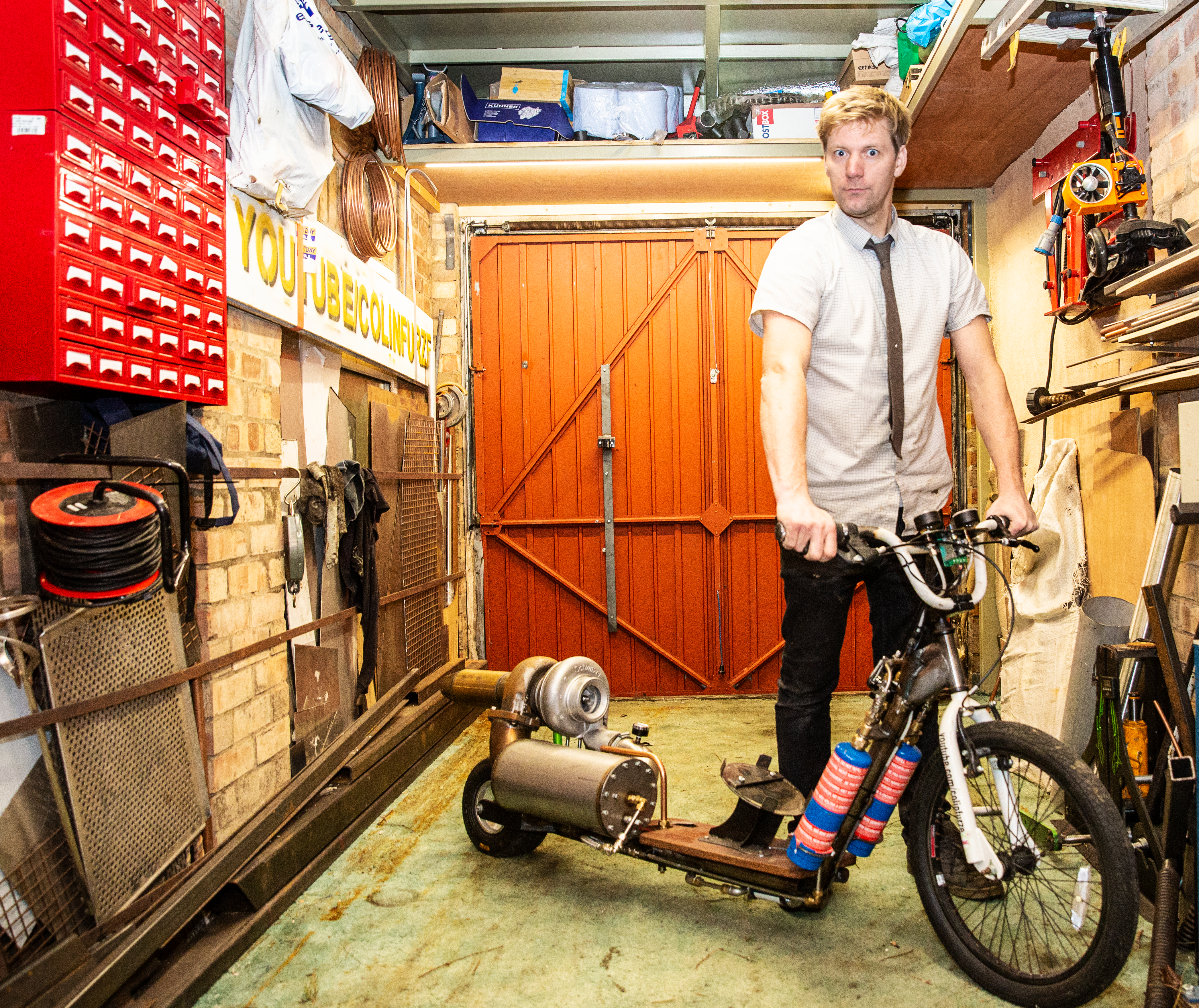 "Some are a lot easier than others to make, and if you look through my videos in order, they tend to go from ones that are a bit more complicated to ones that are simple. You can never really predict what you're going to get next; with some YouTube channels it's much of the same thing if you know what I mean. When I upload a video, you've no idea what it's going to be. I try to hop around a bit so it doesn't become the same thing over and over again."
Quality, not quantity
"I used to get a video up every week, or at least try for that, whereas now I'm going to kill myself if I try to match that. I've come to the conclusion that they're ready when they're ready. If there's no video on a Thursday, the world's not going to end. And it makes them a little bit more special when they do come out."
"I've never worked in an office. I think I'd enjoy it for a week, then I'd drive everyone up the wall. I'd be too noisy I think. The only thing I miss from plumbing is the social aspect, because obviously I don't see many people being in the shed, because I'm only just outside the back door of my house. I haven't even got a commute. You can just be in there beavering away. I only ever have Rick in there with me when it's a two-person job. And also it's not like I've got two sheds so something can be being built in the background… a lot of people, when they get to six or seven million subscribers, employ loads of staff, the workshop gets bigger, everything expands, and you start to look at it and think 'What is this now?' This is not a guy in the shed at the side of his house trying to make impossible stuff; it's a factory. Well, you'd expect big stuff to come out of a factory, wouldn't you? Whereas when I make stuff in that little shed, there's a little bit of extra interest in it because it's something that most people could own, if they've got the space. So I've purposely kept it small and not got too big."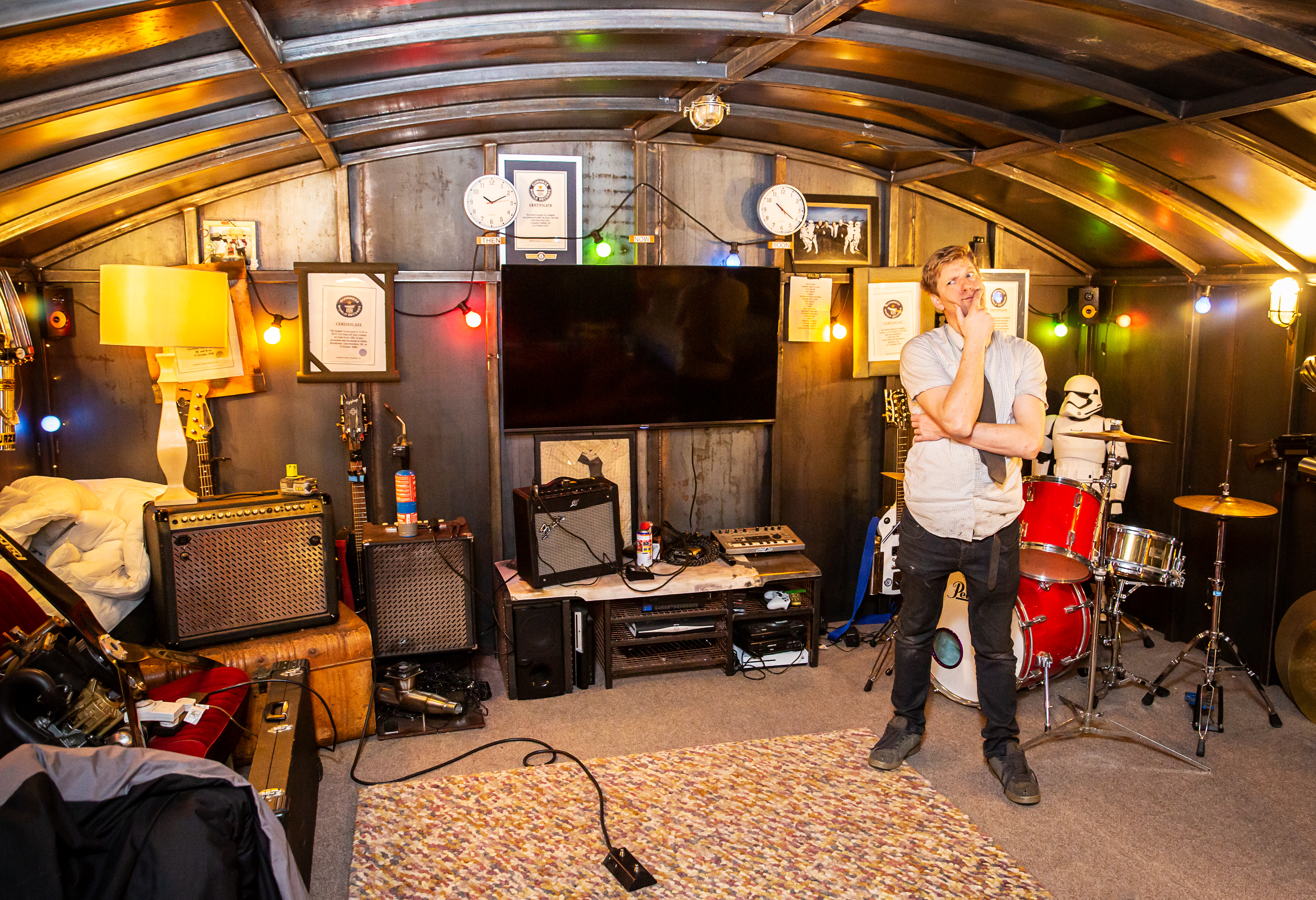 "I like to go into something thinking 'Let's make the best job I can of this.' Like the shredder that I've just made, all the housing and the aluminium surround, I wanted to get it as precise at possible. I used my optical punch and tried to get everything bang on. It all bolts together, and it looks like something that if I'd been shown it before, I'd have gone 'No, I'm not sure I could make that.'"
Read more!
Read the rest of the exclusive 12-page Colin Furze special in HackSpace magazine issue 15, out today. Buy your copy now from the Raspberry Pi Press store, major newsagents in the UK, or Barnes & Noble, Fry's, or Micro Center in the US. Or, download your free PDF copy from the HackSpace magazine website.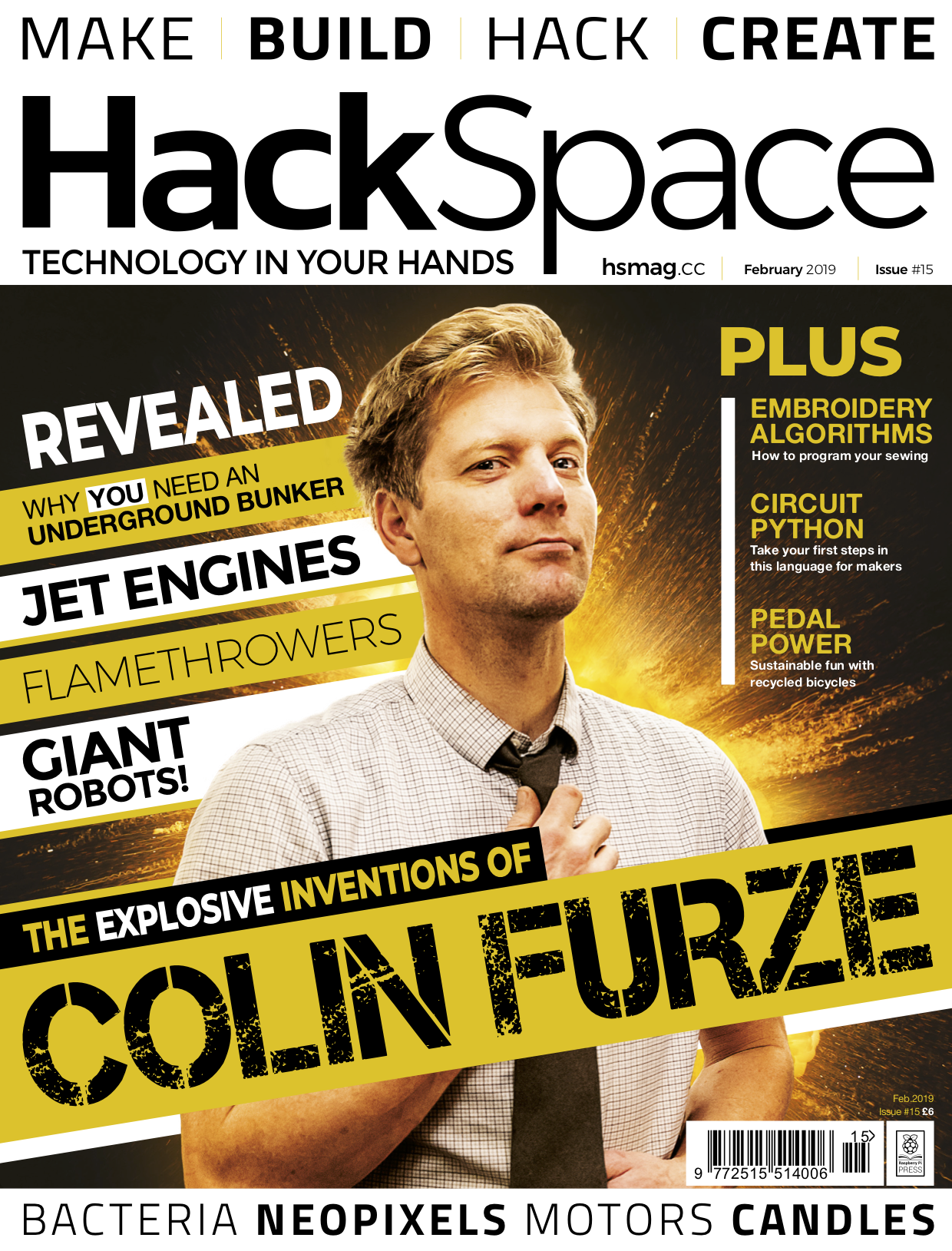 We're also shipping to stores in Australia, Hong Kong, Canada, Singapore, Belgium, and Brazil, so be sure to ask your local newsagent whether they'll be getting HackSpace magazine.
Subscribe now
Subscribe to HackSpace on a monthly, quarterly, or twelve-month basis to save money against newsstand prices.
Twelve-month print subscribers get a free Adafruit Circuit Playground Express, loaded with inputs and sensors and ready for your next project. Tempted?