10 YouTubers you should be following
When it comes to finding Raspberry Pi tutorials on the internet, many makers' first port of call is YouTube. From professional content creators to part-time hobbyists, the video-sharing platform is full of makers documenting their projects for the world to see.
Here are some of Youtube's finest who use Raspberry Pi at the heart of many of their builds.
JenFoxBot
Jen's channel is a collection of educational videos about computer science, explorations into the inner workings of tech, and build videos using Raspberry Pi. We've covered her work on the blog a few times, sharing her IoT Pet Monitor and her safety helmet, and we get excited about our subscriber notifications whenever she posts a new video.
Sean Hodgins
Sean describes himself as someone who likes building, creating, and making, and his channel is brimming with examples of just how ingenious and interesting his makes are. From designing and creating his own PCBs for Kickstarter, to 3D-printing and Raspberry Pi project building, Sean's channel has plenty to keep makers happy.
N-O-D-E
N-O-D-E tears Raspberry Pis to pieces and rebuilds them, turning them into mini servers, dongles, Pi slims, and more. N-O-D-E's channel an interesting resource for those looking to modify their Pi, and it's well documented and accessible, thanks to the supporting website.
Estefannie Explains It All
Estefannie started her video-making journey as a means to reassure herself that she knew what she was talking about. If she could successfully produce a tutorial video about algorithm analysis, this meant she had retained the information to begin with. Smart! From there, her channel has evolved into a kitchen table maker diary, with fun, entertaining tutorials on how to build using Raspberry Pi and Arduino.
TucksProjects
With only a few videos so far, Tucker Shannon's channel is a promising collection of rather wonderful Raspberry Pi builds. We covered his DIY CNC wood burner on the blog last year, and sat patiently waiting for more. And boy, were we happy with what came next. Check out his Raspberry Pi laser turret, and spend the rest of your day trying to figure out when you can make time to build your own.
Tinkernut
OMG, LOL, ROFLCOPTER, animated baby GIF, animated baby JIF — if you like YouTube and Raspberry Pi, we'd be shocked if you haven't come across Tinkernut yet. With his well-documented projects and live comment aftershows, Tinkernut beautifully bridges the gap between his love of making and the interests of the community devouring his content.
Blitz City DIY
Looking to build a Raspberry Pi thermal camera? Need a review about Android TV OS for the Pi? Whatever your Raspberry Pi needs, Blitz City DIY will likely have you covered. With a collection of fun digital making builds using various tech; 3D-printing experiments; and reviews aplenty, Blitz City DIY is a gem amongst the maker channels of YouTube.
engineerish
We've covered a few of engineerish's projects here on the blog. He's the king of creating projects you didn't know you needed until you saw them, such as a Raspberry Pi binary clock, and a maze generator. While engineerish's channel is fairly new, we're excited to see where his builds will take him in the future.
Frederick Vandenbosch
Members of the Raspberry Pi Twitter community, you'll recognise Frederick, who is an active contributor that often answers maker queries and takes part in the general Pi conversation. And on YouTube, his contributions are just as plentiful and rewarding.
Explaining Computers
Christopher Barnatt's Explaining Computers channel reminds us a little of the educational videos our science teachers would record for us to play back during exam prep season. His videos are easy-to-follow explanations of various computing topics, well-presented, and with a theme tune that'll be stuck in your head for days!
Shameless plug…
Not to be confused with this, a shameless pug: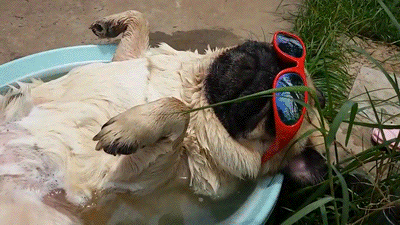 The MagPi magazine
Is this cheating? Never mind. The MagPi magazine's YouTube channel is full of reviews of the latest third-party add-ons for your Pi. 99% hosted by Rob (the guy who accosts our blog once a month to talk about the magazine), the MagPi's channel is a must subscription for any Raspberry Pi enthusiast.
Raspberry Pi Foundation
OK, this IS cheating, but it's our blog post so we say it's OK. The Raspberry Pi Foundation's YouTube channel collects introduction videos for our free resources, live talks from events, portraits of your projects, and that one time our Director of Software Engineering decided to ride a Pi-powered motorised skateboard. Oh, and product releases like this…
Who did we miss?
If you run, or follow, a YouTube channel with Raspberry Pi–related content, share it with us in the comments! We'll be watching.