"Only a year? It's felt like forever": a twelve-month retrospective
This weekend saw my first anniversary at Raspberry Pi, and this blog marks my 100th post written for the company. It would have been easy to let one milestone or the other slide had they not come along hand in hand, begging for some sort of acknowledgement.
So here it is!
Joining the crew
Prior to my position in the Comms team as Social Media Editor, my employment history was largely made up of retail sales roles and, before that, bit parts in theatrical backstage crews. I never thought I would work for the Raspberry Pi Foundation, despite its firm position on my Top Five Awesome Places I'd Love to Work list. How could I work for a tech company when my knowledge of tech stretched as far as dismantling my Game Boy when I was a kid to see how the insides worked, or being the one friend everyone went to when their phone didn't do what it was meant to do? I never thought about the other side of the Foundation coin, or how I could find my place within the hidden workings that turned the cogs that brought everything together.
https://www.instagram.com/p/BFjvjMJHjXC
A little luck, a well-written though humorous resumé, and a meeting with Liz and Helen later, I found myself the newest member of the growing team at Pi Towers.
Ticking items off the Bucket List
I thought it would be fun to point out some of the chances I've had over the last twelve months and explain how they fit within the world of Raspberry Pi. After all, we're about more than just a $35 credit card-sized computer. We're a charitable Foundation made up of some wonderful and exciting projects, people, and goals.
High altitude ballooning (HAB)
Skycademy offers educators in the UK the chance to come to Pi Towers Cambridge to learn how to plan a balloon launch, build a payload with onboard Raspberry Pi and Camera Module, and provide teachers with the skills needed to take their students on an adventure to near space, with photographic evidence to prove it.
I was fortunate enough to join Sky Captain James, along with Dan Fisher, Dave Akerman, and Steve Randell on a test launch back in August last year. Testing out new kit that James had still been tinkering with that morning, we headed to a field in Elsworth, near Cambridge, and provided Facebook Live footage of the process from payload build to launch…to the moment when our balloon landed in an RAF shooting range some hours later.
Having enjoyed watching Blue Peter presenters send up a HAB when I was a child, I marked off the event on my bucket list with a bold tick, and I continue to show off the photographs from our Raspberry Pi as it reached near space.
You can find more information on Skycademy here, plus more detail about our test launch day in Dan's blog post here.
Dear Raspberry Pi Friends…
My desk is slowly filling with stuff: notes, mementoes, and trinkets that find their way to me from members of the community, both established and new to the life of Pi. There are thank you notes, updates, and more from people I've chatted to online as they explore their way around the world of Pi.
By plugging myself into social media on a daily basis, I often find hidden treasures that go unnoticed due to the high volume of tags we receive on Facebook, Twitter, Instagram, and so on. Kids jumping off chairs in delight as they complete their first Scratch project, newcomers to the Raspberry Pi shedding a tear as they make an LED blink on their kitchen table, and seasoned makers turning their hobby into something positive to aid others.
It's wonderful to join in the excitement of people discovering a new skill and exploring the community of Raspberry Pi makers: I've been known to shed a tear as a result.
Meeting educators at Bett, chatting to teen makers at makerspaces, and sharing a cupcake or three at the birthday party have been incredible opportunities to get to know you all.
You're all brilliant.
The Queens of Robots, both shoddy and otherwise
Last year we welcomed the Queen of Shoddy Robots, Simone Giertz to Pi Towers, where we chatted about making, charity, and space while wandering the colleges of Cambridge and hanging out with flat Tim Peake.
And last month, the wonderful Estefannie 'Explains it All' de La Garza came to hang out, make things, and discuss our educational projects.
Ahhhh!!! I still can't believe I got to hang out and make stuff at the @Raspberry_Pi towers!! Thank you thank you!! pic.twitter.com/5gvk7BO1Dr

— estefannie (@estefanniegg) May 22, 2017
Meeting such wonderful, exciting, and innovative YouTubers was a fantastic inspiration to work on my own projects and to try to do more to help others discover ways to connect with tech through their own interests.
Those 'wow' moments
Every Raspberry Pi project I see on a daily basis is awesome. The moment someone takes an idea and does something with it is, in my book, always worthy of awe and appreciation. Whether it be the aforementioned flashing LED, or sending Raspberry Pis to the International Space Station, if you have turned your idea into reality, I applaud you.
Some of my favourite projects over the last twelve months have not only made me say "Wow!", they've also inspired me to want to do more with myself, my time, and my growing maker skill.
Great to meet @alexjrassic today and nerd out about @Raspberry_Pi and weather balloons and @Space_Station and all things #edtech ?⛅??? pic.twitter.com/satMSQSKoW

— Museum in a Box (@_museuminabox) November 11, 2016
Projects such as Museum in a Box, a wonderful hands-on learning aid that brings the world to the hands of children across the globe, honestly made me tear up as I placed a miniaturised 3D-printed Virginia Woolf onto a wooden box and gasped as she started to speak to me.
Jill Ogle's Let's Robot project had me in awe as Twitch-controlled Pi robots tackled mazes, attempted to cut birthday cake, or swung to slap Jill in the face over webcam.
Lol speaking of faces… pic.twitter.com/1tqFlMNS31

— Jillian Ogle (@letsjill) January 2, 2017
Every day I discover new, wonderful builds that both make me wish I'd thought of them first, and leave me wondering how they manage to make them work in the first place.
Space
We have Raspberry Pis in space. SPACE. Actually space.
New post: Mission accomplished for the European @astro_pi challenge and @esa @Thom_astro is on his way home ?https://t.co/ycTSDR1h1Q pic.twitter.com/uBUxfCX5d0

— Raspberry Pi (@Raspberry_Pi) June 2, 2017
Twelve months later, this still blows my mind.
And let's not forget…
The chance to visit both the Houses of Parliment and St James's Palace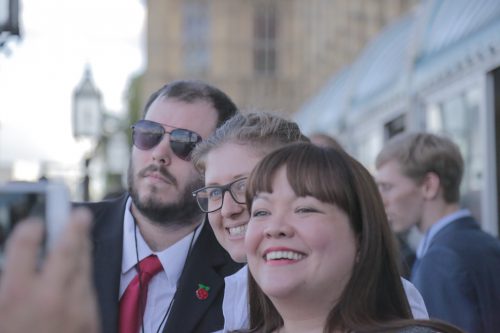 Going to a Doctor Who pre-screening and meeting Peter Capaldi, thanks to Clare Sutcliffe
https://www.instagram.com/p/BOBOpgQgzIY/
Making a GIF Cam and other builds, and sharing them with you all via the blog
The next twelve months
Despite Eben jokingly firing me near-weekly across Twitter, or Philip giving me the 'Dad glare' when I pull wires and buttons out of a box under my desk to start yet another project, I don't plan on going anywhere. Over the next twelve months, I hope to continue discovering awesome Pi builds, expanding on my own skills, and curating some wonderful projects for you via the Raspberry Pi blog, the Raspberry Pi Weekly newsletter, my submissions to The MagPi Magazine, and the occasional video interview or two.
It's been a pleasure. Thank you for joining me on the ride!