Watching VinylVideo with a Raspberry Pi A+
Play back video and sound on your television using your turntable and the VinylVideo converter, as demonstrated by YouTuber Techmoan.
A brief history of VinylVideo
When demand for vinyl dipped in the early nineties, Austrian artist Gebhard Sengmüller introduced the world to his latest creation: VinylVideo. With VinylVideo you can play audio and visuals from an LP vinyl record using a standard turntable and a converter box plugged into a television set.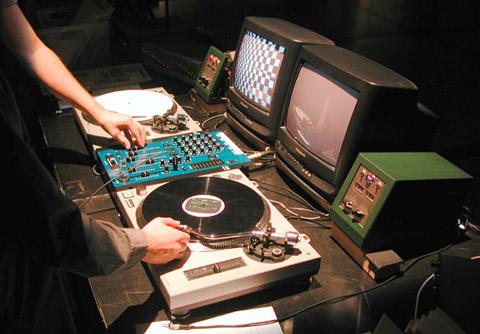 While the project saw some interest throughout the nineties and early noughties, in the end only 20 conversion sets were ever produced.
However, when fellow YouTuber Randy Riddle (great name) got in touch with UK-based tech enthusiast Techmoan to tell him about a VinylVideo revival device becoming available, Techmoan had no choice but to invest.
Where the Pi comes in
After getting the VinylVideo converter box to work with an old Sony CRT unit, Techmoan decided to take apart the box to better understand how it works
You'll notice a familiar logo at the top right there. Yes, it's using a Raspberry Pi, a model A+ to be precise, to do the video decoding and output. It makes sense in a low-volume operation — use something that's ready-made rather than getting a custom-made board done that you probably have to buy in batches of a thousand from China.
There's very little else inside the sturdy steel casing, but what Techmoan's investigation shows is that the Pi is connected to a custom-made phono preamp via USB and runs software written specifically for the VinylVideo conversion and playback.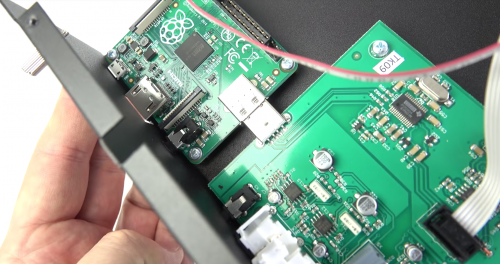 For more information on the original project, visit the extremely dated VinylVideo website. And for more on the new product, you can visit the revival converter's website.
Be sure to subscribe to Techmoan's YouTube channel for more videos, and see how you can support him on Patreon.
And a huge thank you to David Ferguson for the heads-up! You can watch David talk about his own Raspberry Pi project, PiBakery, on our YouTube channel.