University of Toronto supports COVID-19 patient monitoring with Raspberry Pi
A member of the Raspberry Pi community in Ontario, Canada spotted this story from the University of Toronto on CBC News. Engineers have created a device that enables healthcare workers to monitor COVID-19 patients continuously without the need to enter their hospital rooms.
Continuous, remote monitoring
Up-to-date information can be checked from any nursing station computer or smartphone. This advance could prove invaluable in conserving Personal Protective Equipment (PPE) supplies, which staff have to don for each hospital room visit. It also allows for the constant monitoring of patients at a time when hospital workers are extremely stretched.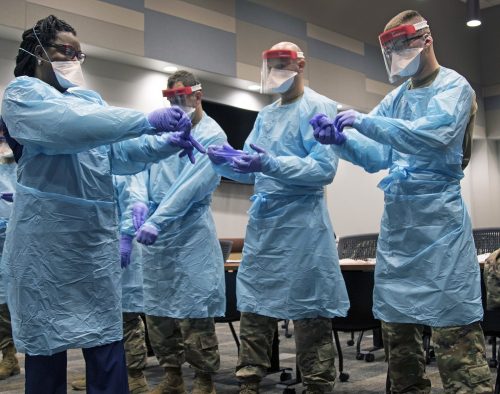 Mount Sinai Hospital approached the University of Toronto's engineering department to ask for their help in finding a way to monitor vital signs both continuously and remotely. A team of three PhD students, led by Professor Willy Wong, came up with the solution in just three days.
Communicating finger-clip monitor measurements
The simple concept involves connecting a Raspberry Pi 4 to standard finger-clip monitors, already in use across the hospital to monitor the respiratory status of COVID-19 patients. The finger clips detect what light is absorbed by the blood in a patient's finger. Blood absorbs different colours of light to different degrees depending on how well oxygenated it is, so these measurements tell medical staff whether patients might be having difficulty with breathing.
The Raspberry Pi communicates this information over a wireless network to a server that Wong's team deployed, allowing the nurses' station computers or doctors' smartphones to access data on how their patients are doing. This relieves staff of the need enter patients' rooms to check the data output on bedside monitors.
A successful prototype
Feedback has been unanimously positive since several prototypes were deployed in a trial at Mount Sinai. And a local retirement home has been in touch to ask about using the invention to help care for their residents. Professor Wong says solutions like this one are a "no-brainer" when trying to monitor large groups of people as healthcare workers battle COVID-19. "This was a quintessentially electrical and computer engineering problem," he explains.
Professor Wong's team included PhD candidates Bill Shi, Yan Li, and Brian Wang.
The University of Toronto is also home to engineers who are currently developing an automated, more sensitive and rapid test for COVID-19. You can read more about their project, which is based on quantum dots – nano-scale particles that bind to different components of the virus's genetic material and glow brightly in different colours when struck by light. This gives multiple data points per patient sample and provides increased confidence in test results.