Bicrophonic Research Institute and the Sonic Bike
The Bicrophonic Sonic Bike, created by British sound artist Kaffe Matthews, utilises a Raspberry Pi and GPS signals to map location data and plays music and sound in response to the places you take it on your cycling adventures.
Cycling and music
I'm sure I wasn't the only teen to go for bike rides with a group of friends and a radio. Spurred on by our favourite movie, the mid-nineties classic Now and Then, we'd hook up a pair of cheap portable speakers to our handlebars, crank up the volume, and sing our hearts out as we cycled aimlessly down country lanes in the cool light evenings of the British summer.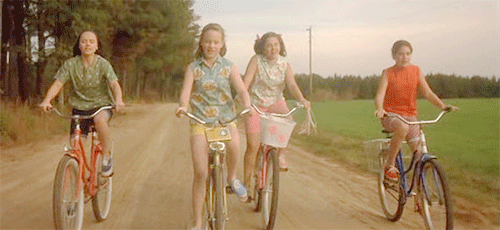 While Sonic Bikes don't belt out the same classics that my precariously attached speakers provided, they do give you the same sense of connection to your travelling companions via sound. Linked to GPS locations on the same preset map of zones, each bike can produce the same music, creating a cloud of sound as you cycle.
Sonic Bikes
The Sonic Bike uses five physical components: a Raspberry Pi, power source, USB GPS receiver, rechargeable speakers, and subwoofer. Within the Raspberry Pi, the build utilises mapping software to divide a map into zones and connect each zone with a specific music track.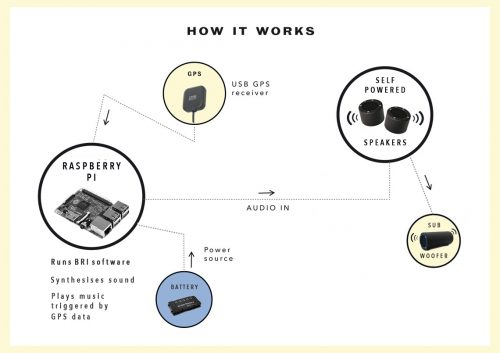 Custom software enables the Raspberry Pi to locate itself among the zones using the USB GPS receiver. Then it plays back the appropriate track until it registers a new zone.
Bicrophonic Research Institute
The Bicrophonic Research Institute is a collective of artists and coders with the shared goal of creating sound directed by people and places via Sonic Bikes. In their own words:
Bicrophonics is about the mobility of sound, experienced and shared within a moving space, free of headphones and free of the internet. Music made by the journey you take, played with the space that you move through.
Their technology has potential beyond the aims of the BRI. The Sonic Bike software could be useful for navigation, logging data and playing beats to indicate when to alter speed or direction. You could even use it to create a guided cycle tour, including automatically reproduced information about specific places on the route.
For the creators of Sonic Bike, the project is ever-evolving, and "continues to be researched and developed to expand the compositional potentials and unique listening experiences it creates."
Sensory Bike
A good example of this evolution is the Sensory Bike. This offshoot of the Sonic Bike idea plays sounds guided by the cyclist's own movements – it acts like a two-wheeled musical instrument!
Sensors on the wheels, handlebars, and brakes, together with a Sense HAT at the rear, register the unique way in which the rider navigates their location. The bike produces output based on these variables. Its creators at BRI say:
The Sensory Bike becomes a performative instrument – with riders choosing to go slow, go fast, to hop, zigzag, or circle, creating their own unique sound piece that speeds, reverses, and changes pitch while they dance on their bicycle.
Build your own Sonic Bike
As for many wonderful Raspberry Pi-based builds, the project's code is available on GitHub, enabling makers to recreate it. All the BRI team ask is that you contact them so they can learn more of your plans and help in any way possible. They even provide code to create your own Sonic Kayak using GPS zones, temperature sensors, and an underwater microphone!