Portable retro CRT game console: the one-thumb entertainment system
OTES is the one-thumb entertainment system that, unsurprisingly, requires only one thumb to play.
Retro handheld gaming
Straight out the bat, I have to admit that had this existed in the 80s, it would have been all I played with. OTES oozes gaming nostalgia, and the constant clicking would have driven my mother mad, as did the tap tap tap of my Game Boy or NES controller.
Designed to play PICO8 games, with its developers eager to see more people create one-button controlled games for the console, OTES replaces the concept of game cartridges with individual SD cards, allowing for players to swap out games as they would have with a Nintendo Game Boy, SEGA Game Gear, Atari Lynx, and other stand-alone cartridge consoles.
Building OTES
As mentioned, OTES uses the PICO-8 environment at its core and runs on a Raspberry Pi Zero W with interchangeable SD cards. And as the games designed for the project only require one button, it makes for a fairly simple setup.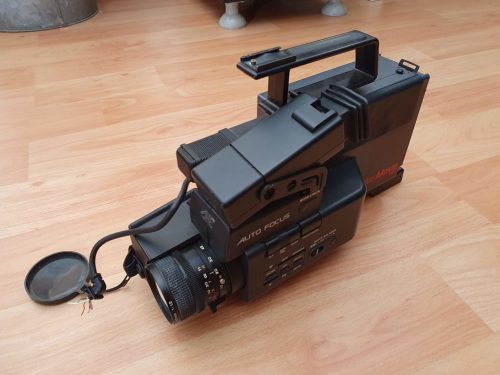 For the body, the project's maker, govinci, sources an old JVC video camera in order to cannibalise the CRT viewfinder.
The most important thing first. You have to find an old camcorder which has a CRT viewfinder. It's usually easy to tell if a camcorder has a CRT viewfinder since it's a bulky part sticking off the side of the camcorder. I found this viewfinder on an old JVC camcorder which I bought from the flea market. To test the viewfinder I used a 9v battery to power up the camcorder. There was no image on the viewfinder but I got a static white noise which is enough to tell if the viewfinder works.
The CRT viewfinder (that's it to the right of the battery) was then connected to the Raspberry Pi and power source, and nestled snugly into a 3D-printed body.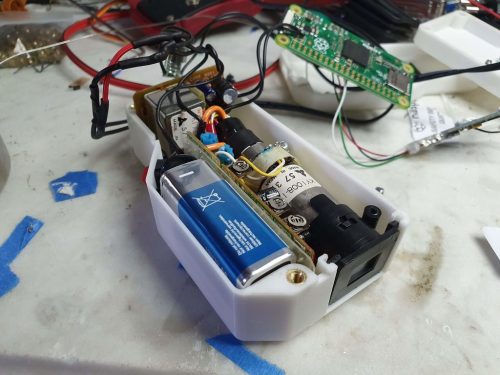 Close the case up, turn on the Pi, and boom: one working, single-button console game player with a very personal point of view.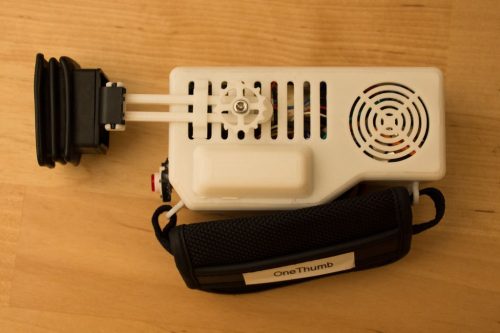 Govinci says:
Currently, It has one game called ODEF (Ocean Defender) developed by me and my friends. (You can play it here.) And I hope there will be many others as people develop games that can be played with only one button on this platform.
You heard the man: go get developing. (I can think of plenty of circumstances where only needing one free finger to fit in a spot of gaming would be really, really convenient.) You can make your own console by following the build diary at Instructables. Let us know if you give it a whirl!