Long read written by Pimoroni's Paul Beech, best enjoyed over a cup o' grog.

Every couple of years, I've done a "State of the Fleet" update here on the Raspberry Pi blog to tell everyone how the Sheffield Pirates are doing. Half a decade has gone by in a blink, but reading back over the previous posts shows that a lot has happened in that time!
TL;DR We're an increasingly medium-sized design/manufacturing/e-commerce business with workshops in Sheffield, UK, and Essen, Germany, and we employ almost 40 people. We're totally lovely. Thanks for supporting us!
We've come a long way, baby
I'm sitting looking out the window at Sheffield-on-Sea and feeling pretty lucky about how things are going. In the morning, I'll be flying east for Maker Faire Tokyo with Niko (more on him later), and to say hi to some amazing people in Shenzhen (and to visit Huaqiangbei, of course). This is after I've already visited this year's Maker Faires in New York, San Francisco, and Berlin.
Pimoroni started out small, but we've grown like weeds, and we're steadily sauntering towards becoming a medium-sized business. That's thanks to fantastic support from the people who buy our stuff and spread the word. In return, we try to be nice, friendly, and human in everything we do, and to make exciting things, ideally with our own hands here in Sheffield.
We've made it onto a few 'fastest-growing' lists, and we're in the top 500 of the Inc. 5000 Europe list. Adafruit did it first a few years back, and we've never gone wrong when we've followed in their footsteps.
The slightly weird nature of Pimoroni means we get listed as either a manufacturing or e-commerce business. In reality, we're about four or five companies in one shell, which is very much against the conventions of "how business is done". However, having seen what Adafruit, SparkFun, and Seeed do, we're more than happy to design, manufacture, and sell our stuff in-house, as well as stocking the best stuff from across the maker community.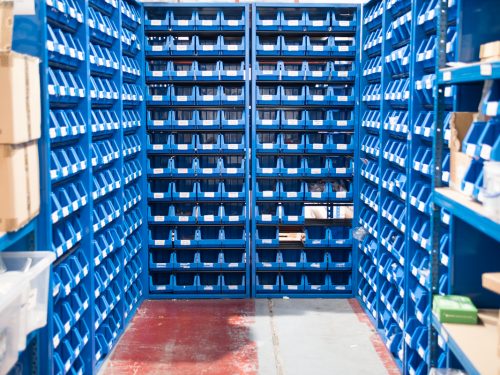 Product and process
The whole process of expansion has not been without its growing pains. We're just under 40 people strong now, and have an outpost in Germany (also hilariously far from the sea for piratical activities). This means we've had to change things quickly to improve and automate processes, so that the wheels won't fall off as things get bigger. Process optimization is incredibly interesting to a geek, especially the making sure that things are done well, that mistakes are easy to spot and to fix, and that nothing is missed.
At the end of 2015, we had a step change in how busy we were, and our post room and support started to suffer. As a consequence, we implemented measures to become more efficient, including small but important things like checking in parcels with a barcode scanner attached to a Raspberry Pi. That Pi has been happily running on the same SD card for a couple of years now without problems :D
We also hired a full-time support ninja, Matt, to keep the experience of getting stuff from us light and breezy and to ensure that any problems are sorted. He's had hugely positive impact already by making the emails and replies you see more friendly. Of course, he's also started using the laser cutters for tinkering projects. It'd be a shame to work at Pimoroni and not get to use all the wonderful toys, right?
Employing all the people
You can see some of the motley crew we employ here and there on the Pimoroni website. And if you drop by at the Raspberry Pi Birthday Party, Pi Wars, Maker Faires, Deer Shed Festival, or New Scientist Live in September, you'll be seeing new Pimoroni faces as we start to engage with people more about what we do. On top of that, we're starting to make proper videos (like Sandy's soldering guide), as opposed to the 101 episodes of Bilge Tank we recorded in a rather off-the-cuff and haphazard fashion. Although that's the beauty of Bilge Tank, right?
As Emma, Sandy, Lydia, and Tanya gel as a super creative team, we're starting to create more formal educational resources, and to make kits that are suitable for a wider audience. Things like our Pi Zero W kits are products of their talents.
Emma is our new Head of Marketing. She's really 'The Only Marketing Person Who Would Ever Fit In At Pimoroni', having been a core part of the Sheffield maker scene since we hung around with one Ben Nuttall, in the dark days before Raspberry Pi was a thing.
Through a series of fortunate coincidences, Niko and his equally talented wife Mena were there when we cut the first Pibow in 2012. They immediately pitched in to help us buy our second laser cutter so we could keep up with demand. They have been supporting Pimoroni with sourcing in East Asia, and now Niko has become a member of the Pirates' Council and the Head of Engineering as we're increasing the sophistication and scale of the things we do. The Unicorn HAT HD is one of his masterpieces.
We see ourselves as a wonderful island of misfit toys, and it feels good to have the best toy shop ever, and to support so many lovely people. Business is about more than just profits.
Where do we go to, me hearties?
So what are our plans? At the moment we're still working absolutely flat-out as demand from wholesalers, retailers, and customers increases. We thought Raspberry Pi was big, but it turns out it's just getting started. Near the end of 2016, it seemed to reach a whole new level of popularity—and still we continue to meet people to whom we have to explain what a Pi is. It's a good problem to have.
We need a bigger space, but it's been hard to find somewhere suitable in Sheffield that won't mean we're stuck on an industrial estate miles from civilisation. That would be bad for the crew—we like having world-class burritos on our doorstep.
The good news is, it looks like our search is at an end! Just in time for the arrival of our 'Super-Turbo-Death-Star' new production line, which will enable to make devices in a bigger, better, faster, more 'Now now now!' fashion \o/
We've got lots of treasure in the pipeline, but we want to pick up the pace of development even more and create many new HATs, pHATs, and SHIMs, e.g. for environmental sensing and audio applications. Picade will also be getting some love to make it slicker and more hackable.
We're also starting to flirt with adding more engineering and production capabilities in-house. The plan is to try our hand at anodising, powder-coating, and maybe even injection-moulding if we get the space and find the right machine. Learning how to do things is amazing, and we love having an idea and being able to bring it to life in almost no time at all.
Fanks!
There are so many people involved in supporting our success, and some people we love for just existing and doing wonderful things that make us want to do better. The biggest shout-outs go to Liz, Eben, Gordon, James, all the Raspberry Pi crew, and Limor and pt from Adafruit, for being the most supportive guiding lights a young maker company could ever need.
A note from us
It is amazing for us to witness the growth of businesses within the Raspberry Pi ecosystem. Pimoroni is a wonderful example of an organisation that is creating opportunities for makers within its local community, and the company is helping to reinvigorate Sheffield as the heart of making in the UK.
If you'd like to take advantage of the great products built by the Pirates, Monkeys, Robots, and Ninjas of Sheffield, you should do it soon: Pimoroni are giving everyone 20% off their homemade tech until 6 August.
Pimoroni, from all of us here at Pi Towers (both in the UK and USA), have a wonderful birthday, and many a grog on us!