Ultimate 3D printer control with OctoPrint
Control and monitor your 3D printer remotely with a Raspberry Pi and OctoPrint.
https://www.youtube.com/watch?v=-7P_6MRryw0
3D printing
Whether you have a 3D printer at home or use one at your school or local makerspace, it's fair to assume you've had a failed print or two in your time. Filament knotting or running out, your print peeling away from the print bed — these are common issues for all 3D printing enthusiasts, and they can be costly if they're discovered too late.
OctoPrint
OctoPrint is a free open-source software, created and maintained by Gina Häußge, that performs a multitude of useful 3D printing–related tasks, including remote control of your printer, live video, and data collection.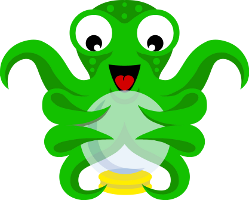 Control and monitoring
To control the print process, use OctoPrint on a Raspberry Pi connected to your 3D printer. First, ensure a safe uninterrupted run by using the software to restrict who can access the printer. Then, before starting your print, use the web app to work on your STL file. The app also allows you to reposition the print head at any time, as well as pause or stop printing if needed.
Live video streaming
Since OctoPrint can stream video of your print as it happens, you can watch out for any faults that may require you to abort and restart. Proud of your print? Record the entire process from start to finish and upload the time-lapse video to your favourite social media platform.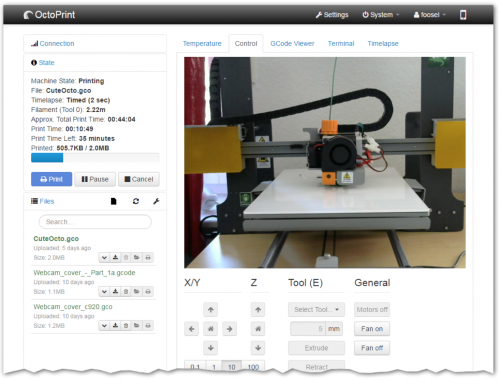 Data capture
Octoprint records real-time data, such as the temperature, giving you another way to monitor your print to ensure a smooth, uninterrupted process. Moreover, the records will help with troubleshooting if there is a problem.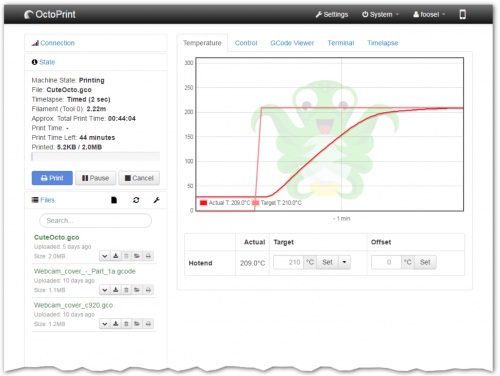 Print the Millenium Falcon
OK, you can print anything you like. However, this design definitely caught our eye this week.
You can support the work of Gina and OctoPrint by visiting her Patreon account and following OctoPrint on Twitter, Facebook, or G+. And if you've set up a Raspberry Pi to run OctoPrint, or you've created some cool Pi-inspired 3D prints, make sure to share them with us on our own social media channels.