The eagle-eyed among you may have noticed that today is 28 February, which is as close as you're going to get to our sixth birthday, given that we launched on a leap day. For the last three years, we've launched products on or around our birthday: Raspberry Pi 2 in 2015; Raspberry Pi 3 in 2016; and Raspberry Pi Zero W in 2017. But today is a snow day here at Pi Towers, so rather than launching something, we're taking a photo tour of the last six years of Raspberry Pi products before we don our party hats for the Raspberry Jam Big Birthday Weekend this Saturday and Sunday.
Prehistory
Before there was Raspberry Pi, there was the Broadcom BCM2763 'micro DB', designed, as it happens, by our very own Roger Thornton. This was the first thing we demoed as a Raspberry Pi in May 2011, shown here running an ARMv6 build of Ubuntu 9.04.
A few months later, along came the first batch of 50 "alpha boards", designed for us by Broadcom. I used to have a spreadsheet that told me where in the world each one of these lived. These are the first "real" Raspberry Pis, built around the BCM2835 application processor and LAN9512 USB hub and Ethernet adapter; remarkably, a software image taken from the download page today will still run on them.
We shot some great demos with this board, including this video of Quake III:
Pete spent the second half of 2011 turning the alpha board into a shippable product, and just before Christmas we produced the first 20 "beta boards", 10 of which were sold at auction, raising over £10000 for the Foundation.
Here's Dom, demoing both the board and his excellent taste in movie trailers:
Launch
Rather to Pete's surprise, I took his beta board design (with a manually-added polygon in the Gerbers taking the place of Paul Grant's infamous red wire), and ordered 2000 units from Egoman in China. After a few hiccups, units started to arrive in Cambridge, and on 29 February 2012, Raspberry Pi went on sale for the first time via our partners element14 and RS Components.
We took over 100000 orders on the first day: something of a shock for an organisation that had imagined in its wildest dreams that it might see lifetime sales of 10000 units. Some people who ordered that day had to wait until the summer to finally receive their units.
Evolution
Even as we struggled to catch up with demand, we were working on ways to improve the design. We quickly replaced the USB polyfuses in the top right-hand corner of the board with zero-ohm links to reduce IR drop. If you have a board with polyfuses, it's a real limited edition; even more so if it also has Hynix memory. Pete's "rev 2" design made this change permanent, tweaked the GPIO pin-out, and added one much-requested feature: mounting holes.
If you look carefully, you'll notice something else about the revision 2 board: it's made in the UK. 2012 marked the start of our relationship with the Sony UK Technology Centre in Pencoed, South Wales. In the five years since, they've built every product we offer, including more than 12 million "big" Raspberry Pis and more than one million Zeros.
Economies of scale, and the decline in the price of SDRAM, allowed us to double the memory capacity of the Model B to 512MB in the autumn of 2012. And as supply of Model B finally caught up with demand, we were able to launch the Model A, delivering on our original promise of a $25 computer.
In 2014, James took all the lessons we'd learned from two-and-a-bit years in the market, and designed the Model B+, and its baby brother the Model A+. The Model B+ established the form factor for all our future products, with a 40-pin extended GPIO connector, four USB ports, and four mounting holes.
New toys
While James was working on the Model B+, Broadcom was busy behind the scenes developing a follow-on to the BCM2835 application processor. BCM2836 samples arrived in Cambridge at 18:00 one evening in April 2014 (chips never arrive at 09:00 — it's always early evening, usually just before a public holiday), and within a few hours Dom had Raspbian, and the usual set of VideoCore multimedia demos, up and running.
We launched Raspberry Pi 2 at the start of 2015, pairing BCM2836 with 1GB of memory. With a quad-core Arm Cortex-A7 clocked at 900MHz, we'd increased performance sixfold, and memory fourfold, in just three years.
And of course, while James was working on Raspberry Pi 2, Broadcom was developing BCM2837, with a quad-core 64-bit Arm Cortex-A53 clocked at 1.2GHz. Raspberry Pi 3 launched barely a year after Raspberry Pi 2, providing a further doubling of performance and, for the first time, wireless LAN and Bluetooth.
Zero to hero
Where the PC industry has historically used Moore's Law to "fill up" a given price point with more performance each year, the original Raspberry Pi used Moore's law to deliver early-2000s PC performance at a lower price. But with Raspberry Pi 2 and 3, we'd gone back to filling up our original $35 price point. After the launch of Raspberry Pi 2, we started to wonder whether we could pull the same trick again, taking the original Raspberry Pi platform to a radically lower price point.
The result was Raspberry Pi Zero. Priced at just $5, with a 1GHz BCM2835 and 512MB of RAM, it was cheap enough to bundle on the front of The MagPi, making us the first computer magazine to give away a computer as a cover gift.
We followed up with the $10 Raspberry Pi Zero W, launched exactly a year ago. This adds the wireless LAN and Bluetooth functionality from Raspberry Pi 3, using a rather improbable-looking PCB antenna designed by our buddies at Proant in Sweden.
Other things
Of course, this isn't all. There has been a veritable blizzard of point releases; RAM changes; Chinese red units; promotional blue units; Brazilian blue-ish units; not to mention two Camera Modules, in two flavours each; a touchscreen; the Sense HAT (now aboard the ISS); three compute modules; and cases for the Raspberry Pi 3 and the Zero (the former just won a Design Effectiveness Award from the DBA). And on top of that, we publish three magazines (The MagPi, Hello World, and HackSpace magazine) and a whole host of Project Books and Essentials Guides.
Forward the Foundation
Why does all this matter? Because we're providing everyone, everywhere, with the chance to own a general-purpose programmable computer for the price of a cup of coffee; because we're giving people access to tools to let them learn new skills, build businesses, and bring their ideas to life; and because when you buy a Raspberry Pi product, every penny of profit goes to support the Raspberry Pi Foundation in its mission to change the face of computing education.
We've had an amazing six years, and they've been amazing in large part because of the community that's grown up alongside us. This weekend, more than 150 Raspberry Jams will take place around the world, comprising the Raspberry Jam Big Birthday Weekend.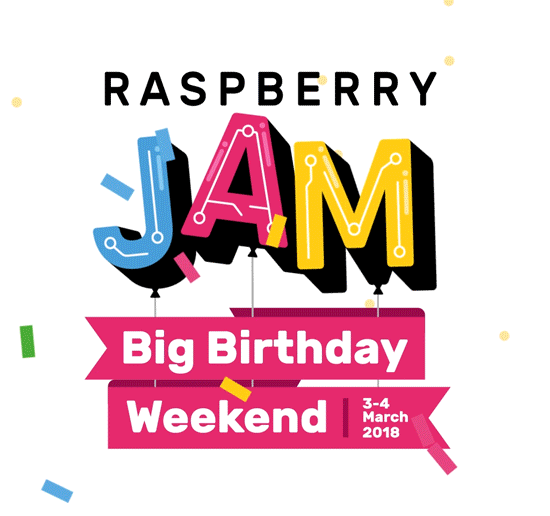 If you want to know more about the Raspberry Pi community, go ahead and find your nearest Jam on our interactive map — maybe we'll see you there.