OTON GLASS: turning text to speech
With OTON GLASS, users are able to capture text with a blink and have it read back to them in their chosen language. It's wonderful tool for people with dyslexia or poor vision, or for travellers abroad.
https://vimeo.com/175384517
OTON GLASS
Inspired by his father's dyslexia, Keisuke Shimakage of the Media Creation Research Department at the Institute of Advanced Media Arts and Sciences, Japan, began to develop OTON GLASS:
I was determined to develop OTON GLASS because of my father's dyslexia experience. In 2012, my father had a brain tumor, and developed dyslexia after his operation — the catalyst for OTON GLASS. Fortunately, he recovered fully after rehabilitation. However, many people have congenital dyslexia regardless of their health.
Assembling a team of engineers and designers, Keisuke got to work.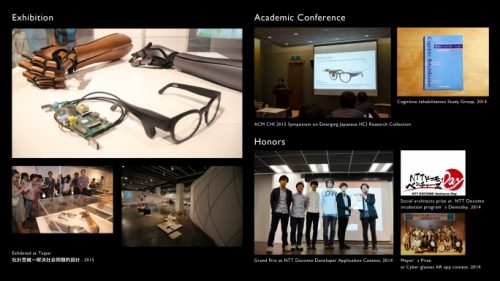 The OTON GLASS device includes a Raspberry Pi 3, two cameras, and an earphone. One camera on the inside of the frame tracks the user's eyes, and when it detects the blinked trigger, the outward-facing camera captures an image of what the user is looking at. This image is then processed by the Raspberry Pi via a program that performs optical character recognition. If the Pi detects written words, it converts them to speech, which the earphone plays back for the user.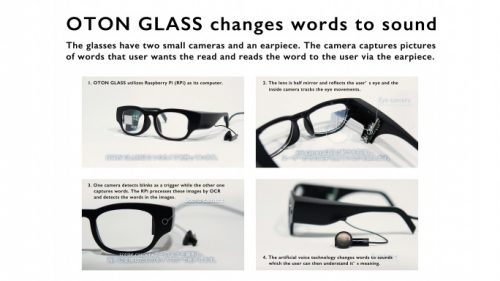 The initial prototype of OTON GLASS had a 15-second delay between capturing text and replaying audio. This was cut down to three seconds in the team's second prototype, designed in CAD software and housed within a 3D-printed case. The makers were then able to do real-world testing of the prototype to collect feedback from dyslexic users, and continued to upgrade the device based on user opinions.
Awards buzz
OTON GLASS is on its way to public distribution this year, and is currently doing the rounds at various trade and tech shows throughout Japan. Models are also available for trial at the Japan Blind Party Association, Kobe Eye Centre, and Nippon Keihan Library. In 2016, the device was runner-up for the James Dyson Award, and it has also garnered attention at various other awards shows and in the media. We're looking forward to getting out hands on OTON GLASS, and we can't wait to find out where team will take this device in the future.