Some of the best bicycle projects for #CycleToWorkDay
Avid followers of our Raspberry Pi Twitter account may be aware of just how bike-loving the residents of Pi Towers are. From the weekend cyclists to Cambridge-London-Cambridge racers, the flat land around our office calls us to jump on a bike and explore the fenlands.
#CycleToWorkDay
In celebration of #CycleToWorkDay, we've brought together a collection of some of our favourite bike-themed Raspberry Pi projects, perfect for those of you who enjoy a bike ride — or a pint!
Bicycle-powered beer dispenser
The Glaswegian company Bright Signals was tasked with a tasty project: create something for Menabrea that ties in with the Giro d'Italia cycle race passing close to the beer brewery in Biella, Northern Italy.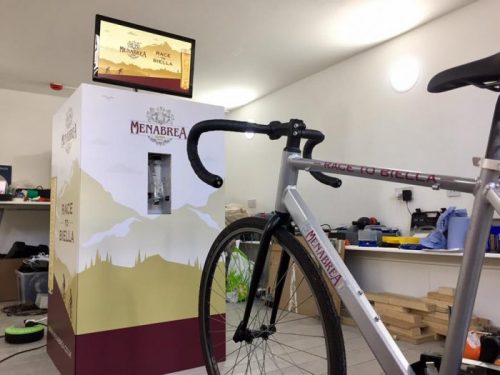 The result? This pedal- and Pi-powered beer dispenser that went on a 4-week celebratory tour ending in Glasgow.
You can learn more about this project here.
A rather dandy Pi-assisted Draisine
For a minute in the 1800s, before the introduction of pedal power, the balance bike, or Draisine, was the fun new way of getting from A to B.
A team at Saarland University, Germany, headed by Prof. Holger Hermanns modernised the Draisine, bringing this old vehicle up to date with power assistance thanks to the Raspberry Pi.
Read more about this Draisine here.
Raspberry Pi–powered cycle helmet
Jen Fox's Raspberry Pi safety helmet prototype uses an accelerometer and a Raspberry Pi Zero to monitor impact force, notifying the cyclist whether or not the impact of their fall deserves medical attention.
While you should always seek medical attention if you have a bike accident, the notification LED on the helmet is a great way of reminding stubborn cyclists that their accident was more than just a tumble.
Learn more about Jen's build here!
Matt's smart bike light
This one comes up in conversation A LOT at Pi Towers. Matt Richardson's smart bike light project uses a Raspberry Pi and hall effect sensor to determine the speed you're cycling at; a project displays your speed in front of the bike.
For those who know Matt Richardson, we hope you appreciated this blast-from-the-past, beardless Matt. In fact, we know you did.
Find out more about this bike light here.
The Bicrophonic Sonic Bike
British sound artist Kaffe Matthews has created a new type of cycling experience. The cyclist divides a virtual map into zones, and the Bicrophonic Sonic Bike plays back music to the rider based on which zone they are in, courtesy of an on-board Raspberry Pi with GPS dongle and speakers.
As you can see from the video, the sound played can range from the calming peace of the countryside to the rather loud, disturbing buzz of the city.
Learn more about the tech behind the project here.
Hacked Kindle bike computer
David Schneider's bike computer displays speed, distance, time and more on a Kindle he hacked with the help of a Raspberry Pi.
The experimental browser on the Kindle displays a web page hosted on the Raspberry Pi. And the glare-free E Ink display makes the screen easy to view regardless of light conditions — perfect for sunny weekend bike rides.
Find out more here.
Any others?
Have you hacked your cycling experience with a Raspberry Pi? Do you have a pedal-powered project in the works? Or would you simple like to boast about your bike and cycling achievements? Let's get the cycle conversation going in the comments below. I'll start!