Nothing on television worth watching? Ryan Cochran's TV set is just as visually arresting when it's turned off, as David Crookes reports in the latest issue of the MagPi magazine, out now.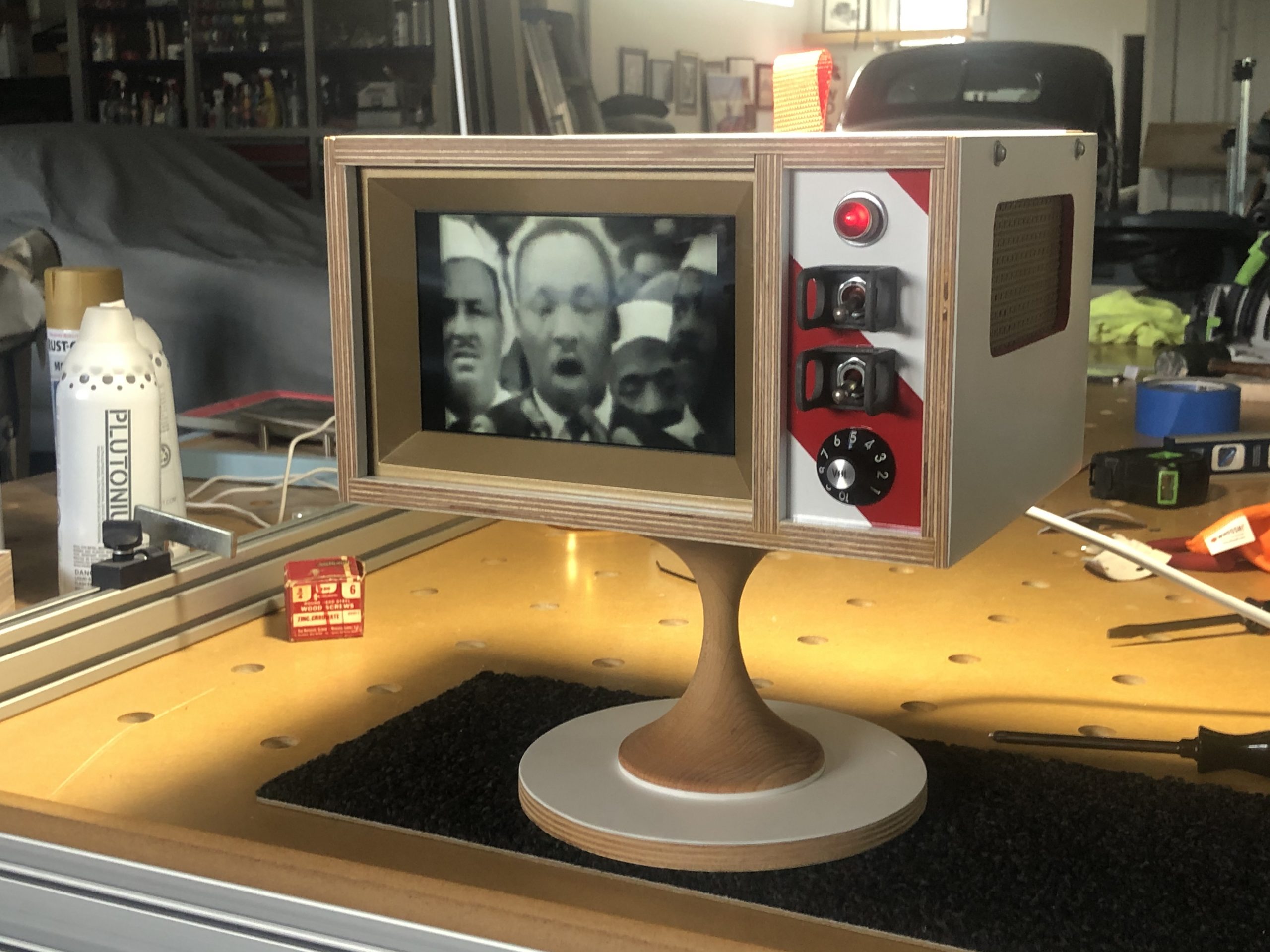 Flat-screen televisions, with their increasingly thin bezels, are designed to put the picture front and centre. Go back a few decades, however, and a number of TVs were made to look futuristic – some even sported space age designs resembling astronaut helmets or flying saucers sat upon elaborate stands. They were quirky and hugely fun.
Maker Ryan Cochran's project evokes such memories of the past. "I have a passion for vintage modern design and early NASA aesthetics, and I wanted to make something which would merge the two into an art piece that could fit on my shelf," he recalls. "The first thing I could think of was a small television." And so the idea for the Atomic TV came into being.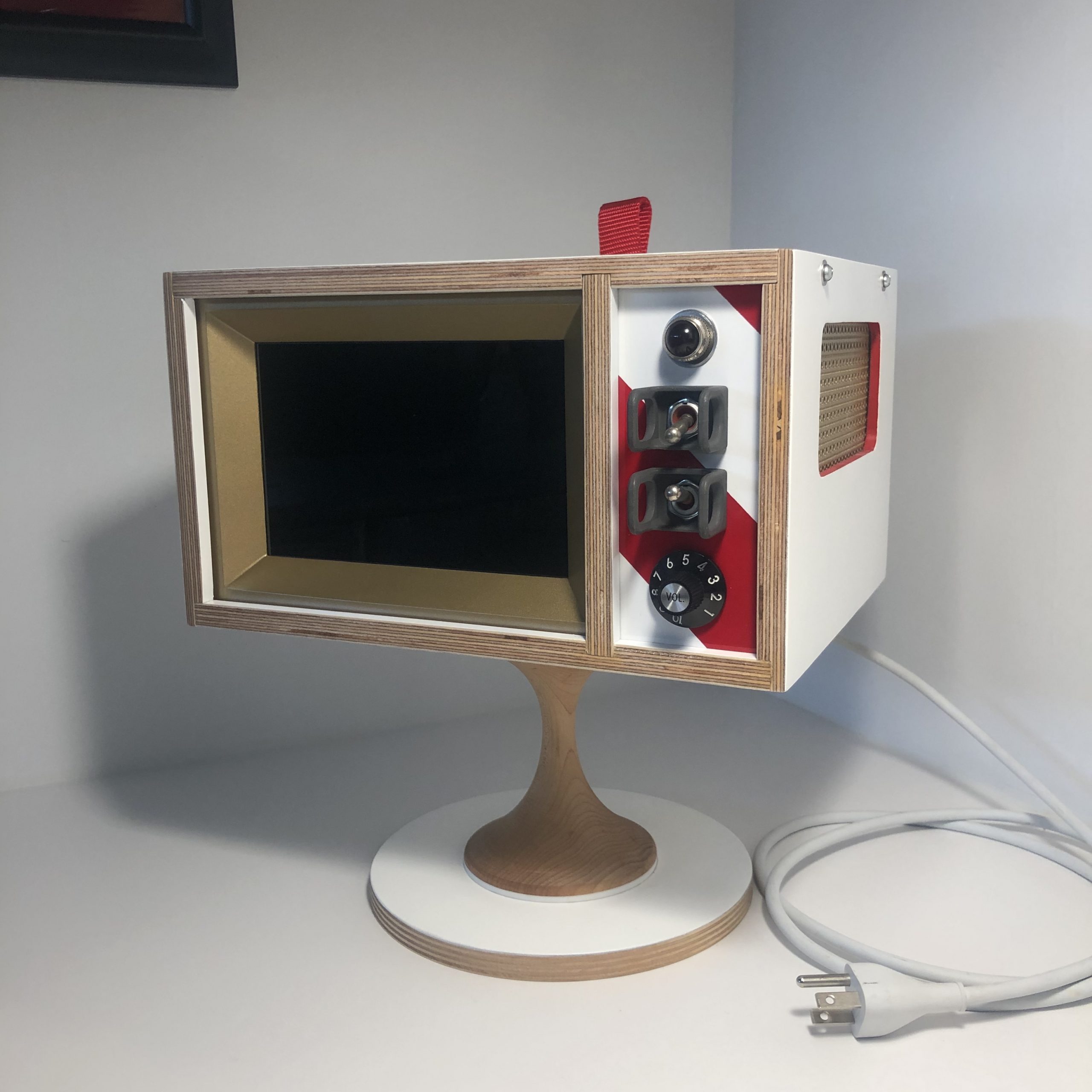 Made of wood and using spare tech parts left over from a couple of past projects, it's a television that's as compelling to look at when it's turned off as when it's playing videos on a loop. "My main concern was fit and finish," he says. "I didn't want this thing to look amateurish at all. I wanted it to look like a professionally built prototype from 1968."
Turn on
Before he began planning the look of the project, Ryan wanted to make sure everything would connect. "The parts sort of drove the direction of the project, so the first thing I did was mock everything up without a cabinet to make sure everything worked together," he says.
This posed some problems. "The display is 12 volts, and I would have preferred to simplify things by using one of the 5-volt displays on the market, but I had what I had, so I figured a way to make it work," Ryan explains, discovering the existence of a dual 5 V-12 V power supply.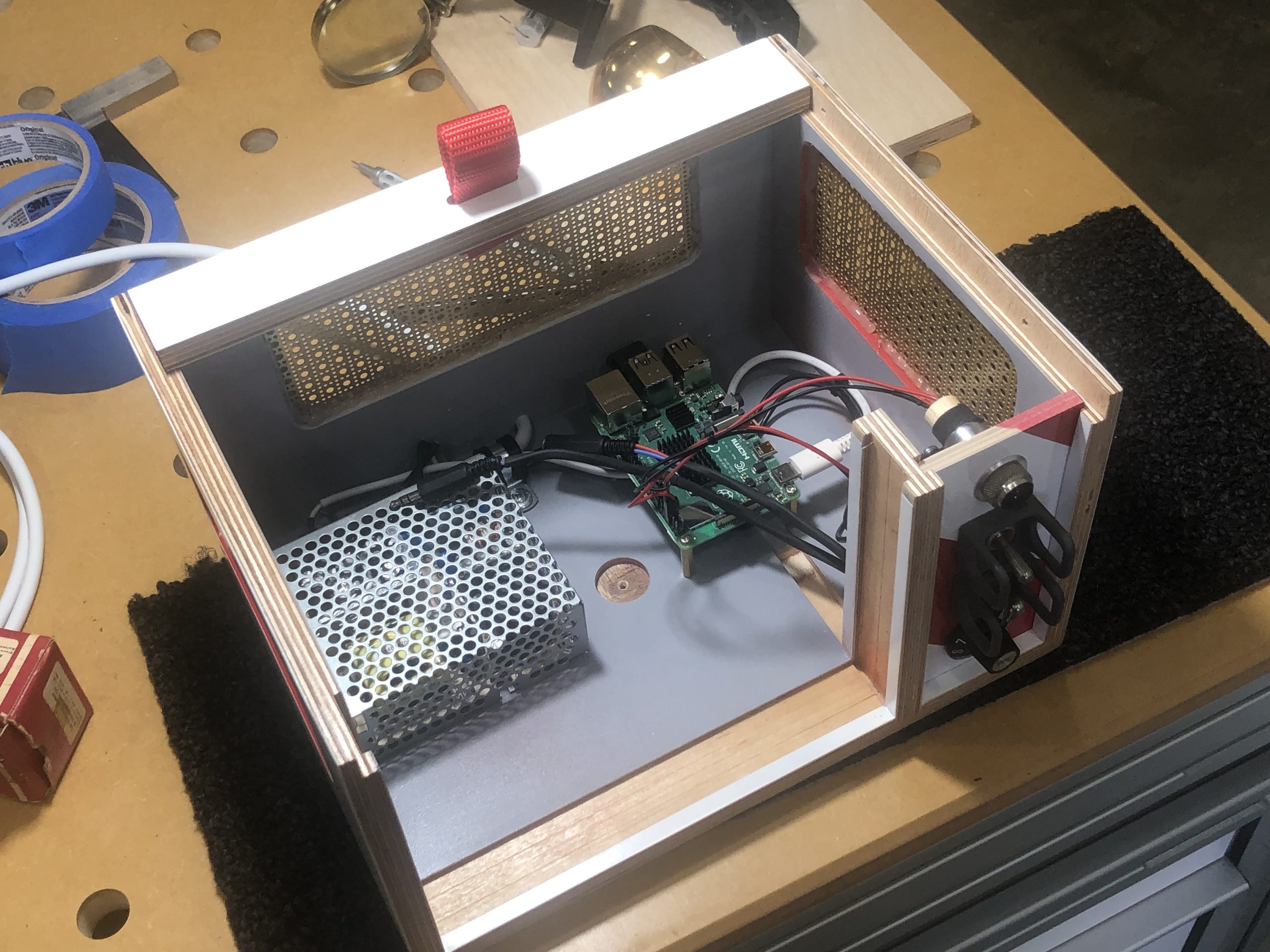 With a Raspberry Pi 4 computer, the LCD display, a driver board, and a pair of USB speakers borrowed from his son all firmly in hand, he worked on a way of controlling the volume and connected everything up.
"Power comes in and goes to an on/off switch," he begins. "From there, it goes to the dual voltage power supply with the 12 V running the display and the 5 V running Raspberry Pi 4 and the small amp for the speakers. Raspberry Pi runs Adafruit's Video Looper script and pulls videos from a USB thumb drive. It's really simple, and there are no physical controls other than on/off switch and volume."
Tune in
The bulk of the work came with the making of the project's housing. "I wanted to nod the cap to Tom Sachs, an artist who does a lot of work I admire and my main concern was fit and finish," Ryan reveals.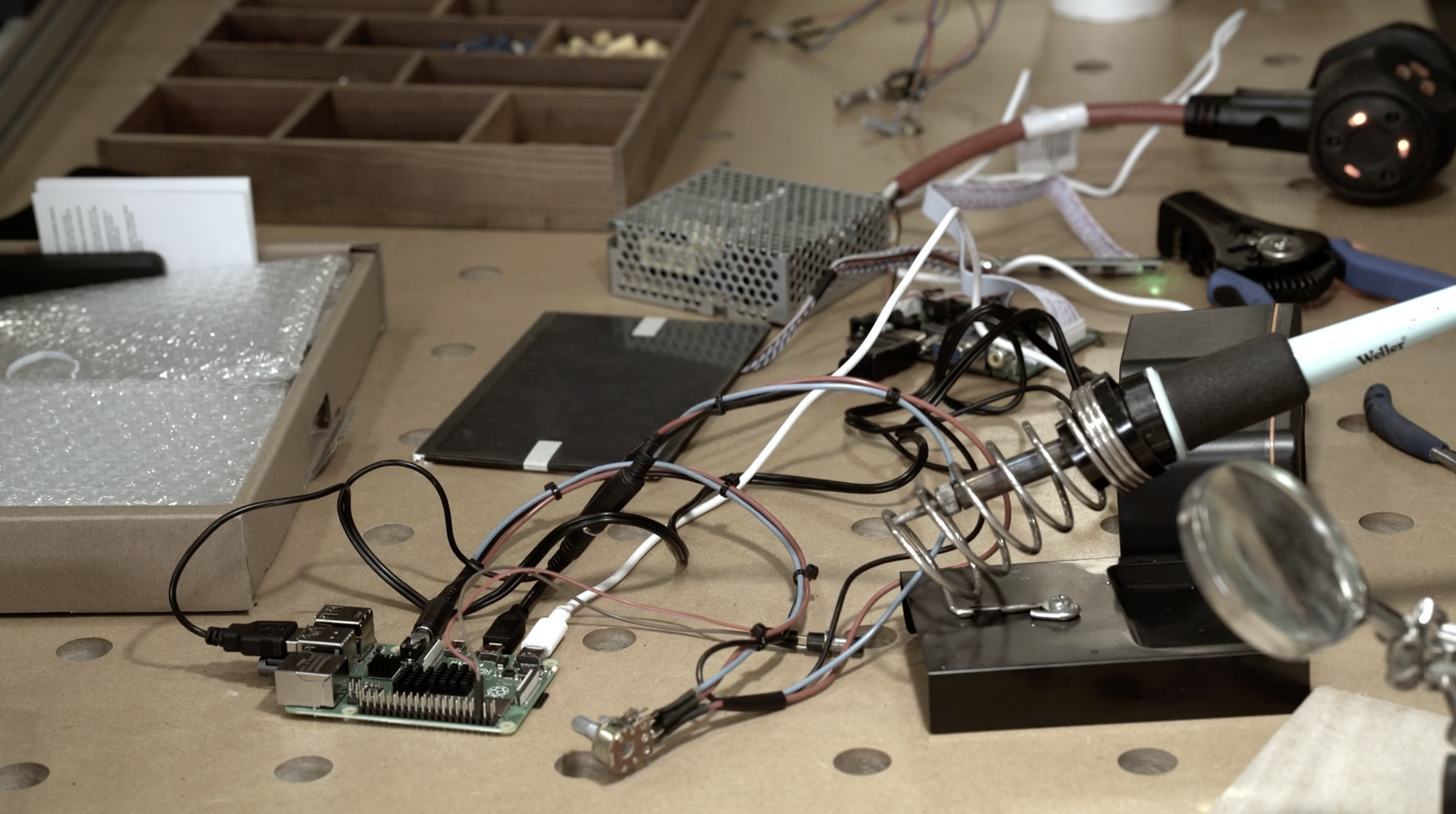 He filmed the process from start to end, showing the intricate work involved, including a base created from a cake-stand and a red-and-white panel for the controls. To ensure the components wouldn't overheat, a fan was also included.
"The television runs 24/7 and it spends 99 percent of its time on mute," says Ryan. "It's literally just moving art that sits on my shelf playing my favourite films and video clips and, every now and then, I'll look over, notice a scene I love, and turn up the volume to watch for a few minutes. It's a great way to relax your brain and escape reality every now and then."
Get The MagPi magazine issue 97 — out today
The MagPi magazine is out now, available in print from the Raspberry Pi Press onlinestore, your local newsagents, and the Raspberry Pi Store, Cambridge.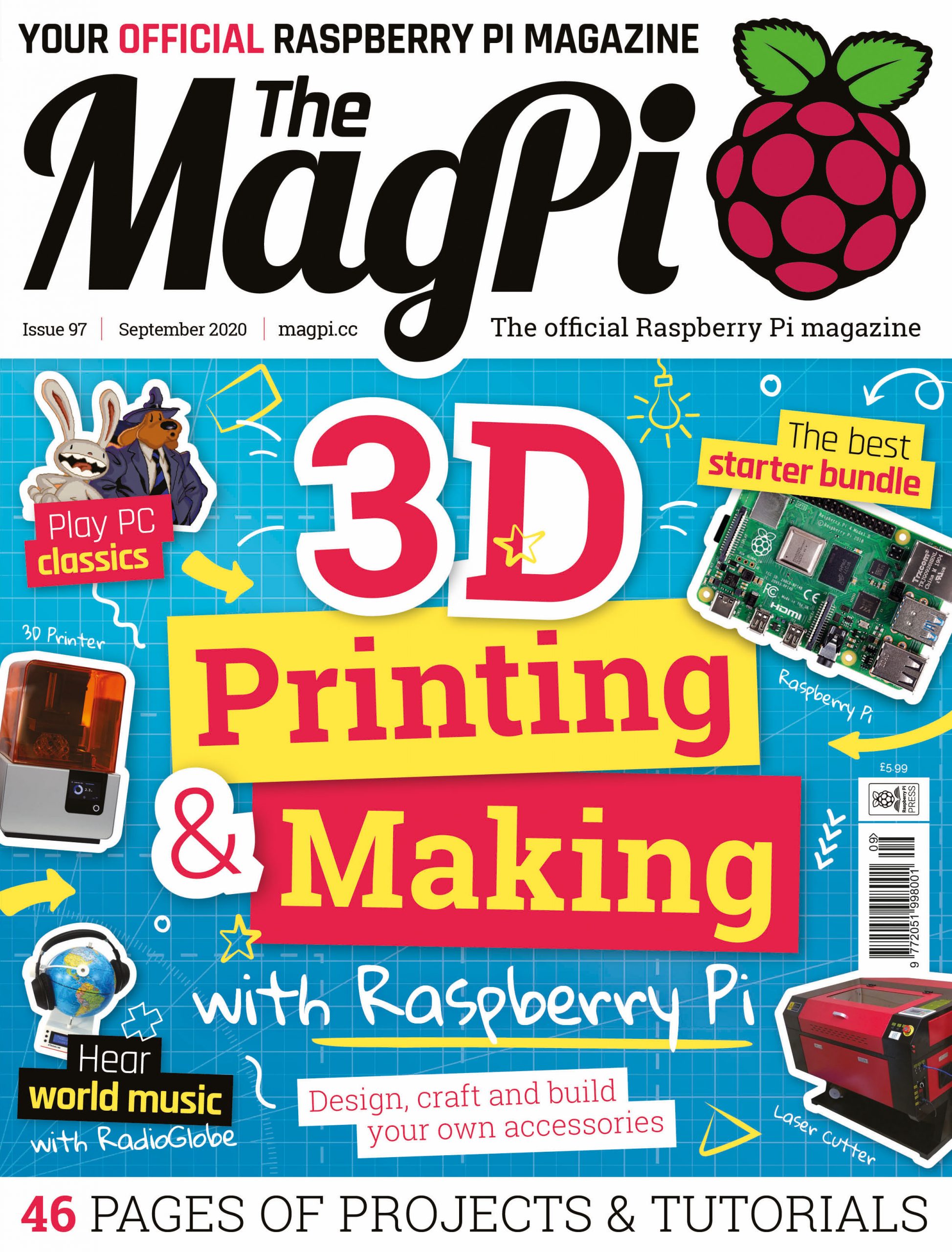 You can also download the PDF directly from the MagPi magazine website.