Build your own South Park Buddha Box
Escape the distractions of the world around you and focus your attention on the thing you love the most in life: your smartphone! It's easy with the all-new Buddha Box, brought to you by South Park and the 8 Bits and a Byte team!
The Buddha Box
Introduced in a recent episode of the cult show South Park, the Buddha Box is an ingenious invention that allows its user to ignore the outside world and fully immerse themselves in their smartphone. With noise-cancelling headphones and a screen so close to your eyes you'll be seeing light spots for weeks to come, the Buddha Box is the must-have accessory for 2019.
We jest, obviously. It's a horrible idea. And here's how to make your own!
Build your own Buddha Box
Using a Raspberry Pi, noise-cancelling headphones, a screen, and a cardboard box, the wonderful 8 Bits and a Byte team has created a real-life Buddha Box that you definitely shouldn't make yourself. As we said — horrible idea.
But it would be a great way to try out screensharing software on your Pi!
To make it, you'll need to secure the headphones and a screen inside a suitably sized cardboard box, and then set up your Raspberry Pi to run Screencast.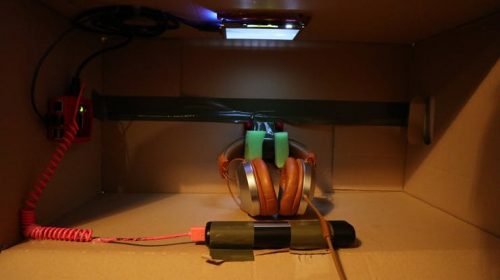 The Screencast software allows you to cast the screen of your smartphone to the screen within the box — hence its name.
Here's the tutorial from 8 Bits and a Byte, and a working demonstration:
If you have an Android phone that you want to use with your Raspberry Pi, check out this guide for enabling Screencast, written by Make Tech Easier. And if you want to share the screen of an iPhone with your Pi, this Instructables guide will walk you through setting up the RPlay software.
Building props
We love prop builds using Raspberry Pi — if you do too, check out the posts in our 'props' blog category. And if you've made a prop from TV or film using a Pi, be sure to share it with us!