I am Beemo, a little living boy: Adventure Time prop build
Bob Herzberg, BMO builder and blogger at BYOBMO.com, fills us in on the whys and hows and even the Pen Wards of creating interactive Adventure Time BMO props with the Raspberry Pi.
Finding BMO
My first BMO began as a cosplay prop for my daughter. She and her friends are huge fans of Adventure Time and made their costumes for Princess Bubblegum, Marceline, and Finn. It was my job to come up with a BMO.
I wanted something electronic, and also interactive if possible. And it had to run on battery power. There was only one option that I found that would work: the Raspberry Pi.
Building a living little boy
BMO's basic internals consist of the Raspberry Pi, an 8" HDMI monitor, and a USB battery pack. The body is made from laser-cut MDF wood, which I sanded, sealed, and painted. I added 3D-printed arms and legs along with some vinyl lettering to complete the look. There is also a small wireless keyboard that works as a remote control.
To make the front panel button function, I created a custom PCB, mounted laser-cut acrylic buttons on it, and connected it to the Pi's IO header.
The USB jack is extended with another custom PCB, which gives BMO USB ports on the front panel. His battery life is an impressive 8 hours of continuous use.
The main brain game frame
Most of BMO's personality comes from custom animations that my daughter created and that were then turned into MP4 video files. The animations are triggered by the remote keyboard. Some versions of BMO have an internal microphone, and the Google Voice API is used to translate the user's voice and map it to an appropriate response, so it's possible to have a conversation with BMO.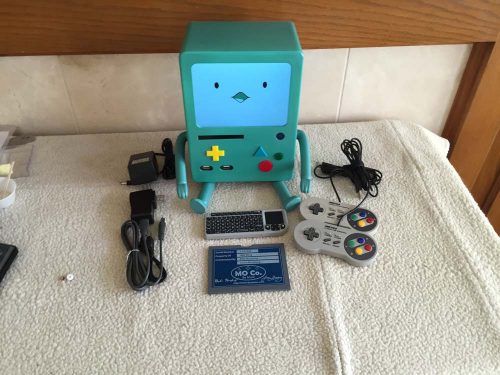 The Raspberry Pi Camera Module was also put to use. Some BMOs have a servo that can pop up a camera, called GoMO, which takes pictures. Although some people mistake it for ghost detecting equipment, BMO just likes taking nice pictures.
Who wants to play video games?
Playing games on BMO is as simple as loading one of the emulators supported by Raspbian.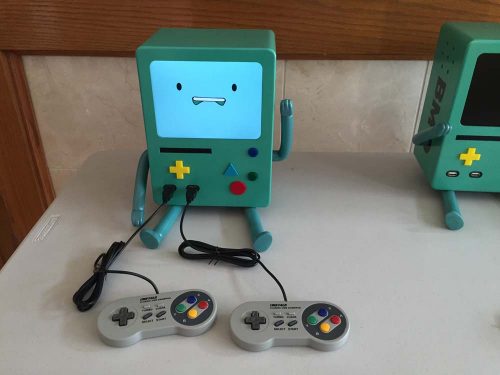 I'm partial to the Atari 800 emulator, since I used to write games for that platform when I was just starting to learn programming. The front-panel USB ports are used for connecting gamepads, or his front-panel buttons and D-Pad can be used.
Adventure time
BMO has been a lot of fun to bring to conventions. He makes it to ComicCon San Diego each year and has been as far away as DragonCon in Atlanta, where he finally got to meet the voice of BMO, Niki Yang.
One day, I received an email from the producer of Adventure Time, Kelly Crews, with a very special request. Kelly was looking for a birthday present for the show's creator, Pendleton Ward. It was either luck or coincidence that I just was finishing up the latest version of BMO. Niki Yang added some custom greetings just for Pen.
We added a few more items inside, including a 3D-printed heart, a medal, and a certificate which come from the famous Be More episode that explains BMO's origins.
BMO was quite a challenge to create. Fabricating the enclosure required several different techniques and materials. Fortunately, bringing him to life was quite simple once he had a Raspberry Pi inside!
Find out more
Be sure to follow Bob's adventures with BMO at the Build Your Own BMO blog. And if you've built your own prop from television or film using a Raspberry Pi, be sure to share it with us in the comments below or on our social media channels.
All images c/o Bob and Laura Herzberg