Raspberry Pi transforms old Wurlitzer into modern digital jukebox
It's been a while since we saw a good jukebox retrofit project, so when we saw this old Wurlitzer transformed into a modern, all-in digital jukebox, we had to share it.
Maker Marc Engrie's cousin came across an old Wurlitzer on a local online second-hand store. The seller had imported it from the US and intended to convert it himself but never got round to it, so he ended up selling it on. Marc's cousin enticed him with some photos of the Wurlitzer and asked how much it would cost him to breathe new life into the jukebox.
Name your price
Marc already had three Raspberry Pis at home running music streaming software Volumio, so he felt confident he could harness the power of our tiny computer to bring this classic objet d'art back to life. Adding on hardware costs, he figured he could restore it to its former glory for €600 (about £500).
Once the jukebox was delivered, Marc stripped everything away, including the unfinished work of the previous restorer. The iconic enclosure was all that was left, along with the loudspeakers.
Adding new hardware
A 2GB Raspberry Pi 4 and a Raspberry Pi Touch Display form the new brain and face of the Wurlitzer. HiFiBerry's DAC+ Pro allows music to play from a USB stick. Other devices can play music from an auxiliary-in port.
Marc added a 2 x 2-channel audio amp (2 x 100W for the woofers plus 2 x 100W for mid/high). It's easy to install and uninstall in case the jukebox ever needs repairing.
And as a final modern finishing touch, he swapped all the original lights for LEDs.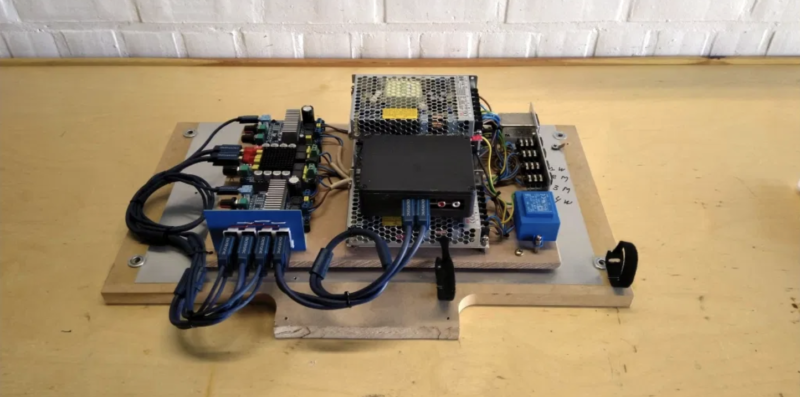 Lots of docs
Marc is a super diligent maker and has crafted a spreadsheet showing all the hardware, prices, and retailers. You can also get your hands on a comprehensive software setup instructions, as well as a hardware map showing you how all the Wurlitzer's new insides fit together. Better still, there's a whole user manual showing you how every single button and switch works. We think his middle name should be 'Thorough'. Super, top, detailed job, Marc.
See more from Marc
Check out more of Marc's electronics projects here. There's a weather station, an automated greenhouse, a chicken shed with an automatic door, and more.