Raspberry Pi and Google Code Next bring computer science to 1000 Chicago students
To round off Computer Science Education Week 2020, the Google Code Next team, working with the Raspberry Pi Foundation and some incredible volunteers in the Chicago area, helped over 400 Black and Latinx high school students get coding using Raspberry Pi 400. Here's Omnia Saed with more.
In partnership with Google Code Next, the Raspberry Pi Foundation curated a computer science activity for over 400 Chicago Public Schools students. Over 1000 kits with the newly released Raspberry Pi 400 were sent to six public schools to mark the end of Computer Science Education Week (7-14 December).
Google Code Next
Google Code Next is a free computer science education program for Black and Latinx high school students. Between 2011 and 2018, Black and Hispanic college students each only made up 3 percent of computer science graduates; Code Next works to change that. The program provides students with the skills and inspiration needed for long and rewarding careers in computer science.
"We aim to provide Black and Latinx students with skills and technical social capital — that web of relationships you can tap into," said Google Diversity STEM Strategist Shameeka Emanuel.
The main event
The virtual event brought over 80 Google volunteers, students and teachers together to create their very own "Raspimon"—a virtual monster powered by Raspberry Pi. For many students, it was their first time coding.
Matt Richardson, Executive Director of the Raspberry Pi Foundation North America, opened the event by telling students to share their work with family and friends.
"I hope you find new ways to solve problems or express yourselves creatively. More importantly, be sure to share what you create with someone you know – you might just spark curiosity in someone else," he said.
In an interview with the Chicago Sun Times, Troy Williams, Chicago Public Schools interim director of computer science, explains, "Our students being able to have access to these Raspberry Pis and other resources supplements the learning they're doing in the classrooms, and brings another level of engagement where they can create on their own. It really helps toward closing the digital divide and the learning gap as well."
Want to join in with the fun? You'll find a copy of the activity and curriculum on the Code Next website.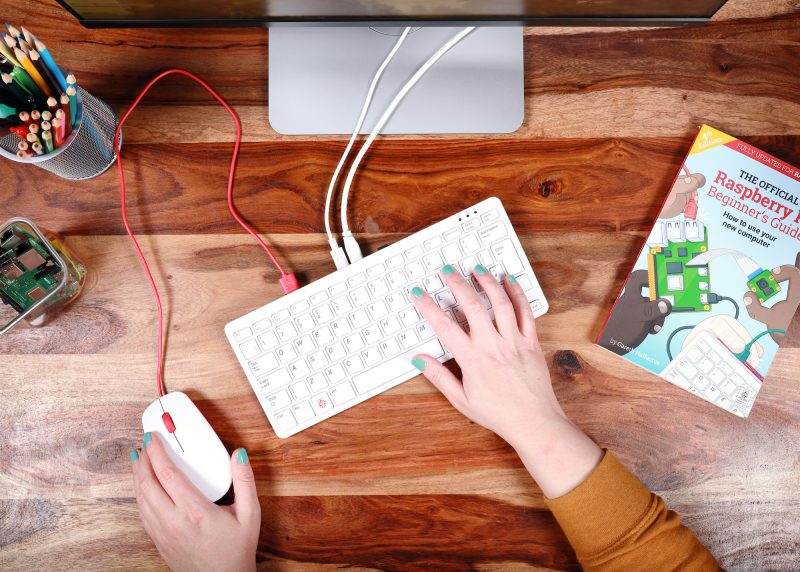 And if you're looking to introduce someone to coding over the holidays, there's still time to order a Raspberry Pi 400 computer kit from our network of Raspberry Pi Approved Resellers.