Kaleidoscopic space art made with Raspberry Pi onboard the ISS
What could be the world's first interactive art experiment in space is powered by Raspberry Pi!
The experiment, named Pulse/Hydra 3, features a kaleidoscope (as seen in the video) that lights up and starts to rotate after it receives heartbeat data from its ground terminal. This artistic experiment is designed to inspire people back on Earth.
Look closely at the video and you should be able to see small beads floating around in microgravity.
During scheduled events at museum and galleries, participants use a specially designed terminal fitted with a pulse oximeter to measure their pulse rate and blood oxygenation level. These measurements are transmitted in real time to the Pulse/Hydra 3 payload on the ISS, which is activated by the transmission.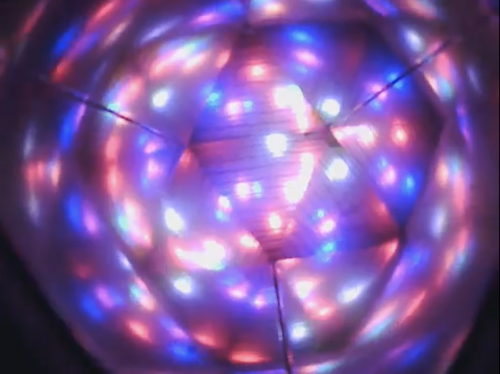 Inside the payload, there's a specially designed 'microgravity kaleidoscope'. The transmitted data activates the kaleidoscope, and the resulting live images are securely streamed back to the ground terminal. The images are then projected onto large video screens so the whole audience can watch what is happening in orbit. The artistic idea is that both pulse rate and blood oxygenation levels are highly transient physiological characteristics that respond rapidly to conscious and sub-conscious emotional states. Therefore, there is a complex interaction between the participant and the payload, as both react to each other during the experience.
We wouldn't have been able to achieve things like that on dial-up internet.
Where does it live?
Pulse/Hydra 3 is currently installed aboard the International Space Station (ISS) in the ESA Columbus module. The Columbus laboratory is ESA's biggest single contribution to the ISS. The 4.5 m diameter cylindrical module of 6.9 m in length is equipped with flexible research facilities and provides accommodation for experiments in the field of multidisciplinary research into material science, fluid physics, and life science.
This payload was launched on 29 June 2018 and it will be completing its two years in orbit soon.
More Raspberry Pi experiments in space
Pulse/Hydra 3 is, you guessed it, the third in a series of experiments run on board the Columbus module. The other two are:
Hydra-1, a plant growth experiment.
Hydra-2, a methanogenesis experiment exploring gravity's effect on bacteria.
And Hydra-3 is the interactive art payload you've just read about. It lives in the same rack that used to house Hydra-1 and -2. All three run on Raspberry Pi!