Estefannie's GPS-Controlled GoPro Photo Taker
Are you tired of having to take selfies physically? Do you only use your GoPro for the occasional beach vacation? Are you maybe even wondering what to do with the load of velcro you bought on a whim? Then we have good news for you: Estefannie's back to help you out with her Personal Automated GPS-Controlled Portable Photo Taker…PAGCPPT for short…or pagsssspt, if you like.
The Personal Automated GPS-Controlled Portable Photo Taker
Try saying that five times in a row.
Go on. I'll wait.
Using a Raspberry Pi 3, a GPS module, a power pack, and a GoPro plus GoPro Stick, Estefannie created the PAGCPPT as a means of automatically taking selfies at pre-specified tourist attractions across London.
With velcro and hot glue, she secured the tech in place on (and inside) a backpack. Then it was simply a case of programming her set up to take pictures while she walked around the city.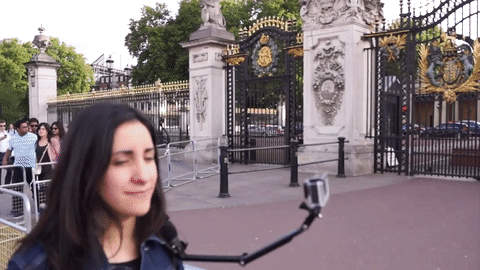 Making the GoPro…go
Estefannie made use of a GoPro API library to connect her GoPro to the Raspberry Pi via WiFi. With the help of this library, she wrote a Python script that made the GoPro take a photograph whenever her GPS module placed her within a ten-metre radius of a pre-selected landmark such as Tower Bridge, Abbey Road, or Platform 9 3/4.
The full script, as well as details regarding the components she used for the project, can be found on her hackster.io page here.
Estefannie Explains it All
You'll have noticed that we've covered Estefannie once or twice before on the Raspberry Pi blog. We love project videos that convey a sense of 'Oh hey, I can totally build one of those!', and hers always tick that box. They are imaginative, interesting, quirky, and to be totally honest with you, I've been waiting for this particular video since she hinted at it on her visit to Pi Towers in May. I got the inside scoop, yo!
Make sure to follow her on YouTube and Instagram for more maker content and random shenanigans. And if you have your own maker social media channel, YouTube account, blog, etc, this is your chance to share it for the world to see in the comments below!