Crunch your way through morning meetings
OK, so, we're not really here. It is a public holiday in the UK and we are all between three and seventeen pounds of Easter chocolate and hot cross buns deep. Our teeth hurt. Anyway, we're not sure what possessed our cute friends over at Deep Local to do this, but we like it, and not all Raspberry Pi projects need to make sense.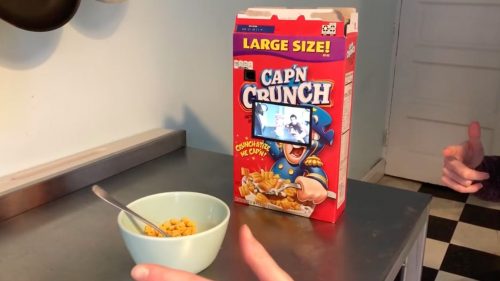 They've married the necessary remote-working evil that is conference calls with the kids' cereal we're just not ready to let go of, despite being grown-up professionals who take conference calls.
Taylor Tabb cut a hole in a Cap'n Crunch cereal box to fit a 5″ display, and brought together a Logitech USB webcam and microphone, a USB speaker, and a battery pack, all powered by a Raspberry Pi 3B+. The best bit? It still works as a cereal box. Just don't forget to mute your mic.
We found this project via Jeremy S. Cook on hackster.io, but Taylor has a wee online collection of all his projects here.
There's a virtual prize of our love and admiration for the first person to work Taylor's idea into an Easter egg box.