The Raspberry Pi Christmas shopping list 2017
Looking for the perfect Christmas gift for a beloved maker in your life? Maybe you'd like to give a relative or friend a taste of the world of coding and Raspberry Pi? Whatever you're looking for, the Raspberry Pi Christmas shopping list will point you in the right direction.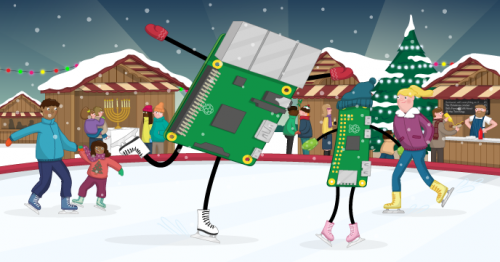 For those getting started
Thinking about introducing someone special to the wonders of Raspberry Pi during the holidays? Although you can set up your Pi with peripherals from around your home, such as a mobile phone charger, your PC's keyboard, and the old mouse dwelling in an office drawer, a starter kit is a nice all-in-one package for the budding coder.
Check out the starter kits from Raspberry Pi Approved Resellers such as Pimoroni, The Pi Hut, ModMyPi, Adafruit, CanaKit…the list is pretty long. Our products page will direct you to your closest reseller, or you can head to element14 to pick up the official Raspberry Pi Starter Kit.
You can also buy the Raspberry Pi Press's brand-new Raspberry Pi Beginners Book, which includes a Raspberry Pi Zero W, a case, a ready-made SD card, and adapter cables.
Once you've presented a lucky person with their first Raspberry Pi, it's time for them to spread their maker wings and learn some new skills.

To help them along, you could pick your favourite from among the Official Projects Book volume 3, The MagPi Essentials guides, and the brand-new third edition of Carrie Anne Philbin's Adventures in Raspberry Pi. (She is super excited about this new edition!)
And you can always add a link to our free resources on the gift tag.
For the maker in your life
If you're looking for something for a confident digital maker, you can't go wrong with adding to their arsenal of electric and electronic bits and bobs that are no doubt cluttering drawers and boxes throughout their house.
Components such as servomotors, displays, and sensors are staples of the maker world. And when it comes to jumper wires, buttons, and LEDs, one can never have enough.
You could also consider getting your person a soldering iron, some helpings hands, or small tools such as a Dremel or screwdriver set.
And to make their life a little less messy, pop it all inside a Really Useful Box…because they're really useful.
For kit makers
While some people like to dive into making head-first and to build whatever comes to mind, others enjoy working with kits.
The Naturebytes kit allows you to record the animal visitors of your garden with the help of a camera and a motion sensor. Footage of your local badgers, birds, deer, and more will be saved to an SD card, or tweeted or emailed to you if it's in range of WiFi.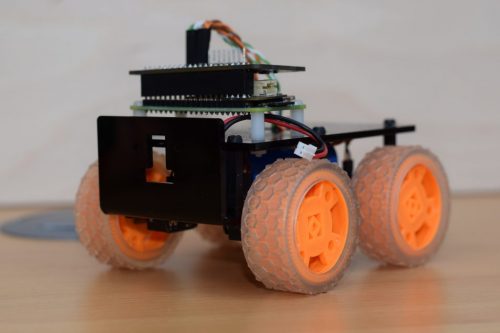 Coretec's Tiny 4WD is a kit for assembling a Pi Zero–powered remote-controlled robot at home. Not only is the robot adorable, building it also a great introduction to motors and wireless control.
Bare Conductive's Touch Board Pro Kit offers everything you need to create interactive electronics projects using conductive paint.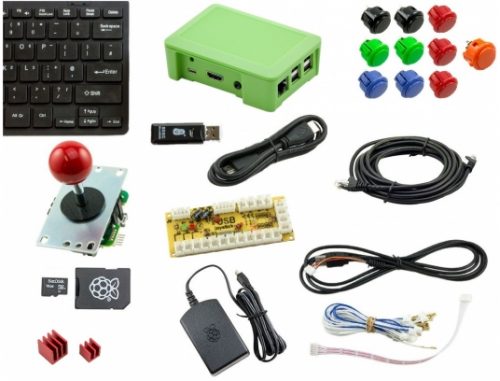 Finally, why not help your favourite maker create their own gaming arcade using the Arcade Building Kit from The Pi Hut?
For the reader
For those who like to curl up with a good read, or spend too much of their day on public transport, a book or magazine subscription is the perfect treat.
For makers, hackers, and those interested in new technologies, our brand-new HackSpace magazine and the ever popular community magazine The MagPi are ideal. Both are available via a physical or digital subscription, and new subscribers to The MagPi also receive a free Raspberry Pi Zero W plus case.
You can also check out other publications from the Raspberry Pi family, including CoderDojo's new CoderDojo Nano: Make Your Own Game, Eben Upton and Gareth Halfacree's Raspberry Pi User Guide, and Marc Scott's A Beginner's Guide to Coding. And have I mentioned Carrie Anne's Adventures in Raspberry Pi yet?
Stocking fillers for everyone
Looking for something small to keep your loved ones occupied on Christmas morning? Or do you have to buy a Secret Santa gift for the office tech? Here are some wonderful stocking fillers to fill your boots with this season.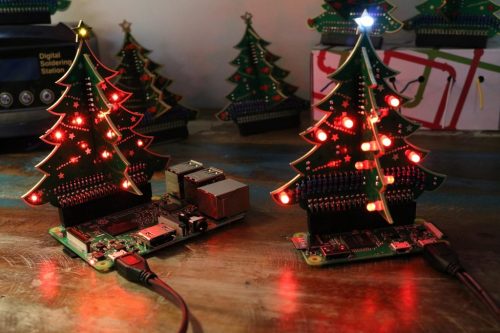 The Pi Hut 3D Xmas Tree: available as both a pre-soldered and a DIY version, this gadget will work with any 40-pin Raspberry Pi and allows you to create your own mini light show.
Google AIY Voice kit: build your own home assistant using a Raspberry Pi, the MagPi Essentials guide, and this brand-new kit. "Google, play Mariah Carey again…"
Pimoroni's Raspberry Pi Zero W Project Kits offer everything you need, including the Pi, to make your own time-lapse cameras, music players, and more.
The official Raspberry Pi Sense HAT, Camera Module, and cases for the Pi 3 and Pi Zero will complete the collection of any Raspberry Pi owner, while also opening up exciting project opportunities.
STEAM gifts that everyone will love
Treat the kids, and big kids, in your life to the newest LEGO Ideas set, the Women of NASA — starring Nancy Grace Roman, Margaret Hamilton, Sally Ride, and Mae Jemison!
Explore the world of wearables with Pimoroni's sewable, hackable, wearable, adorable Bearables kits.
Add lights and motors to paper creations with the Activating Origami Kit, available from The Pi Hut.
We all loved Hidden Figures, and the STEAM enthusiast you know will do too. The film's available on DVD, and you can also buy the original book, along with other fascinating non-fiction such as Rebecca Skloot's The Immortal Life of Henrietta Lacks, Rachel Ignotofsky's Women in Science, and Sydney Padua's (mostly true) The Thrilling Adventures of Lovelace and Babbage.
Have we missed anything?
With so many amazing kits, HATs, and books available from members of the Raspberry Pi community, it's hard to only pick a few. Have you found something splendid for the maker in your life? Maybe you've created your own kit that uses the Raspberry Pi? Share your favourites with us in the comments below or via our social media accounts.