It's the most wonderful time of the year! There's much mistletoeing, and hearts will be glowing – as will thousands of Raspberry Pi-enabled Christmas light displays around the world.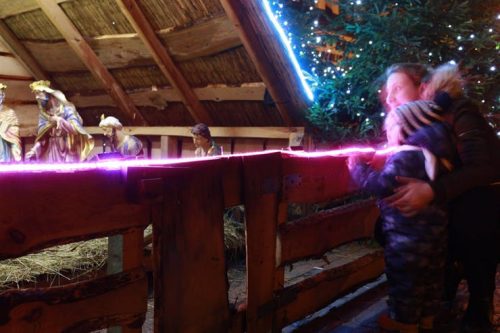 This morning I have mostly been spending my virtual time by a roadside in snowy Poland, inflicting carols on passers-by. (It turns out that the Polish carols this crib is programmed with rock a lot harder than the ones we listen to in England.) Visit the crib's website to control it yourself.
Helpfully, Tomek, the maker, has documented some of the build over on Hackster if you want to learn more.
LightShow Pi
We are also suckers for a good Christmas son et lumiere. If you're looking to make something yourself, LightShow Pi has been around for some years now, and goes from strength to strength. We've covered projects built with it in previous years, and it's still in active development from what we can see, with new features for this Christmas like the ability to address individual RGB pixels. Most of the sound and music displays you'll see using a Raspberry Pi are running LightShow Pi; it's got a huge user base, and its online community on Reddit is a great place to get started.
This display from the USA must have taken forever to set up: you're looking at 4,000 lights and 7,800 channels.  Here's something more domestically proportioned from YouTube user Ken B, showing off LightShow Pi's microweb user interface, which is perfect for use on your phone.
Scared of the neighbours burning down your outdoor display, or not enough space for a full-size tree? Never fear: The Pi Hut's 3D Christmas tree, designed by Rachel Rayns, formerly of this parish, is on sale again this year. We particularly loved this adaptation from Blitz City DIY, where Liz (not me, another Liz) RGB-ifies the tree: a great little Christmas electronics project to work through with the kids. Or on your own, because we don't need to have all our fun vicariously through our children this Christmas. (Repeat ten times.)
Any Christmas projects you'd like to share? Let us know in the comments!