A day with AIY Voice Projects Kit – The MagPi 57 aftermath
Hi folks, Rob here. It's been a crazy day or so here over at The MagPi and Raspberry Pi as we try to answer all your questions and look at all the cool stuff you're doing with the new AIY Voice Projects Kit that we bundled with issue 57. While it has been busy, it's also been a lot of fun.
Got a question?
We know lots of you have got your hands on issue 57, but a lot more of you will have questions to ask. Here's a quick FAQ before we go over the fun stuff you've been doing:
Which stores stock The MagPi in [insert country]?
The original edition of The MagPi is only currently stocked in bricks-and-mortar stores in the UK, Ireland, and the US:
In the UK, you can find copies at WHSmith, Asda, Tesco, and Sainsbury's
In the US, you can find them at Barnes and Noble and at Micro Center
In Ireland, we're in Tesco and Easons
Unfortunately, this means you will find very little (if any) stock of issue 57 in stores in other countries. Even Canada (we've been asked this a lot!)…
The map below shows the locations to which stock has been shipped (please note, though, that this doesn't indicate live stock):
My Barnes and Noble still only has issue 55!
Issue 57 should have been in Barnes & Noble stores yesterday, but stock sometimes takes a few days to spread and get onto shelves. Keep trying over the next few days. We're skipping issue 56 in the US so you can get 57 at the same time (you'll be getting the issues at the same time from now on).
If I start a new subscription, will I get issue 57?
Yes. We have limited copies for new subscribers. It's available on all new print subscriptions. You need to specify that you want issue 57 when you subscribe.
Will you be restocking online?
We're looking into it. If we manage to, keep an eye on our social media channels and the blog for more details.
Is there any way to get the AIY Voice Projects Kit on its own?
Not yet, but you can sign up to Google's mailing list to be notified when they become available.
Rob asked us to do no evil with our Raspberry Pi: how legally binding is that?
Highest galactic law. Here is a picture of me pointing at you to remind you of this.
OK, with that out of the way, here's the cool stuff!
AIY Voice Projects Kit builds
A lot of you built the kit very quickly, including Raspberry Pi Certified Educator Lorraine Underwood, who managed it before lunch.
Ha, cool. I made it! Top notch instructions and pics @TheMagP1 Not going to finish the whole thing before youngest is out of nursery. Gah!! pic.twitter.com/pJeaqbkDTT

— Lorraine Underwood (@LMcUnderwood) May 4, 2017
We love Andy Grimley's shot as the HAT seems to be floating. We had no idea it could levitate!
This is awesome @TheMagP1 #AIYProjects pic.twitter.com/JcAhofRXwx

— Andy Grimley (@andy_grimley) May 4, 2017
A few people reached out to tell us they were building it with children for their weekend project. These messages really are one of the best parts of our job.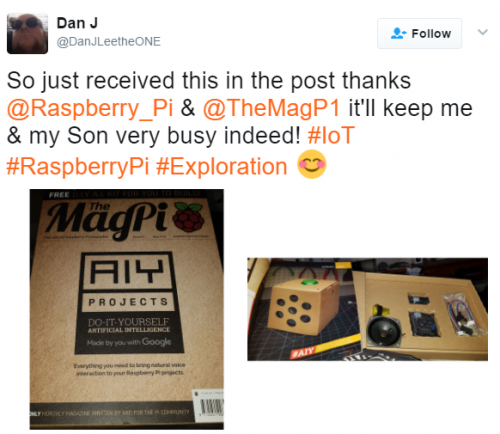 What have people been making with it? Domhnall O'Hanlon made the basic assistant setup, and photographed it in the stunning surroundings of the National Botanic Gardens of Ireland:
Took my @Raspberry_Pi #AIYProjects on a field trip to the National Botanic Gardens. Thanks @TheMagP1!#edchatie #edtech pic.twitter.com/f5dR9JBDEx

— Domhnall O Hanlon (@domhnallohanlon) May 5, 2017
Friend of The MagPi David Pride has a cool idea:
@Raspberry_Pi @TheMagP1 Can feel a weekend mashup happening with the new #AIYProjects kit & my latest car boot find (the bird, not the cat!) pic.twitter.com/aHrJyYDAK7

— David Pride (@davejavupride) May 4, 2017
Check out Bastiaan Slee's hack of an old IoT device:
I've given my Nabaztag a second life with #AIYProjects https://t.co/udtWaAMz2x

— Bastiaan Slee (@bastiaanslee) May 4, 2017
Hacking time with the Nabaztag and #AIYProjects ! https://t.co/udtWaAMz2x pic.twitter.com/s7xevM7mdd

— Bastiaan Slee (@bastiaanslee) May 4, 2017
Finally, Sandy Macdonald is doing a giveaway of the issue. Go and enter: a simple retweet could win you a great prize!
I'm giving away this copy of @TheMagP1 with the @Raspberry_Pi #AIYProjects free, inc. p&p worldwide. RT to enter. Closes 9am BST tomorrow. pic.twitter.com/A3YItxNf7r

— Sandy Macdonald (@sandyjmacdonald) May 5, 2017
If you have got your hands on the AIY Voice Projects Kit, do show us what you've made with it! Remember to use the #AIYProjects hashtag on Twitter to show off your project as well.
There's also a dedicated forum for discussing the AIY Voice Projects Kit which you can find on the main Raspberry Pi forum. Check it out if you have something to share or if you're having any problems.
Yesterday I promised a double-dose of Picard gifs. So, what's twice as good as a Picard gif? A Sisko gif, of course! See you next time…