Raspberry Pi DigiAMP+
Raspberry Pi DigiAMP+ is a high-performance audio HAT. With its on-board Texas Instruments TAS5756M stereo amplifier, it delivers a direct connection to passive stereo speakers at up to 35 Watts per channel with variable output, and is ideal for use in Raspberry Pi-based hi-fi systems. Powered by an external 12–24V DC power supply, it connects directly to Raspberry Pi's GPIO header, providing power to your Raspberry Pi itself. Previously known as IQaudio DigiAMP+.
Buy now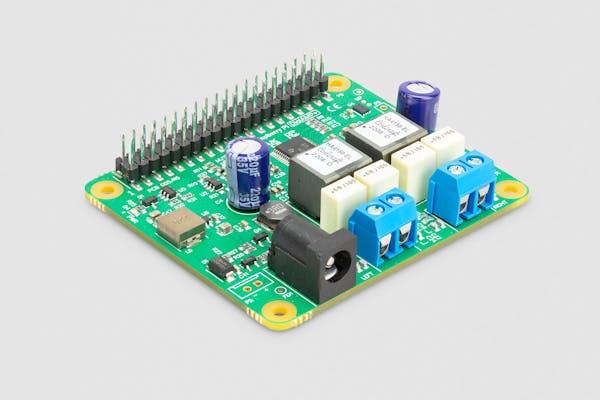 Specifications
Check out our audio boards documentation for help selecting and using Raspberry Pi audio boards.
The Raspberry Pi DigiAMP+ is compatible with any Raspberry Pi computer that has a 40-pin GPIO header.
Form factor: 58 mm × 65 mm
Performance: Full high definition 24-bit 192kHz Texas Instruments TAS5756M digital audio codec (DAC)
Input power: 12–24V DC external power source required via panel-mounted 5.5 mm × 2.5 mm barrel connector. Do not apply power to your Raspberry Pi's own power input when using DigiAMP+. 5.1V @ 2.5A power is provided from your DigiAMP+ to your connected Raspberry Pi
Features:
Power LED
Alternative power input for hard-wired installations via P5
40-pin pass-through GPIO header
HAT EEPROM write-enabled
Supports: 2 × 35W passive stereo speakers with variable output via panel-mounted screw terminals
Operating temperature: 0°C–50°C
Compliance
Raspberry Pi DigiAMP+ has undergone extensive compliance testing and meets the standards required in many countries. You can find all compliance information and regional certificates at pip.raspberrypi.com.
Obsolescence Statement
Raspberry Pi DigiAMP+ will remain in production until at least January 2028
Buy Raspberry Pi DigiAMP+