Raspberry Pi Codec Zero
Raspberry Pi Codec Zero is a Raspberry Pi Zero-sized audio HAT that delivers bi-directional digital audio signals (I2S) between a Raspberry Pi and the Codec Zero's on-board Dialog Semiconductor DA7212 codec, and allows you to use a variety of input and output devices. With features such as programmable green and red LEDs, plus a tactile button for user input, Codec Zero makes a great starting point for audio projects such as a walkie-talkie, intelligent doorbell, smart speaker, or vintage radio hack. Previously known as IQaudio Codec Zero.
Buy now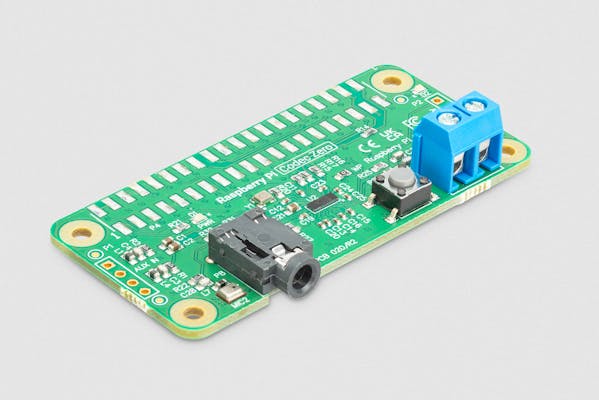 Specifications
Check out our audio boards documentation for help selecting and using Raspberry Pi audio boards.
The Raspberry Pi Codec Zero is compatible with any Raspberry Pi computer that has a 40-pin GPIO header.
Form factor: 65 mm × 31 mm
Performance: High definition 24-bit 96kHz Dialog Semiconductor DA7212 digital audio codec (DAC)
Input power: Supplied by Raspberry Pi through the 40-pin GPIO header. No external power source required
Features:
Power LED
Additional green (GPIO23) and red (GPIO24) LEDs for status
Tactile button (GPIO27) for user input
Built-in mono electret microphone (MEMS)
HAT EEPROM write-enabled
Supports:
Additional external mono electret microphone via 3.5mm panel-mounted barrel socket
1.2W 8Ω mono speaker via panel-mounted screw terminals
Stereo input and output channels, including external phono (RCA) sockets, via AUX IN and AUX OUT pins
Operating temperature: 0°C–50°C
Compliance
Raspberry Pi Codec Zero has undergone extensive compliance testing and meets the standards required in many countries. You can find all compliance information and regional certificates at pip.raspberrypi.com.
Obsolescence Statement
Raspberry Pi Codec Zero will remain in production until at least January 2028
Buy Raspberry Pi Codec Zero