Gliding to earth with the Raspberry Pi Zero
RaptorTech's goal was to drop a glider from the edge of space, and with a Raspberry Pi and a high-altitude weather balloon, their vision became a reality.
High-altitude ballooning
Here at Pi Towers, we thoroughly enjoy the link between high-altitude balloon (HAB) enthusiasts and the Raspberry Pi community, from Dave Akerman's first attempt at sending a Raspberry Pi to near-space, to our own Skycademy programme training educators in high-altitude ballooning. HABs and the Pi go together like the macaroni and cheese, peanut butter and jelly, chips and gravy…you get the idea.
The RaptorTech glider
The RaptorTech team equipped their glider with a Pixhawk flight controller and the small $5 Raspberry Pi Zero to control the time point when the glider disconnects from the HAB, and to allow the glider to autonomously navigate back to a specific landing site.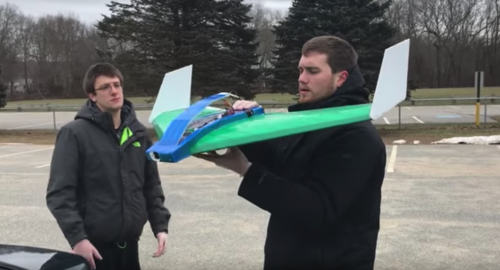 They made the glider out of foam core and coroplast, with a covering of tape to waterproof the body. Inside it were two cameras, two servos, the Raspberry Pi Zero, and the Pixhawk flight controller with added GPS tracker (in case the glider got lost on the way home). The electronics were protected by handwarmers from freezing at high altitude.
The Raspberry Pi Zero ran a Python script to control the Pixhawk. At take-off, the Zero set the controller into manual mode to keep the glider from trying to fly off toward its final destination. When the glider reached a pre-determined altitude, the Zero disconnected the glider from the HAB by setting off a solid state relay to burn through the connecting wire. Then the Pi started up the flight controller to direct the glider home. You can find the code for this process here.
All systems go
Due to time limitations and weather restrictions, the RaptorTech team had to drop their glider from 10km instead of 30km as they'd planned. They were pleased to report the safe, successful return of their glider to about 10m from the pre-set landing point.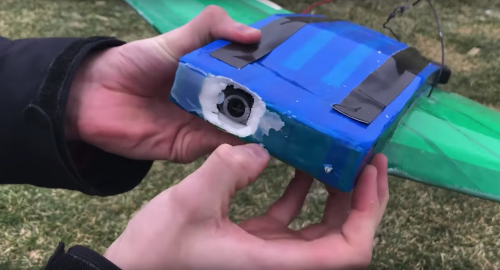 If you'd like to follow the adventures of RaptorTech, check out their Facebook page. You can also follow them on YouTube and on their website for more RC plane-based mayhem.
A note from Dave Akerman: "It's worth pointing out that not only do all HAB flights need permission but that such permission would normally ONLY be for payloads being dropped by parachute. Free-flying gliders, planes, drones etc. are not allowed with specific permission. My understanding, from a HABber in the USA (where this flight was), is that the FAA will not provide such permission. In any case, before dropping anything from a HAB without a parachute, get specific permission first."