The MagPi 91: #MonthOfMaking is back for 2020!
If you read The MagPi, it's safe to say you like making in some way. The hobby has exploded in popularity over the last few years, thanks in no small part to a burgeoning online community and the introduction of low-cost computing with Raspberry Pi.
Last year we decided to celebrate making with a month-long online event called #MonthOfMaking. The idea was simply to get people to share what they're making online, whatever it was. Whether you're turning on your first LED with code or sending rockets to the moon, we want to create a space where you can share your proud achievements. So, let's get making.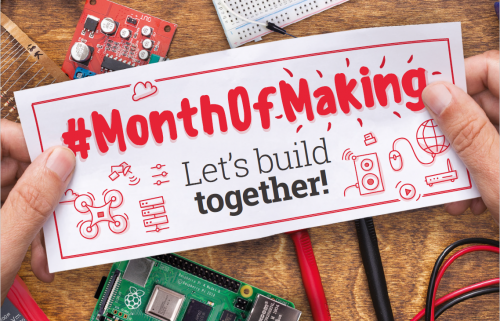 What is #MonthOfMaking?
#MonthOfMaking is simply an excuse to get people inspired to make something. And by make, we mean electronics, engineering, art, and craft projects. Get your creative powers buzzing and make something that you can show to the world.
There's no skill-level threshold to participating either. If you've been wanting to start learning, this can be your jumping-on point. By sharing your builds with the community, you can learn and grow. Here are some simple rules to sum it all up:
Find a new project, continue with one you're working on, or finally crack on with something you've been putting off.
Take pictures of your build progress and share it online with the hashtag #MonthOfMaking.
If you can help someone with a problem, give them a hand.
Have fun!
Getting ideas and inspiration
We've all been there. Sat down at a work bench or desk, staring at some components and thinking… what can I make with this? What would I like to make? Like any other creative pursuit, you'll need some inspiration. If the projects in the magazine haven't inspired you, then here are some website suggestions…
Instructables
Instructables is one of the oldest sites out there for finding amazing project guides and ideas, and we've been fans of it for years. The best part is you can search by specific project types as well, including Raspberry Pi if you'd like to keep it on‑brand. They've recently added more arts and crafts stuff if you fancy trying your hand at knitting.
Hackaday and Hackster
For more serious hacks for more advanced makers, Hackaday and Hackster have some great projects that really take a deep dive into a project. If you're curious as to the limits of electronics and programming, these may be the place to look. Equally, if you want to do something huge with a lot of computer power, they should be your first stop.
Raspberry Pi projects
There are so many amazing things on the Raspberry Pi projects site that can help you with your first steps in just about any field of making. It's also home to loads of great and simple home-grown projects that are perfect for young makers and older makers alike.
Planning your build
Step 01 Read and understand
Basing your build on a tutorial you've seen? Seen a few things you'd like to combine into something else? Always make sure to read the instructions you've found properly so that you know if it's within your skill level.
Step 02 Order supplies
Write a list of what you need. Always double‑check you have the component you think you have. Sometimes you may need to buy from separate places, so just make sure the delivery times work for you.
Step 03 Follow along and be safe
Need adult supervision for a project? Absolutely get some. Even adults need to be wary, so always take safety precautions and wear protective clothing when needed. Make sure to follow any tutorials you've found as closely as you can.
Read The MagPi for free!
The rest of our #MonthOfMaking guide, along with loads more amazing projects and tutorials, can be found in The MagPi #91, out today, including our starter electronics guide! You can get The MagPi #91 online at our store, or in print from the Raspberry Pi Store in Cambridge and all good newsagents and supermarkets. You can also access The MagPi magazine via our Android and iOS apps.
Don't forget our amazing subscription offers, which include a free gift of a Raspberry Pi Zero W when you subscribe for twelve months. Until the end of March, you can get a twelve-month subscription in the US for only $60! Head to magpi.cc/usa to find out more.
And, as with all our Raspberry Pi Press publications, you can download the free PDF from our website.