Spread the joy of learning through making
From our first prototype way back in 2006, to the very latest Raspberry Pi 400, everything we have built here at Raspberry Pi has been driven by a desire to inspire learning. I hope that each of you who uses our products discovers — or rediscovers — the joy of learning through making. The journey from technology consumer to technology creator can be a transformational one; today, on Giving Tuesday, I'm asking you to help even more young people make that journey.
Too few young people have the chance to learn how technology works and how to harness its power. Pre-existing disparities in access to computing education have been exacerbated by the coronavirus pandemic. At the Raspberry Pi Foundation, we're on a mission to change this, and we're working harder than ever to support young people and educators with free learning opportunities. Our partner CanaKit supports the Raspberry Pi Foundation's mission, and they've extended the generous offer to match your donations up to a total of $5,000.
Alongside our low-cost, high-performance computers and free software, you may know that the Raspberry Pi Foundation provides free educational programmes including coding clubs and educator training for millions of people each year in dozens of countries. You might not know that the Raspberry Pi Foundation was founded as, and still remains, a nonprofit organisation. Our education mission is powered by dedicated volunteers, and our programmes are funded in part thanks to our customers who buy Raspberry Pi products, and in part by charitable donations from people like you.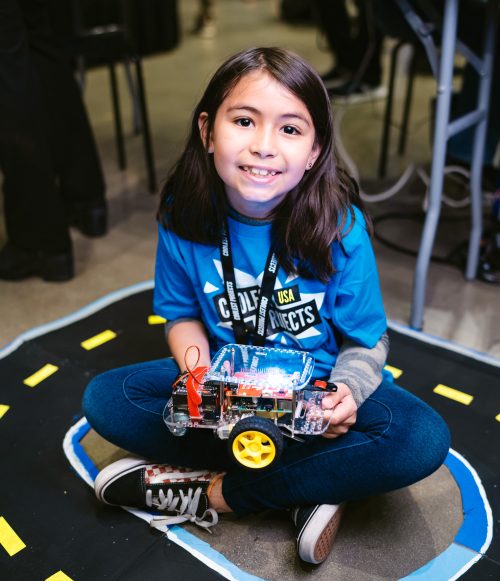 Every donation we receive makes an impact on the young people and educators who rely on the Raspberry Pi Foundation. Ryka, for example, is a 10-year-old who attends one of our CoderDojo clubs. Since March she's been using our project guides and following our Digital Making at Home code-along live streams. Her parents tell us:
"We were looking at ways to keep Ryka engaged during this lockdown period and came across Digital Making at Home. As a parent I can see that there has been discernible improvement in her abilities. We've noticed that she is engaged and takes interest in showing us what she was able to build. It has been a great use of her time."

– Parent of a young person who learns through our programmes
Ryka joins millions of learners in our community around the world, many of whom now rely on us more than ever with schools and extracurricular activities disrupted. Through the ongoing support of our donors and volunteers, we've been able to rise to the challenge of the pandemic:
Young coders and digital makers need our help in the year ahead as they take control of their computing education under challenging and uncertain circumstances. As a donor to the Raspberry Pi Foundation, you will be investing in our youngest generation of digital makers and helping to create a spark in a young person's life. On Giving Tuesday, I am grateful to each of you for the role you play in creating a world where everyone can learn, solve problems, and shape their future through the power of technology. 
PS Thank you again to our friends at CanaKit for doubling the impact of every donation, up to $5000!