Send audio messages to your loved ones
Valentine's Day is fast approaching, so why not make this adorable voice message device for your beloved?
"Blah blah blah" means "I love you"
"OK, my phone can already do that, why should I bother?" project creator Olivier Ros asks himself in the introduction to his Instructables tutorial. And his response is simple. While you could use a phone, the magic of Love Birds is the intention behind the action. Mobile phones are where your life exists: your banking details, your work conversations, and more. It's always on your person, probably in your hand right now. But with Love Birds, you have to make the effort to use the device to send that heartfelt message to the recipient.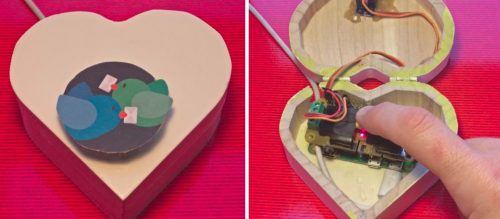 He also says the device is easy to use even for those who are not technically inclined or have accessibility issues:
"Love Birds is easier to use than a phone: only one button. This cool for children, old people that don't like smartphones, long-distance relationships, or just couples who want a private line of communication through a simple, dedicated object."
Build a Love Bird (or two)
You'll need one Raspberry Pi per Love Bird device; while Olivier's version contains a Pi Zero W, a Raspberry Pi 2 or 3 will also do the trick.
You'll also need a microphone and speakers. And, lucky for us, Raspiaudio offers a HAT that incorporates the two!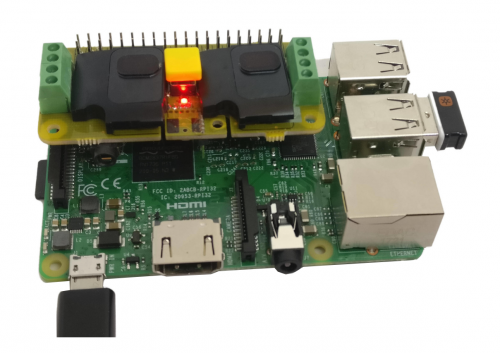 You can find similar boards from other Raspberry Pi accessory manufacturers, or use a standard USB microphone and speaker, readily available in stores and online.
Tweeting…so to speak
To make the notification birds dance, you also need a servo motor. The full code for the motors and everything else is available on GitHub. As an alternative to the motor, you could try flashing LEDs or playing a sound as a notification; we're always interested in seeing how people add their own flair to open-source projects.
Telegram
You also need to sign up to Telegram in order to send your voice messages securely over the internet. Again, there are other services available, which you can use by editing the code accordingly.
Make your own
Find the full Instructables tutorial here, and visit the Raspiaudio website for more projects!
How will you be using a Raspberry Pi to celebrate Valentine's Day?