Raspberry Jams around the world celebrate Raspberry Pi's 8th birthday
Happy birthday to us: tomorrow marks the eighth birthday of the Raspberry Pi computer!
On 29 February 2012 we launched our very first $35 credit card-sized computer, Raspberry Pi 1 Model B. Since then, we've sold over 30 million Raspberry Pi computers worldwide. People all over the world (and beyond!) use them to learn, teach, and make cool stuff; industrial customers embed Raspberry Pi devices in their own products or use them to monitor and control factory processes. As an early birthday present, yesterday we cut the price of the 2GB RAM Raspberry Pi 4 Model B from $45 to $35: now you can buy a no-compromises desktop PC for the same price as Raspberry Pi 1 in 2012.
A global community of Raspberry Jams
Throughout the last eight years, a passionate community of enthusiasts has championed the use of Raspberry Pi, and our library of free resources, by hosting Raspberry Jams: events where people of all ages come together to learn about digital making in a fun, friendly, and inclusive environment.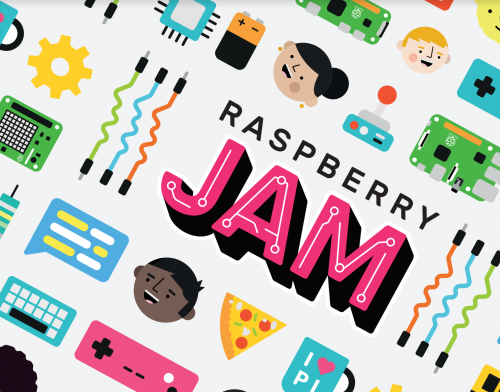 To celebrate Raspberry Pi's in style, Raspberry Jam community members around the world are hosting special birthday-themed events during the whole month from 15 February to 15 March.
Our special thanks to The Pi Hut for shipping our special birthday packs to these Jams all over the world!
20 Birthday Jams have already taken place in Australia, Belgium, Bulgaria, Canada, Greece, India, the UK, and the US. In total, there are at least 118 Birthday Jam events across 35 countries on 6 continents this year! (We're determined to reach Antarctica one day soon.)
Jams can take many forms, from talks and workshops based around the Raspberry Pi computer, to project showcases and hackathons. Here is a selection of photos from some of the birthday events community members have run over the last fortnight:
Shoutout to Tokyo Raspberry Jam
We'd like to give a special mention to Masafumi Ohta and our friends at Tokyo Raspberry Jam, who have had to postpone their Birthday Jam due to coronavirus-related safety restrictions currently in place across Japan.
The whole team at the Foundation sends their best wishes to everyone who is affected by the virus!
You can still join in the celebrations
Jam makers are running birthday events up to and including 15 March, so check out the Raspberry Jam world map to find your nearest Birthday Jam!
If you'd like to host your own Jam, we also have free resources to help you get started and free starter projects made especially for Jam events.
It's really simple to register your Birthday Jam: just fill in the Raspberry Jam submission form, including a valid event information URL linking to a webpage with more information about your event. (This is an excellent example of a Jam event listing.)
As always, if you have any questions, please don't hesitate to ask us via jam@raspberrypi.org.