Raspberry fish & RP2040 chip

Look at our lovely friends over at This is not Rocket Science (TiNRS) – they've wasted no time at all in jumping in with our new chips. In this guest post, Stijn of TiNRS shares their fishily musical application of our new toy.
The new RP2040 chip by Raspberry Pi is amazing. When we got our hands on this beautiful little thing, we did what we always do with new chips and slapped on a Goldfish, our favourite acid bassline synthesiser (we make fish and chips, hahahaha).
While benchmarking the performance by copy/pasting instances of our entire Goldfish in search of the chip's limits, we suddenly found ourselves with a polyphonic synth. We have since rewritten these multiple instances into a 16-voice Poly-Goldfish with 4 oscillators per voice. To celebrate we designed a PCB and brightly coloured frontpanel to give this new Goldfish some dedicated controls.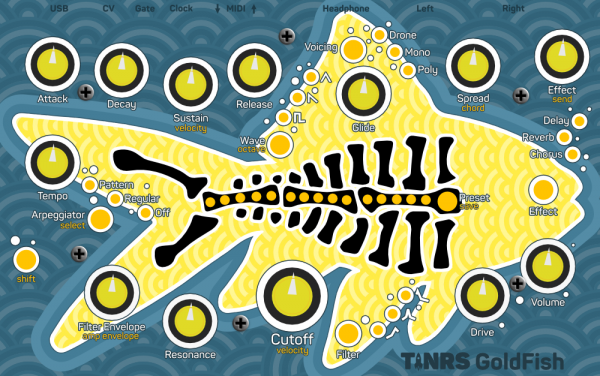 Bring-up was trivial due to the amazing documentation and the extremely flexible PIO-blocks. RP2040 is a dream to work with. Childlike giddiness ensued while lying on the carpet and programming in VSCode on a Raspberry Pi 400 talking directly to the RP2040. This is the way to release a chip into the world: with fantastic documentation, an open toolchain and plenty of examples of how to use everything.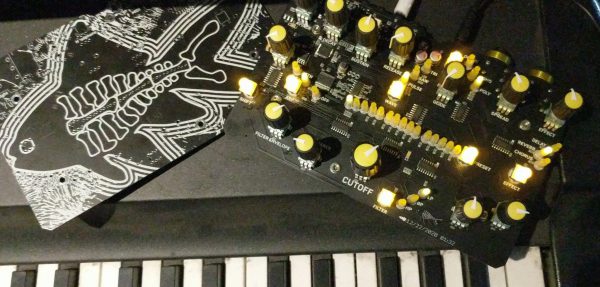 Once these chips hit general availability we will probably share some designs on our Github. This chip is now part of our go-to set of tools to make cool stuff and will very bloody likely be inside our next three modules.
It fits perfectly in our Open Source attitude. Because of the easy, high quality, multi-platform, free and even beginner-friendly toolchain they have built around this chip, we can expand the accessibility to the insides of our designs. With these chips it is way easier for us to have you do things like adding your own algorithms, building extra modes or creating personal effects. We can lean on the quality of the Raspberry Pi platform and this amazing chip.
TiNRS approves.
Keep an eye on the TiNR blog for more adventures in technology. You can also find them on Twitter @rocket_not and on Instagram.