David Pride, known to many of you as an active member of our maker community, has done it again! His FRED-209 build combines a Nerf gun, 3D printing, a Raspberry Pi Zero, and robotics to make one neat remotely controlled Nerf tank.
A Nerf gun for FRED-209
David says he worked on FRED-209 over the summer in order to have some fun with Nerf guns, which weren't around when he was a kid. He purchased an Elite Stryfe model at a car boot sale, and took it apart to see what made it tick. Then he set about figuring out how to power it with motors and a servo.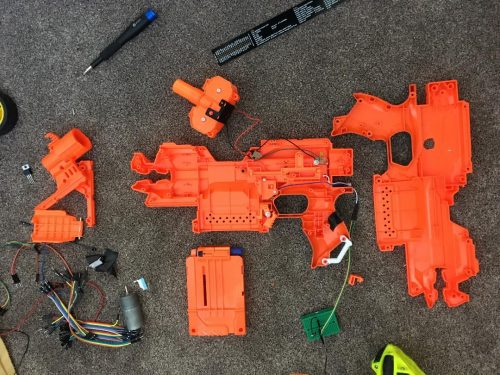 To control the motors, David used a ZeroBorg add-on board for the Pi Zero, and he set up a PlayStation 3 controller to pilot his tank. These components were also part of a robot that David entered into the Pi Wars competition, so he had already written code for them.
3D printing for FRED-209
During prototyping for his Nerf tank, which David named after ED-209 from RoboCop, he used lots of eBay loot and several 3D-printed parts. He used the free OpenSCAD software package to design the parts he wanted to print. If you're a novice at 3D printing, you might find the printing advice he shares in the write-up on his blog very useful.
On eBay, David found some cool-looking chunky wheels, but these turned out to be too heavy for the motors. In the end, he decided to use a Rover 5 chassis, which changed the look of FRED-209 from 'monster truck' to 'tank'.
The final result looks awesome, and David's video demonstrates that it shoots very accurately as well. A make like this might be a great defensive project for our new apocalypse-themed Pioneers challenge!
Taking FRED-209 further
David will be uploading code and STL files for FRED-209 soon, so keep an eye on his blog or Twitter for updates. He's also bringing the Nerf tank to the Cotswold Raspberry Jam this weekend. If you're attending the event, make sure you catch him and try FRED-209 out yourself.
Never one to rest on his laurels, David is already working on taking his build to the next level. He wants to include a web interface controller and a camera, and is working on implementing OpenCV to give the Nerf tank the ability to autonomously detect targets.
Pi Wars 2018
I have a feeling we might get to see an advanced version of David's project at next year's Pi Wars!
The 2018 Pi Wars have just been announced. They will take place on 21-22 April at the Cambridge Computer Laboratory, and you have until 3 October to apply to enter the competition. What are you waiting for? Get making! And as always, do share your robot builds with us via social media.