Meet Agnes Jones: sculptor and a blacksmith
In the latest issue of HackSpace magazine, Andrew Gregory meets Agnes Jones to explore the art of hitting things with a hammer.
Agnes Jones is a sculptor and a blacksmith. Put away the image you have of a villager making horseshoes: she makes a combination of useful and purely decorative things, but the thing they have in common is they are designed to look good. We spoke to Agnes to find out what's it like being a blacksmith now, rather than in the 18th century; what it's like making things beautiful rather than utilitarian; and how do you go about making hard stuff look soft?
"There's a lot of talk right now of robots and things taking over people's jobs. My job was sort of taken over by the Industrial Revolution! It's freeing – I don't really have to do it for any particular reason; I'm doing it because it's a really enjoyable thing to do. And it means that you get to use the steel to do things that maybe seem a little bit surprising or different.
Female role-models
"When I was being taught at the University of Brighton, I had one blacksmithing tutor who was a woman who was about five foot tall and really slim. And the two metalworking technicians were women as well. And so it just seemed like a really like a normal job for a woman to be doing. It wasn't until after I graduated and went to work for another blacksmith up in Glasgow that I realised that most blacksmiths are still these big, muscly men.
"I've always done drawing; that's something that I've done since I was like a child. And when I was at university, I did a lot of life drawing. Most of the drawings I do are line drawings. And it seemed obvious to make a jump from drawings that you're doing on a piece of paper with a pen, to translate that into metal.
"I can't remember when I started doing wire drawings. But that might have been at Art Foundation year or university, and then seeing the work of Alexander Calder. He worked around 100 years ago, making an incredible range of different things, but he did a lot of really comedic kind of drawings in wire of people, quite often of acrobats.
"I remember seeing them when he had an exhibition at Tate Modern a few years ago. I remember thinking that he was doing what I love. But he did it like 100 years ago; like how depressing that something that I really wanted to do had already been done so long ago!
Steel supply
"The big difference between shaping a line out of steel and drawing on paper is that you've got absolute control of where the pen goes. Whereas when you're using the metal, you're kind of shaping it to your idea of what it should be, but it already exists as a line, so you've got to think about where you're directing it.
"I use steel. It's really hard to get iron any more. I mean, you definitely can do it. And there are people who create iron, but if you're going to any kind of supplier, they'll be supplying you with mild steel generally.
"The amazing thing about steel is that you think of it as being this incredibly solid, structural piece of material. But if you heat it up in a forge, it turns into this incredibly pliable thing that you can bend to any different shape: you can tie it in knots; you can do anything with it.
"And then it solidifies back into this really solid structural thing again, so I think people think that being a blacksmith is, like, all about lots and lots of strength. But as soon as it's hot, it's so wibbly-wobbly and easy to use. It's amazing. It does have this really magical quality.
"The course I did at university was very much materials-based. So it was wood, metal, ceramics, and plastics. And it was such an exciting space. All of the other workshops were kind of messy and had things going on in them. But the metalworking one just felt completely different. It had this big fire in the middle. It was half open to the elements.
"It just felt much more gritty. I think there were 40 of us in our year, and there was me, and maybe one or two others, that decided to use the forge, and they were barely ever in. So, I felt like it was sort of my space. I remember the first couple of days I wasn't really able to do very much. And then there was a sudden moment at which just everything clicked in my head, and I just understood a lot more how to work and how to use it. I just felt like I'd found my material.
Teaching new skills
"Over the last ten or so years, I've been teaching other people on a one-to-one basis. And there's often a moment where you're teaching someone, and then they get that moment of realisation. That's a really fun thing to see. I teach anyone who wants to learn at the moment; I remember there seemed to be quite a lot of ex-policemen coming in to learn a while ago.
"Lately, because people have been spending more time at home, I've been doing a lot of practical work. There have been a lot of gate commissions and also railings. I've really enjoyed that as a process. You go and meet someone, you have a look around their space, and have a lot of discussions about what they're inspired by. I'm living in Glasgow and quite a lot of people are interested in Charles Rennie Mackintosh. So there's quite a lot of requests along the lines of that kind of thing.
"Your job is to kind of try and tease out the interesting bits and turn it into a design that they are happy with, and that you're also going to be happy with, because there is nothing worse than making a design that you feel isn't really worth your time.
"So recently, I've made something very Charles Rennie Mackintosh-inspired, quite a lot of plant-like forms. [The client] before that wanted something in the garden that reflected the plants in the garden, which meant a lot of grass-like forms, so it became something that felt like it was growing upwards. And then there was someone who's got this incredible house in Lanark with a walled garden, with lots of incredible different flowers inside. And that, combined with a Robbie Burns poem, ended up being this poppy gate. That was really, really fun to make.
Copenhagen residency
"At the moment I'm on a residency in Copenhagen. It's always useful to be able to take yourself out of what you're doing and think about something different for a while. For example, the life drawing pieces: they were something that came about because I took a few days to do something that I enjoyed doing, instead of doing something that was like a project for someone else. And they've led on to quite a lot of interesting work, because as soon as someone sees what you want to make, it's easier for them to imagine other kinds of versions of that.
"And so, I think it is really important to take timento kind of do something that maybe is a little bit different to your normal way of working. So I'm hoping that something interesting will come out of these pieces, because it means that it will be a chance for me to make something that's a bit different.
"The work I'm doing at the moment is all based on Piranesi. He did lots and lots of etchings around 300 years ago – loads of drawings of Roman ruins. Escher took a lot of inspiration from his work, because he did all of these things to do with dungeons and stuff.
"And anyway, I've had to respond to Piranesi, and I got really interested in the kind of ruins that he did. And so, I'm making some sculptures to do with ruined objects.
"I've just got really interested in the idea of broken sculpture. It's kind of taken away from the original purpose that it had; it's been stripped of all its narrative. And so the idea that you could come across that in the middle of the street, made me really excited. At the moment, I'm doing lots of large-scale drawings of kind of slightly broken, Romanesque sculpture. I'm really finding it fascinating at the moment.
Protecting and learning
"The difference in terms of how well work will last inside or outside is mostly down to the finish that you put on it. So, if it's outside, you have to make sure that you're either galvanising or putting an undercoat and then top-coats on top. A lot of people ask for you to powder-coat things, which is sort of seen as 'the way' to protect metal, but it's horrible. It coats it in this plastic evil. But if it's going indoors, it can just have a really nice layer of iron paste, which is what you would put on a fireplace or something.
"The other thing is about the thickness of the steel. So obviously if it's quite thin, it's easier for it to corrode. A friend once put one of my indoor pieces outdoors, and it was all rusting through. And it was kind of rusting more at various points because of the thinness of the steel at those points. Also, with Glasgow being quite a wet city, you've got to maybe be a little bit more careful about things that are going outside than if it was somewhere else.
"I think it's really, really easy to get into blacksmithing. You've got to have a certain set of tools in order for you to do anything – woodworking, 3D printing, whatever. Also, if you are trying to become technically, really, really able, then that would take a very long time. But I think that it's actually really easy to play around with something like blacksmithing, as long as you're careful and use the proper protective equipment.
"Anyone can hit something with a hammer or bend a bit of steel. And yeah, I think the problem is having access to the tools to do that. Whenever I'm doing teaching, someone will come in and they will be a little bit scared of the fact that you've got all of these tools and techniques. These are techniques and tools that people have been using for so long that there's not really anything scary about them.
"I've got a lot of friends who are really good at ceramics. And I'm always a little bit wary of trying to get into that because everyone else has these incredible skills. But as long as you've got someone there who can teach you a little bit, then the whole thing is about learning in the way that makes you enjoy it.
"It's really frustrating at the moment, because I know that the government is cutting the amount of funding that goes into craft and art degrees. And it's really frustrating to see that happening, and seeing that other people don't value these skills. I know that it's not something that necessarily drives forward the economy [actually the arts in the UK are worth over £10bn per year, far more than, for example, fishing], but it does have a massive part to play in society.
"So, I did a research master's [degree] looking into how to use my metalwork in the street and how it's used in railings, and how often railings are used. Obviously, they've got to be a barrier. But whether that barrier needs to be something that makes people feel kept out of something, or whether it can be used to be much more welcoming is a different question. You can create spaces that feel much more welcoming and engaging. You need people who are good at making and good at designing in order to create an environment that people actually want to spend time in."
HackSpace magazine issue 47 out NOW!
Each month, HackSpace magazine brings you the best projects, tips, tricks and tutorials from the makersphere. You can get it from the Raspberry Pi Press online store or your local newsagents.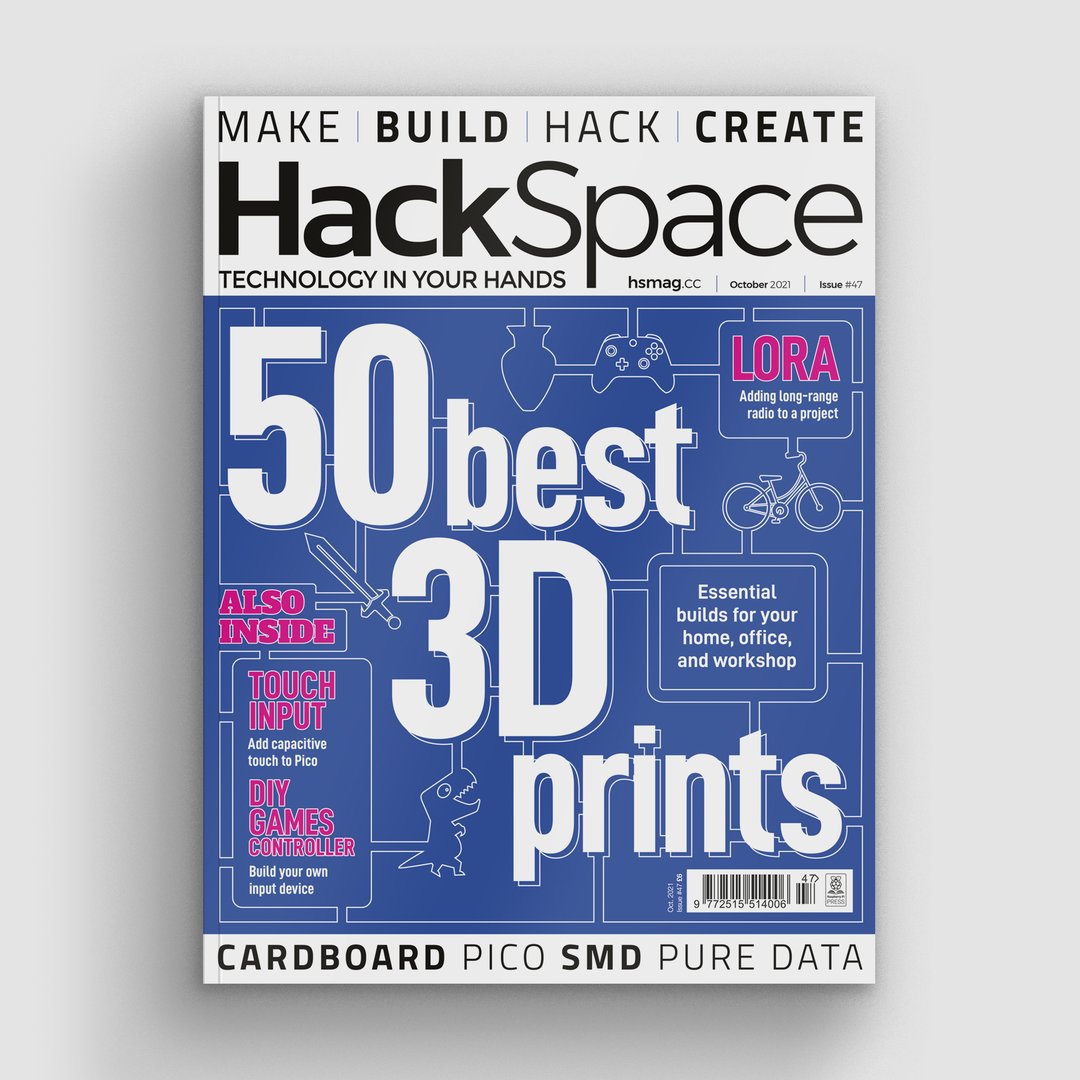 As always, every issue is free to download in PDF format from the HackSpace magazine website.