A working original Doctor Who K-9 prop
When Abertay University purchased some unwanted Doctor Who props from the BBC in 2011, they could never have known that their future computer science student Gary Taylor would transform a water-damaged robot corpse into a working K-9, the cutest (and snarkiest) of all the Doctor's companions.
K-9
If you're unfamiliar with Doctor Who, you may not be aware of the Doctor's robotic-canine best friend, K-9. I won't wax lyrical about the long and winding history of this iconic science fiction character (though I could), but those of you who want to learn more can watch the video below.
Tl;dw: K-9 is basically a really clever, robotic dog invented in the year 5000.
Resurrecting a robotic dog
For his final-year dissertation, computer science student Gary Taylor decided to bring K-9 back to life, having discovered the prop damaged by a water leak in the university hackspace.
For his dissertation, titled Creating an Autonomous Robot Utilizing Raspberry Pi, Arduino, and Ultrasound Sensors for Mapping a Room, Gary used modern-day technology to rebuild K-9's original and often unreliable radio-controlled electronics from the 1970s.
However, Gary's K-9 is more than a simple remote-controlled robot. As the dissertation title states, the robot uses ultrasound sensors for room mapping, and this function is controlled by both an Arduino and Raspberry Pi.
An Arduino Mega 2560 controls the wheels and three ultrasound sensors located at the bottom of K-9's body. It passes the sensor data to the onboard Raspberry Pi 3, and the Pi plots obstacles and walls to create a map of K-9's surroundings.
The Raspberry Pi also connects to a smartphone via Bluetooth, where Gary runs a custome app to remotely control K-9 and view the map it creates.
More information? Affirmative!
The team at the Electronic Engineering Journal has written up a very thorough explanation of Gary's dissertation. Those interested in the full details of the robot won't be disappointed!
For a video of Gary and K-9 that refuses to embed itself in this blog post, head over to The Courier's website.
And for more Doctor Who–related Raspberry Pi builds, check out Jeremy Lee's remake of Captain Jack's Vortex Manipulator, a synthesised rendition of the classic theme using a Raspberry Pi Zero, and a collection of builds and props in this Doctor Who roundup, including a sonic screwdriver, a Dalek, and a TARDIS in near-space.
Oh, and another thing…
BBC released some cool behind-the-scenes images and photos from season ten of Doctor Who, including this production art for Nardole's tracking device: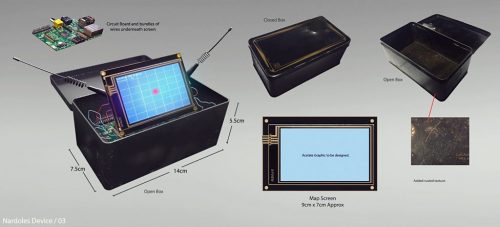 The Pi Towers staff may have let out a little squee of delight when we noticed the Raspberry Pi included within.