HackSpace magazine 7: Internet of Everything
We're usually averse to buzzwords at HackSpace magazine, but not this month: in issue 7, we're taking a deep dive into the Internet of Things.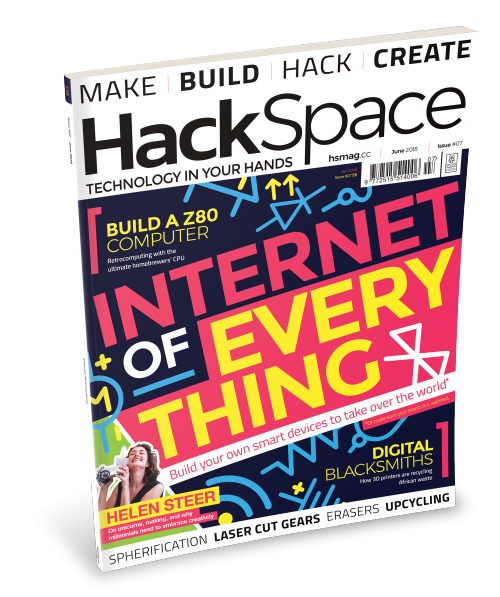 Internet of Things (IoT)
To many people, IoT is a shady term used by companies to sell you something you already own, but this time with WiFi; to us, it's a way to make our builds smarter, more useful, and more connected. In HackSpace magazine #7, you can join us on a tour of the boards that power IoT projects, marvel at the ways in which other makers are using IoT, and get started with your first IoT project!
Awesome projects
DIY retro computing: this issue, we're taking our collective hat off to Spencer Owen. He stuck his home-brew computer on Tindie thinking he might make a bit of beer money — now he's paying the mortgage with his making skills and inviting others to build modules for his machine. And if that tickles your fancy, why not take a crack at our Z80 tutorial? Get out your breadboard, assemble your jumper wires, and prepare to build a real-life computer!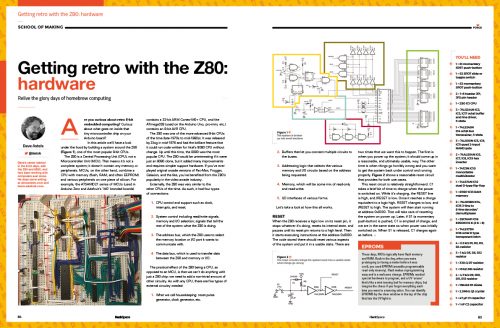 Shameless patriotism: combine Lego, Arduino, and the car of choice for 1960 gold bullion thieves, and you've got yourself a groovy weekend project. We proudly present to you one man's epic quest to add LED lights (controllable via a smartphone!) to his daughter's LEGO Mini Cooper.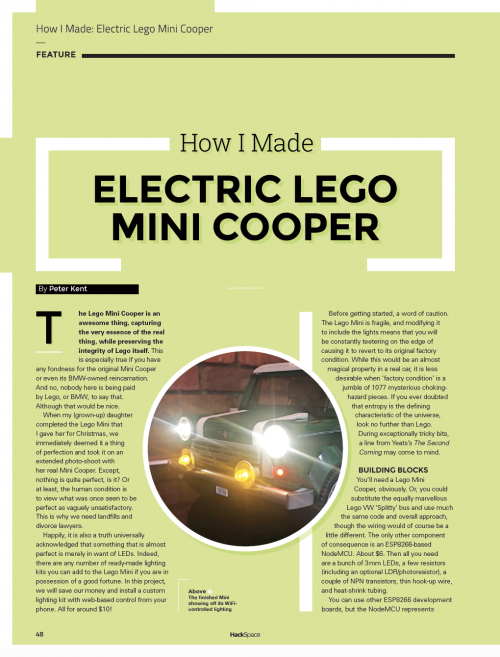 Makerspaces
Patriotism intensifies: for the last 200-odd years, the Black Country has been a hotbed of making. Urban Hax, based in Walsall, is the latest makerspace to show off its riches in the coveted Space of the Month pages. Every space has its own way of doing things, but not every space has a portrait of Rob Halford on the wall. All hail!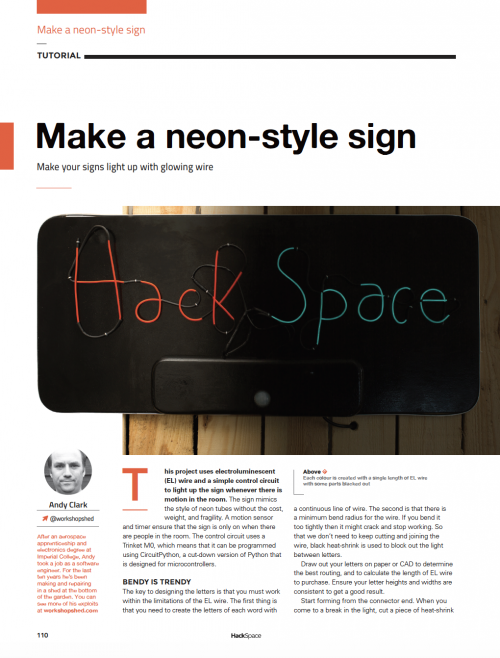 Diversity: advice on diversity often boils down to 'Be nice to people', which might feel more vague than actionable. This is where we come in to help: it is truly worth making the effort to give people of all backgrounds access to your makerspace, so we take a look at why it's nice to be nice, and at the ways in which one makerspace has put niceness into practice — with great results.
And there's more!
We also show you how to easily calculate the size and radius of laser-cut gears, use a bank of LEDs to etch PCBs in your own mini factory, and use chemistry to mess with your lunch menu.
All this plus much, much more waits for you in HackSpace magazine issue 7!
Get your copy of HackSpace magazine
If you like the sound of that, you can find HackSpace magazine in WHSmith, Tesco, Sainsbury's, and independent newsagents in the UK. If you live in the US, check out your local Barnes & Noble, Fry's, or Micro Center next week. We're also shipping to stores in Australia, Hong Kong, Canada, Singapore, Belgium, and Brazil, so be sure to ask your local newsagent whether they'll be getting HackSpace magazine.
And if you can't get to the shops, fear not: you can subscribe from £4 an issue from our online shop. And if you'd rather try before you buy, you can always download the free PDF. Happy reading, and happy making!